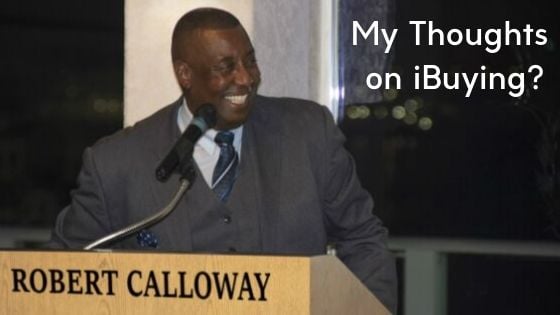 By Robert Calloway
The real estate industry is constantly evolving as new products and practices are introduced to the marketplace. On a daily basis, our PSAR members are experiencing new disrupters trying to shake-up the traditional business model of buying and selling with the assistance of an experienced REALTOR®, which remained unchanged for decades. PSAR is active in our efforts to combat this disruption by empowering our REALTOR® members.
The phenomenon of iBuying is currently one of the most pressing concerns.
The idea behind iBuying is to reduce transactional property costs by utilizing digital tools. This direct-to-consumer, all-cash, online homebuying option is known by many names, including Opendoor, which launched in 2013, and Offerpad, which started purchasing homes directly from homeowners in 2015. Others include Knock, Ribbon, Redfin Direct and Zillow Offers, which launched last year.
The idea of selling and buying homes directly from consumers has grabbed media attention, investor dollars and a certain level of consumer acceptance. What started as a moonshot idea of selling your home with the help of an algorithm has become a homebuying market in its own right.
To some, this method appears to be a modern alternative to the often complicated and complex process of real estate transactions. For example, in theory, once a seller accepts a Zillow Offers price, they are able to pick their own closing date. Also, buyers who purchase a Zillow-owned home will be able to pick a move-in date of their choice.
I know many PSAR REALTORS® who have justifiable concerns about giving consumers technology tools needed to buy or sell a home without an agent. We all could be impacted by technology that minimizes the role of agents or poses a threat to both homeowners and real estate professionals.
But, the truth is that most homebuyers and sellers need advice on how much to offer, whether to include an inspection, how to arrange financing and a host of other issues related to the real estate transaction process.
In fact, during the past five years, PSAR has worked hard to empower REALTORS® with more data and new technology to help them remain in the center of the transaction. PSAR provides new technology that can be leveraged to provide an experience for the consumer that is second to none.
For example, the move to CRMLS has had a major impact on the ability of REALTORS® to compete in today's market. CRMLS has access to more San Diego County listings than any other MLS. "Cloud Streams" is better than the MLS at sharing listings with clients through texting and an improved user search experience. SavvyCard® is another new tool that is helping agents share their business card and listings through social media and online marketing. Cloud MLX also provides a superior search experience. Agents who use Glide are providing a consumer-friendly tool that helps sellers fill out their disclosures easily on multiple platforms. CRMLS negotiated a special deal with LionDesk® so that agents can have access to a fully functional CRM at no additional cost. Remine takes MLS data and enhances it with consumer data to put marketing power in the hands of the REALTOR®.
These new tools are powerful and, if used, can help a REALTOR® leverage their relationships to provide a superior client experience. To learn more about new technology tools that PSAR is providing to empower the REALTOR®, visit https://info.psar.org/benefits.
So, let's ask a simple question: Just how many consumers are actually trying to go it alone without an agent? Real estate industry watchers expect the iBuyer market will represent less than 10 percent of the overall market.
Glenn Kelman, CEO of Redfin, has stated publicly that he doesn't expect the number to go any higher than 10 percent or 20 percent any time soon. Currently, in Boston, which is regarded as a tech-savvy market, Redfin says less that 5 percent of the offers are from unrepresented buyers. Earlier this year, Kelman said a majority of people who receive offers from Redfin's iBuyer program ultimately reject those offers. "Most customers who get a RedfinNow offer don't take it," Kelman told Inman News.
So, who really is using iBuyer tools? It's a mixture of people who are experienced at homebuying and younger customers who have never bought a home before. Some companies predicted a majority of iBuyers would be people with extensive homebuying experience, but that hasn't always been the case.
Another slant to the iBuying trend is that selling a home to an iBuyer company could cost the seller tens of thousands of dollars. The iBuyer model may appeal to consumers who are looking for ease and hoping to avoid some parts of the home sales prep work, such as open houses, staging, showings and the like. But, the convenience is likely to come at a considerable price tag.
A recent investigation by MarketWatch of multiple transactions involving iBuyers shows that the offers would net their customers an average of 11 percent less than owners who choose to sell their homes on the open market, when fees and other costs are considered.
Simply put, iBuyer deals are stealing equity from homeowners. Opendoor and Offerpad both charge sellers fees of about 7 percent, in contrast to the average of 5 percent charged by real estate agents, according to REAL Trends.
A recent report said that RedfinNow might save home-sellers some time, but it also is likely to reduce the amount of money homeowners will earn from a purchase. Maybe some people don't care about losing $5k or $20k on a sale, but this is real money to most working stiffs like us.
Indeed, according to Redfin's initial public offering filed with the Securities and Exchange Commission, it states: "Customers who sell through RedfinNow will typically get less money for their home than they would listing their home with a real estate agent but get money faster with less risk and fuss."
Meanwhile, many of us have experience with the shortcomings of Zillow's Zestimates, which even the company acknowledges are a starting point in determining a home's value and not an official appraisal. According to Zillow, there are 102.7 million homes with Zestimates on Zillow. Nationally, the Zestimate has a median error rate of 7.9 percent, which means half of the Zestimates are closer than the error percentage and half are farther off. The company admits that in about 20 percent of sales the Zestimate misses the sale price by more than 20 percent.
Even some traditional brokerages, including Keller Williams, are also entering the iBuyer space with Keller Offers, which features a KW agent serving as an advocate during the home selling process. Earlier this week, Offerpad announced it would finance Keller Offers in selected markets, giving KW agents a chance to rep both sides of a sales transaction for the iBuyer.
Finally, my word to you is simply, let's keep working hard, confidently knowing that our expertise, knowledge and services will be sought-after traits in the marketplace. Life is about relationships, and we were put on earth to make a difference and a contribution. There will always be a need for people with outstanding character, work ethic and professionalism. At PSAR, you will always be highly valued and considered extremely valuable.