It was a night of celebrating "Real Estate" professionals for their "Achievements" and "Leadership." It was PSAR's 2023 R.E.A.L. Awards Gala (R.E.A.L. is an acronym for Real Estate, Achievements, and Leadership). The R.E.A.L. Awards honored PSAR's top-producing agents and brokers who achieved excellence based on units closed or volume production as compared to all other agents based out of San Diego County, according to 2022 CRMLS data.

The gala was held Friday, March 17 at Sycuan Casino and Resort's Heritage Events Center. More than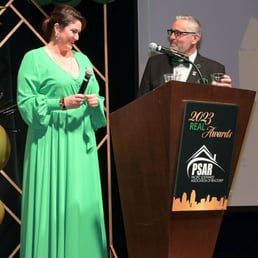 450 PSAR members attended the event which featured cocktails, dinner, dancing, and the presentation of awards to individuals to recognize their industry leadership and success.

2023 PSAR President Jason Lopez and 2024 PSAR President Laurie Ohnesorgen-MacDonald served as emcees. The national anthem was sung by Katriz Trinidad.

Richard D'Ascoli, PSAR CEO, outlined how this celebration event aligns with PSAR's Mission to Empower Real Estate Professionals, he also introduced elected officials in attendance and industry leaders.

Elected officials: Brian Jones, California State Senator; Jordan Marks, San Diego County Assessor-Recorder-County Clerk; Ditas Yamane, City Council Member, City of National City,

Industry Leaders: Chris Hasvold, board chair of California Regional Multiple Listing Service (CRMLS).

PSAR members serving as California Association of REALTORS® (C.A.R.) directors. They included Ditas Yamane, Max Zaker, Jason Lopez, Lupe Soto, Laurie Ohnesorgen-MacDonald, Yvonne Cromer, Nikki Coppa, Jeff Campbell, Jan Farley, and Robert Cromer.

PSAR member Anthony Andaya, serving as a director with the National Association of REALTORS® (NAR).
2023 PSAR board of directors: Max Zaker (Immediate Past President), 2023 PSAR President Jason Lopez, 2024 PSAR President Laurie Ohnesorgen-MacDonald, Sam Calvano (2023 secretary-treasurer), Anthony Andaya, Merrie Espina, Camille Bruno, Valerie Gardner, Paula Gonzalez, Dylan Graham, Amy Ruiz, Amber Tannehill, Rafael Perez, Norma Scantlin, and Martha Garcia.
Past PSAR presidents: Pat Russiano, Nikki Coppa, Peter Mendiola, Jeff Campbell, Bob Olivieri, Carey Guthrie, Jan Farley, Robert Cromer, Ditas Yamane, and Max Zaker.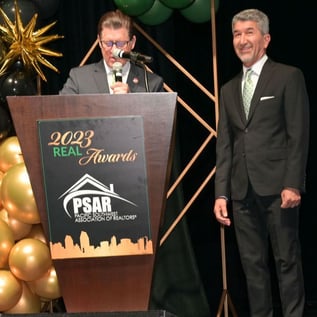 Following the introductions, Senator Brian Jones delivered the invocation and presented a proclamation to 2022 PSAR President Max Zaker.

Also recognized were contributors to the REALTOR® Action Fund (RAF). RAF advances the goals of the REALTOR® Party. It promotes and advocates for the rights and values of REALTORS®. Every dollar of this fund is used to protect the interests of REALTORS® in government.



Qualifications for a R.E.A.L. Award included the following categories (number of PSAR members who achieved the particular production levels appears in parenthesis):

-- Top 1%, at least 27 sides or $31,779,040 in volume (59); View recipients

-- Top 3%, at least 17 sides or $18,483,537 in volume (83); View recipients

-- Top 5%, at least 13 sides or $13,329,500 in volume (70); View recipients

-- Top 10%, at least 8 sides or $8,075,500 in volume (235). View recipients

All top achievers attending the REAL awards were recognized.

Last year's recipients of Affiliate, Broker/Office Managers, and REALTOR of the Year were called to the stage. They included Andrea Martino, Mauricio Perez-Vazquez, Bob Olivieri, Jeff Campbell, Amber Tannehill and Charmaine Orcino-Gonzales.

Also at the gala, four PSAR members were presented with Professional of the Year awards. They included: Ditas Yamane, Broker of the Year; Steven Sladek, Realtor of the Year; Michelle Hickin, Affiliate of the Year; Nikki Coppa, Distinguished Realtor Award.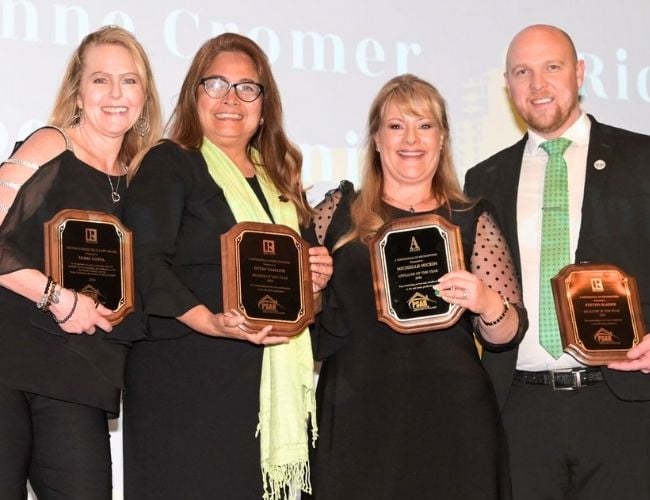 Nikki Coppa
Distinguished Service Award


Ditas Yamane
Broker of the Year


Michelle Hickin
Affiliate of the Year


Steven Sladek
REALTOR of the Year
The R.E.A.L. Awards Committee included Charmaine Orcino-Gonzales, committee chair, as well as 2023 PSAR President Jason Lopez, 2024 PSAR President Laurie Ohnesorgen-MacDonald, Yvonne Cromer, Zoe Khetani, Martha Garcia, Amber Tannehill, Valerie Gardner, Vicki Lisama, Richard D'Ascoli, Sally Valdez and Kevin McElroy.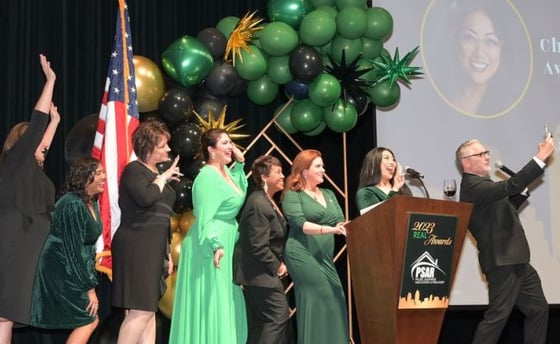 The major sponsors of the night included Caliber Home Loans, The Phana Par Group, and the California Regional Multiple Listing Service.

Additional sponsors included: Aftermath Exterminating - Gillz Building Services, Inc. - PSAR YPN - Preferred Inspections - Mac Printing - Big Block Realty - Property ID - South Shore Appraisals - Navy Federal Credit Union - SD Realty Gals - Sam Calvano Home Loans - NixTermite - Old Republic Home Protection - Gardner Insurance Services - San Diego Estates - RanchoTed Hard Money Lending - Edward Jones - Farmers Insurance - Metro South RE Producers - Morrison Inspections - Fidelity National Home Warranty - Ooh La Lash & Beaut - Insight Photos and Elizabeth Ireland Photography.
________ PHOTOS FROM THE 2023 EVENT ________
---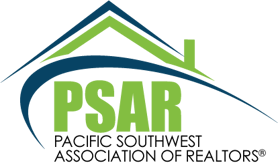 ______________________________________
PSAR's mission is to empower Realtors.
Since 1928, the Pacific Southwest Association of REALTORS® has played a significant role in shaping the history, growth, and development of the Real Estate industry in San Diego County.