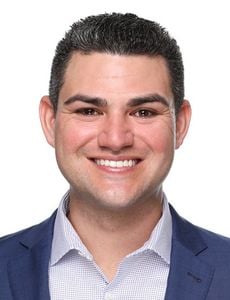 Meet Dylan Graham, who was recently elected to a two-year term (2022-2023) on the PSAR board of directors.
Dylan, a San Diego native, graduated from St. Augustine High School (2006) and San Diego State University (2011) with a Bachelor's degree in International Economics and Spanish. He grew up in East County and played in youth baseball leagues with real estate veteran Steve Wilson as his baseball manager. Later, Dylan played on his high school team, and then he played for the SDSU Aztecs under head coach Tony Gwynn.

Dylan, 34, said, "When I started my real estate career in 2017, Steve was my mentor. I'm very grateful for his time and continued guidance as I grow my business."

Prior to real estate, Dylan returned to his high school to serve for a couple of years as a baseball coach. At a private batting practice session with one of his high school players, Dylan's life was threatened in an incident that he will remember forever.

It was a couple of days before Christmas in 2015, when Dylan was pitching to Jack, a high school sophomore, at Hickman Field in Clairemont. A stranger approached and asked for a cigarette. Dylan replied that he didn't smoke. Then, the stranger pulled out a .357-caliber Magnum handgun.

The man forced Dylan and the 16-year-old student into Dylan's car. The gunman ordered Dylan to drive while the weapon was pointed at Dylan's head. The ride from Highway 52 to Highway 67 toward Ramona stretched more than 30 miles over 40 minutes.

"I had a lot of time to think about my girlfriend Kristina, my life, and Jack's life," Dylan said. "I was thinking, 'Am I going to crash the car here, are we just gonna jump out?' But the whole way, he had the gun pointed to my head, so I couldn't do much. I offered him money, my phone, and the car, all of which were ignored. As we started to get to the middle of nowhere, it was apparent it wasn't going to end well."

The kidnapper said his plan was to meet up with friends in the woods. With a gun still pointed at Dylan from behind and the student next to him in the front seat, Dylan made a decision and made his move at a construction zone near Dye Road and Wildcat Canyon Road.

"When he wasn't paying attention," Dylan said, "I let go of the wheel, jumped in the back seat, got my hands around his wrist, and just started fighting for the gun. I was in survival mode. I was enraged and screaming, trying to get the gun. I was fighting for my life."

The student jumped out of the moving car. Dylan and the kidnapper struggled over the weapon. The kidnapper got off three shots, with one of those bullets going through the seat where the student had sat moments earlier.

The car crashed. The kidnapper ran from the crash, then carjacked a 79-year-old woman in Ramona. Later, he later robbed a Lemon Grove gas station. More crimes followed in Orange County. The one-man crime spree that included kidnapping and multiple robberies ended with the man's arrest in a Riverside SWAT standoff. Later, the kidnapper was sentenced to life in prison without the possibility of parole.

Dylan said recently, "It was a pretty crazy incident, one of those weird things. It happened a while ago, but it still sticks with you. I'm still close to Jack's family. You never know ahead of time what will happen. It makes you appreciate life."

Dylan and Kristina were married in March of 2018. They live in the Rolando Village community, near SDSU. In 2019, Dylan was selected for a Citizens of Courage award from the San Diego County District Attorney's Office. The DA's Office said, "This high school coach acted with bravery and quick thinking to disarm a kidnapper and allow both to escape safely."

With PSAR, Dylan has served the past couple of years on the Government Affairs Committee.

"I decided to serve on the board because homeownership and fighting for property rights is a passion of mine," said Dylan. "We need to help the younger generation share in the American dream of homeownership. We need to support and empower REALTORS® who will be there to help future generations."

Dylan believes all PSAR members should become involved with the association. "I think it's important to get involved because REALTORS® are professionals who will help our communities. When you get involved, then you're helping to shape the future and make a stronger, more effective association. In the end, PSAR provides an opportunity to help everyone in the community and our businesses."
_______________________________
PSAR's mission is to empower REALTORS®.