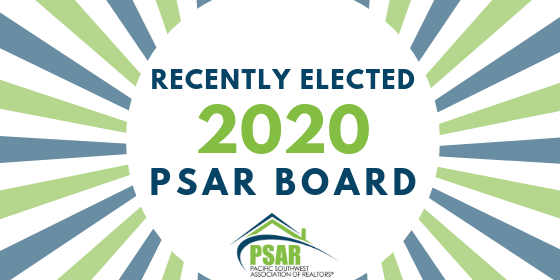 The recent election results for the 2020 PSAR board of directors is destined to provide the Association with forward-thinking leadership and a strong future of growth and benefits for members.
In the recent election, Ditas Yamane was elected to serve as the 2020 President-Elect. Sam Calvano will continue his role as Secretary-Treasurer in 2020.
Also recently elected to serve as Directors in 2020 on the PSAR board: Jason Lopez, Laurie MacDonald, Yvonne Cromer, Peter Mendiola and Mike White.
Continuing to serve in 2020 on the PSAR Board include Robert Cromer as president, Robert Calloway as immediate past president and directors Mike Anderson, Carey Guthrie, Sean Hillier, Robert Kilbourne and Norma Scantlin, and with Tony Santiago as affiliate director.
We're grateful for the following board members whose terms will end Dec. 31, 2019: Shonee Henry and Dennis Ryan, along with Jan Farley as immediate past president.
Ditas has been involved with PSAR since 2002. She joined the Government Affairs Committee and became chairperson three years ago. Born and raised in the Philippines and immigrated into the U.S. in 1988. She worked for a leading commercial airline as an International Flight Attendant flying international routes for 22 years. In 2002, she earned her real estate sales license. Two years later, she became a broker. Her family has operated a business in the South Bay since 1991.
Ditas has been involved in the community serving as President of the National City Chamber of Commerce and President of the Filipino American Chamber of Commerce of San Diego County. She currently serves as a Planning Commissioner for the City of National City, overseeing land use, permitting and zoning changes. She is also President and CEO of the Mabuhay Foundation, a nonprofit organization that promotes a better quality of life.
"I would like to thank the PSAR Membership for their trust and confidence in voting me in as their 2020 President-Elect," said Ditas. "As the PSAR President- Elect, I will work side by side with our incoming President Robert Cromer in continuing to grow PSAR and continue to serve our members to thrive in our industry. I will again encourage our members to participate and support our mission to empower all of us. We are PSAR!"
Sam has served as a PSAR Board Director for the three years and as secretary-treasurer for the past six years. Sam began his real estate career as a sales agent in 1976 and then switched to real estate lending in 1983. As Treasurer Sam has been led the Board's efforts to shore up the association's reserve fund while keeping dues low. PSAR's annual dues are fifty dollars less than they were ten years ago. Sam led efforts to build solar, renovate our buildings and parking lots and ensure the long term sustainability of PSAR. Sam represented PSAR as a CAR Director in 2019.
Jason has worked in real estate for the past 25 years. He became involved with PSAR leadership while serving on a District Council. He loves to ride skateboards and has an extensive collection of vinyl records of "British Invasion" music bands from the 1960s, 1970s, and 1980s. Jason is currently a facilitator of the City Pitch Marketing session in Clairmont. He will also be serving as a CAR Director in 2020.
Laurie became involved with PSAR leadership as a member of the East County Government Affairs Committee. She served as PSAR YPN chair in 2017 and 2018. She also currently serves as chair of the PSAR 2019 Charity Committee. She has traveled to Sacramento in the past for C.A.R.'s "Legislative Day" events. She also traveled to 28 countries before turning 30 years of age. She is a fourth generation San Diegan. Her great-great-grandparents arrived in San Diego from Halifax, Nova Scotia sometime in the 1890s and her great-grandmother was born here in 1909.
Yvonne has previously served on the PSAR Charity Committee, organizers of the PSAR REALTOR® Games. She joined the PSAR board of directors in 2018. The Chula Vista native was a synchronized swimmer and a member of the Chula Vista's Dolphinettes, a competitive swim club that no longer operates. After graduating from Hilltop High School in Chula Vista (class of 1991), Yvonne attended the University of Utah. During Christmas break, she met her future husband Robert at a Christmas party.
Peter, a past PSAR president (2012), and Served as a CAR Director in 2011 and 2012. Peter was a driving force behind the efforts to merge the East San Diego County Association of REALTORS and the PSAR. Peter grew up in National City, attending Las Palmas Elementary School, Granger Middle School and Sweetwater High School (class of 1996). He started his company in February 2007 as a Realty World office. It became a Coldwell Banker operation on Dec. 11, 2011.
Mike became involved in PSAR leadership in 2011 as the founding member of the PSAR Tech Committee. He has been selling real estate since 1980 and is currently serving as an assistant manager at his brokerage. He also has served on the Sandicor Technical Users Group and the C.A.R. ZipForm Committee. He got his first computer at age 18, a Commodore 16 with only 16 kilobytes of RAM. He graduated from Patrick Henry High School (class of 1979), and then attended the University of California at Los Angeles (UCLA) where he played trumpet in the marching band. At UCLA, Mike was among the final group of students required to learn the Fortran computer language using punch cards. And, he was also one among the first students at UCLA at the time to type homework assignments and term papers on a computer.
The PSAR Board wishes to thank everyone who ran for a Board position. All the candidates were committed and involved members of the Association. They volunteer their time to the industry to improve it and to the community to build home ownership opportunities, defend private property rights and support those in need.