I am honored to share with you the reasons why I'm involved as an active volunteer with PSAR, and why you should not wait another day to join me in showing a greater level of support for our Association.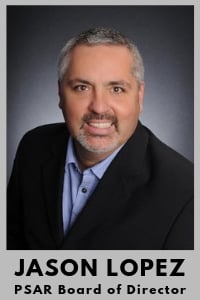 It's fair to say that our industry is under attack. Our profession is being threatened in a number of ways, including questions about the value that seasoned, experienced and knowledgeable agents can offer to clients. It seems the only constant in real estate is change.
When discussing how the changes the real estate industry is facing certain changes, you may have heard the word "disruptors," which could refer to a variety of factors: ranging from new franchisers; tech-centric start-up brokerages;the iBuyer model; MLS data aggregators; reduced commission structures and the intersection between technology and real estate.
As a result of the changes in our industry, the role our Association plays becomes even more critical in empowering our REALTOR® members and protecting personal property rights. Actually these industry changes provide an outstanding opportunity for REALTOR® Associations like PSAR to stay ahead of the curve and to step forward in support of its members. So, I want to be part of this. I want to be involved in something that is part of the bigger picture and better for all of us.
My own career in real estate has encompassed a variety of business models, ranging from traditional to start-up to hybrid. I believe there's enough room for everyone to stay connected and to succeed.
There's another reason why I'm eager to volunteer with PSAR.
I have found that my involvement benefits the bottom line of my own business because of the opportunities to become acquainted with my fellow REALTORS® and brokers. At the end of the day, real estate is a relationship business. Yes, we may all be competitors, but we can also work together on deals. And I would prefer to undertake transactions with colleagues whom I know and trust. We all know the hard sell no longer works. People do not respond to a guy yelling at them about an amazing deal that they can't live without. Instead, we choose to do business with someone we like and can communicate with. Good relationships don't happen by accident. They take cultivation, time and effort.
In fact, being involved in PSAR helps me discover ways to bring people together. It's true that there's a lot of conflict in our world. It's a world filled with wars, division, arguments, prejudice and partisanship. But, PSAR provides a platform that allows our members to become bridge builders, not wall builders. PSAR is here to encourage members. You will need others in rough times, and we can encourage each other in the process.
Consider the universal principle of "use it or lose it." For example, if you don't exercise, your muscles get smaller. If you don't use your mind, it will become duller as you grow older. It's the same with PSAR. If you have a talent and refuse to share it, then you'll lose that talent. The opposite is, of course, true. If you use your muscles, they get bigger. And if you use your talent to help others at PSAR, then you'll develop even more skills and abilities that will help you throughout your life.
Let me recommend that you decide today to become more involved with PSAR. PSAR is your hometown REALTOR® Association. As you know, home field advantage can mean everything in sports. Teams who play at "home" win more often than when playing on the road. And, when a team has their hometown fans cheering them on, they can often exceed their ability. All of us at PSAR are here to cheer for you. It all starts with you giving back by joining a committee, volunteering at an event and looking for opportunities to serve at a higher level. Thanks in advance for your greater involvement and membership participation.
* * *
Jason Lopez, who has worked in real estate for the past 25 years, became involved in PSAR leadership in 2016 while serving on a District Council. In 2018, he was elected to a two-year term on the PSAR board of directors. He was recently elected for a second term through 2021. He also will be serving as a C.A.R. Director in 2020. Currently, he is also serving as a facilitator of the weekly City Pitch Marketing Session at the PSAR Central San Diego Service Center in Clairemont.