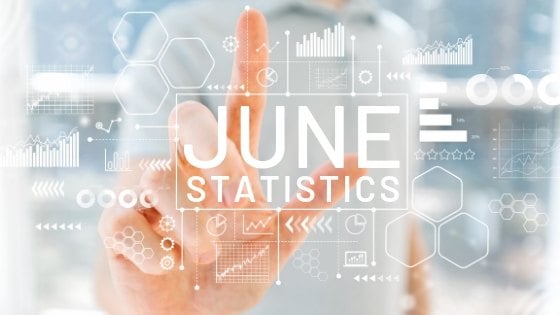 San Diego County's housing market in June, 2019 saw a 10.2 percent drop in sales but a 2.3 percent increase in prices, according to the latest housing market report from the California Association of REALTORS® (C.A.R.).
Sales of existing, single-family homes in San Diego was 10.2 percent lower in June in a month-over-month comparison with May 2019, as well as 12.5 percent lower in a year-over-year comparison with June 2018.
Meanwhile, San Diego County's median, single-family home price of $665,000 in June 2019 was 2.3 percent higher compared to the figures from both May 2019 and June 2018, when the sales price was $650,000 for both prior months.
Statewide, California's existing home sales fell below the benchmark 400,000 level in June 2019 after rebounding in May.
Closed escrow sales of existing, single-family detached homes in California totaled a seasonally adjusted annualized rate of 389,690 units in, June, according to information collected from more than 90 local REALTOR® associations and MLSs statewide. The statewide annualized sales figure represents what would be the total number of homes sold during 2019 if sales maintained the June pace throughout the year. It is adjusted to account for seasonal factors that typically influence home sales.
June's sales figure was down 4.2 percent from the 406,960 level in May and down 5.1 percent from home sales in June, 2018 of 410,800. Sales fell below the 400,000 benchmark again after rebounding in May. Sales have been under the benchmark for 10 of the past 11 months.
Home sales in Southern California were down 9.1 percent in June with every county outside of Ventura (up 0.6 percent) posting declines. Los Angeles (minus-12.6 percent), San Diego, Orange (minus-7.6 percent), San Bernardino (minus-7.2 percent), and Riverside (minus-4.0 percent) experienced the biggest declines.
The statewide home price set another record in June 2019. June's median price was $611,420, essentially unchanged from $611,190 in May 2019 and up 1.4 percent from $602,770 for June 2018.

Regarding regional level, median home prices in Southern California, only Ventura County experienced a year-over-year price decline. Other counties in the region recorded annual price growth ranging from 0.8 percent in Orange County to 5.7 percent in San Bernardino.
"With softer price growth and interest rates at the lowest levels in nearly three years, monthly mortgage payments on a median-priced home have fallen for four straight months," said C.A.R. President Jared Martin. "This allows homebuyers to save hundreds of dollars a month on the same home or to potentially consider a slightly more expensive home for the same monthly cost. Combined with the long-term benefits of homeownership on personal wealth and quality of life, 2019 is a good time to purchase a home for the long haul."
C.A.R. Senior VP and Chief Economist Leslie Appleton-Young agreed.
"With low rates supporting sales and elevating home prices in the last few months, the market outlook has shown some improvement since the first quarter," she said. "As such, we have revised our 2019 forecast upward for (California) home sales to reach 385,460 and for the median price to hit $593,000, from the previous forecast of 375,100 and $568,800, respectively."
Other key points from the June 2019 resale housing report included:
-- Active listings, which have been decelerating since December 2018, grew 2.4 percent from a year ago, the smallest increase since April 2018.
-- The number of homes available for sale has moderated significantly, suggesting that the market is getting back toward being more balanced between supply and demand, but inventory remains relatively tight from a historical perspective. The Unsold Inventory Index (UII), which is a ratio of inventory over sales, was 3.4 months in June, up from 3.2 months in May and up from 3.0 months in June, 2018. The index measures the number of months it would take to sell the supply of homes on the market at the current sales rate.
-- The median number of days it took to sell a California single-family home increased in June. Time on the market inched up from 18 days in May to 19 days in June. In June 2018, it took a median number of 15 days to sell a home in the state.

-- In San Diego County, it took less than two weeks to sell an existing single-family home in June 2019. The median number of days a home remained unsold on the market stood at 13 days in June, compared to 14 days in May, 17 days in April, 19 days in March, 22 days in February and 13 days in June, 2018.
-- The statewide sales-price-to-list-price ratio was 99.2 percent in June, 2019, compared to 100 percent in June, 2018. The figures for the previous month were 99.3 percent in May, 2019 and 100 percent in May, 2018. Sales-to-list-price ratio is an indicator that reflects the negotiation power of home buyers and home sellers under current market conditions. The ratio is calculated by dividing the final sales price of a property by its last list price and is expressed as a percentage. A sales-to-list ratio with 100 percent or above suggests that the property sold for more than the list price, and a ratio below 100 percent indicates that the property sold below the asking price.
-- The statewide price-per-square-foot average for an existing, single-family home statewide reached $292 in June, 2019, compared to $290 in June, 2018. The figures for the previous month were $292 in May, 2019, up from $286 in May, 2018. The May, 2019 figure was the highest level since late 2007.
-- The 30-year, fixed-mortgage interest rate averaged 3.8 percent in June, down from 4.57 percent in June, 2018, according to Freddie Mac. The five-year, adjustable mortgage interest rate averaged 3.48 percent, compared to 3.82 percent in June, 2018.
In other recent real estate and economic news, according to news reports:
-- San Diego County businesses are maintaining a relative upbeat outlook this summer, according to a recent survey by the San Diego Regional Chamber of Commerce. The survey, which was fielded in late June, shows continued optimism among local businesspeople regarding hiring, hours offered and revenue in the coming months.
-- The San Diego-Carlsbad-San Marcos market had the sixth-highest average mortgage debt in the country among major metro areas in the year's first quarter, according to Experian. The San Diego region ranked sixth with an average of $386,530 owed per homeowner. That average is a 2 percent increase over the San Diego metro area's debt last year, which averaged $378,975 per homeowner in 2018's first quarter. San Diego was one of seven of the top 10 metro areas with the highest debt to show an increase over their 2018 first quarter averages.
-- San Diego rents increased 0.1 percent in June, and have increased marginally by 0.8 percent in comparison to the same time last year, according to the most recent report by Apartment List. Currently, median rents in San Diego stand at $1,570 for a one-bedroom apartment and $2,030 for a two-bedroom. San Diego's year-over-year rent growth lags the state average of 1.2 percent, as well as the national average of 1.6 percent.
-- San Diego is the fourth-best large city in the country in which to live, according to WalletHub, a personal finance website. WalletHub ranked cities with a population above 300,000 by evaluating their affordability, economic strength, education and health quality, quality of life and safety. A total of 62 cities were sampled for the list, with Virginia Beach, Vir., taking the top spot. San Diego ranked 51st in affordability but ranked among the top-10 cities in education and health, quality of life and safety, and 12th in economic strength. Joining San Diego and Virginia Beach among the top five were Austin, Seattle and Las Vegas in second, third and fifth, respectively.
-- WalletHub also reports that San Diego is among the top 20 best places to raise a family. WalletHub compared the family-friendliness of more than 180 cities across the country based on 47 key metrics. The data set ranged from the cost of housing to the quality of schools. San Diego ranked 18th, as well as fourth for family fun, 18th for education and child care, 21st for health and safety, 59th for socio-economics, and 96th for affordability.
Chula Vista also landed on the list in the 60th spot. The South Bay city ranked eighth for health and safety, 30th for socio-economics, 31st for education and child care, 97th for family fun, and 142nd for affordability.
-- San Diego has the second fastest rate of growth for tech talent in the nation, according to a new report by CBRE Group, Inc. The commercial real estate firm's tech talent scorecard ranks 50 U.S. and Canadian markets according to their ability to attract and grow tech talent. While the San Diego metro was ranked 18th overall for tech talent, its year-over-year growth rate of 10.2 percent outpaced tech growth in both Los Angeles and Orange County. CBRE also found: San Diego ranks 14th in population growth of people in their 20s (5.6 percent); San Diego is 7th in tech labor market competitiveness; With 73,170 total tech jobs, San Diego has the 20th largest tech talent labor pool; San Diego ranks 7th in highest tech wages with an average salary of $106,047, 10 percent above the national average.
-- The unemployment rate in San Diego County ticked up from 2.7 percent in May to 3.3 percent in June, but year-to-year job growth remained strong, according to the California Employment Development Dept. The rate in San Diego remained well lower than the rate for California and the United States as a whole, which were 4.1 percent and 3.8 percent, respectively.