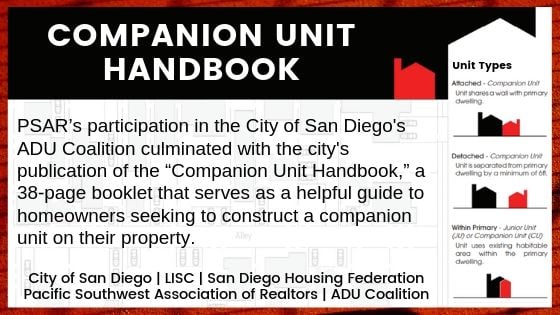 Here's news about another recent PSAR success: Once again, PSAR leadership has made a significant contribution that will result in additional housing availability and improved affordability for the San Diego real estate market.
Over the past two years, PSAR has been working closely with the City of San Diego on rules and regulations relating to what's called "Companion Units." While other governmental agencies call them "granny flats" or "accessory dwelling units" (ADUs), the City of San Diego calls them companion units.
Companion units, typically smaller than standard homes, are second units built on the same lot as an existing single-family home. Often, these secondary units are constructed in backyards or above garages of single-family residences. They can be used by family members or rented to seniors, students or others and can provide a source of income for homeowners. PSAR is in support of property owners expanding the use of their property as a way to address the region's housing supply and affordability crisis.
PSAR's participation with the City of San Diego recently culminated with the city's publication of the "Companion Unit Handbook," a 38-page booklet that serves as a helpful guide to homeowners seeking to construct a companion unit on their property. The handbook can be accessed here, CLICK HERE.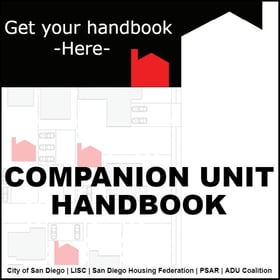 The handbook includes information on zoning, including setbacks and parking, companion unit design and construction, permitting requirements, funding options and additional resources. The handbook answers many popular questions relating to companion units, including: what is a companion unit and where is it allowed; what are the best sources for design of a companion unit; how does one make sure they're well prepared; ideas and inspiration for the design of a companion unit; the construction and budgeting process; costs, timing and financial sources; impact on your property taxes; what is needed for permitting and occupancy.
"It hasn't been easy to make progress over the past two years, but it's been very rewarding," said Rafael Perez, PSAR REALTOR® member who has been leading the PSAR efforts with the City of San Diego.
"From the beginning, we brought a REALTORS® perspective to the table," Perez said. "At first, some of the people at the city had not considered how companion units could change how homebuyers view their future purchase or how existing homeowners could increase their equity. So, we were able to help shape the regulations to benefit the city and homeowners and buyers."
PSAR's name appears on the cover of the city's "Companion Unit Handbook" as a contributor to the publication, along with the San Diego Housing Federation and Local Initiatives Support Corporation (LISC). PSAR's name also is appearing in a press release announcing the availability of the handbook that is being distributed by San Diego City Council member Scott Sherman.
"Personally speaking, I have been very grateful to receive input from PSAR," said Sherman. "PSAR members have direct experience at helping their clients with companion units. So, it made sense to follow their advice in the writing of the handbook as we continue to seek workable, common sense solutions to fixing the housing crisis."
Sherman agreed the handbook will serve as a helpful guide to help homeowners better navigate the process of construction a companion unit on their property.
"The design and construction of a companion unit is a step-by-step process. And, success often depends on preparation and a solid understanding of the process," said Sherman. "For anyone who is considering building or adding a companion unit on a property, this handbook will be very helpful."
Sherman added, "In a region where average rent is nearly $1,800 a month and the median price of a home is over $500,000, renters are actively seeking alternative options for affordable rent. In addition, homeowners are seeking alternative options in order to offset the cost of a home mortgage. Companion units can provide an immediate solution to the region's housing supply crisis."
Perez said, "Unfortunately, limited housing supply paired with limited construction of affordable for-sale housing units has put a severe strain on lower and middle class families. The 'missing-middle' forces families seeking the American Dream to make tough decisions to live on tight budgets or move out of the region. Making it easier to build companion units will help create options for more affordable homeownership as well as increase the supply of affordable housing units in our region."
Granny flats, or companion units, represent perhaps the easiest and quickest way to provide additional affordable housing options to local residents. When it comes to housing that will help all of San Diego, PSAR is in favor of making the rules more streamlined and cutting through the thick red tape of processing the construction of new smaller rental units.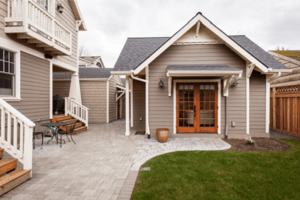 Current state regulations allow granny flats up to 1,200 square feet in size. They can be attached to, or built separate from, full-sized homes on the same parcel, and include kitchens, bathrooms, living areas and private entrances. They cannot be sold as individual homes, but they can be rented out by homeowners or used to provide additional living space for family members, friends, students, the elderly, the disabled, or in-home health care providers. Properties must meet all zoning requirements, such as setbacks that meet fire safety and building codes.
PSAR previously assisted the County of San Diego and the cities of Chula Vista and La Mesa with the creation and formation of ADU regulations.
PSAR members worked closely with the City of Chula Vista to reduce ADU fees and streamline their regulations. In the East County, following input from PSAR, La Mesa's set of regulations for granny flats will, in some cases, enable the city to provide more options than do state requirements.
Meanwhile, at a County Board of Supervisors meeting held earlier this year, the Supervisors were considering a modification to their ADU code to require owner occupancy for an additional building on a lot, which PSAR recommended against. Fortunately, the Supervisors decided to remove the owner-occupancy requirement following PSAR testimony from Tracy Morgan Hollingworth, PSAR's Government Affairs Director.
"I don't know of any other local real estate organization that has given their support to these local jurisdictions like PSAR has," said Robert Calloway, 2019 PSAR President. "I'm very proud that these government bodies have turned to PSAR for assistance and agreed with our recommendations."