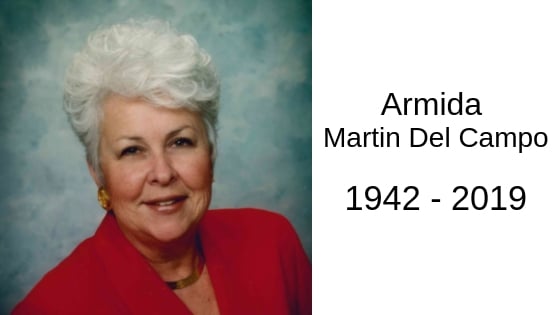 The PSAR family is sad today over the recent passing of former PSAR President Armida Martin Del Campo. Armida served as the PSAR President in 2001.

Armida passed away Aug. 27 at a skilled nursing facility in National City after living with Alzheimer's disease for the past seven years. She retired about eight years ago after a 30-year career in real estate sales and industry leadership. She maintained her brokers license even after her retirement. She operated her own brokerage, Sunshine Realty on Bonita Road, and ended her career with Coldwell Banker West. She was 76.

She was a long-time PSAR leader and served on many PSAR committees, including Professional Standards, Budget and Finance, Government Affairs, Equal Opportunity and Political Action, among others. She also served as a CAR Director.

"She was outgoing and a great people-person, a real social butterfly," said Margarita Martin Del Campo, a daughter. "She was a wonderful wife and a great mother. She was always fun to be around and had a big heart and an open door for everyone. She loved real estate and was always on the go. Her open houses were very popular because she would prepare food for guests to enjoy. Wherever we went, people would recognize her."

Armida served as the California Association of REALTORS' Key Contact for State Senator Juan Vargas. She advocated for her industry and encouraged many PSAR members to get involved. Current PSAR CEO Rich D'Ascoli recalls her support and encouragement when he first joined PSAR as the Government Affairs Director. "Armida made leadership look easy. She led with grace and poise. She had a way of making everyone feel accepted and comfortable. She was always the professional in the room."

Victor Ibarra was among countless people in real estate who benefited from Armida's encouragement. "Armida was an icon in the real estate industry. She was well-loved and respected by her peers throughout the country, including escrow officers, title reps, lenders, everyone. She was always advocating for REALTORS® and homeowners. She took me under her wing when I served on the Association board. We went on trips to various cities to meet with fellow REALTORS®. She introduced me to many movers-and-shakers, all of whom loved and respected her. She knew everybody and everybody knew her."

Armida was born on Oct. 27, 1942 in Tijuana. She is survived by Enrique, her husband of 52 years, two sons, Henry Martin of Chula Vista and Gerardo Martin Del Campo of Clayton, California, and two daughters, Armida Tinajero and Margarita Martin Del Campo, both of Chula Vista. Enrique retired after a career in dentistry. Henry works in law enforcement and Gerardo is a veterinarian. Armida works in manufacturing retail and Margarita works with the government. Armida also is survived by 10 grandchildren and two great-grandchildren. Services are pending, but are expected to be held in Tijuana in early September. PSAR will release more information when it becomes available.
Everyone at PSAR extends their sympathies and condolences to the Martin Del Campo family.

The passing of Armida marks the third loss this year of a past PSAR president. Tom Money (1984) passed away in January. Patty Davis (1991) passed away in July.