The Pacific Southwest Association of REALTORS® (PSAR) and the North San Diego County Association of REALTORS® (NSDCAR), two real estate trade associations for San Diego-area REALTORS®, are proud to jointly announce the availability of a new Local Area Disclosures (LAD) publication covering San Diego County.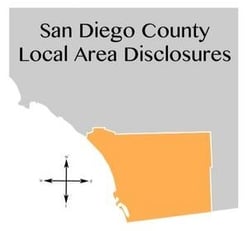 This new LAD publication will help REALTOR® members give consumers a deeper understanding of the properties in San Diego County communities where they are purchasing. It contains vital information relating to all local communities in the San Diego region. The new LAD is the latest member benefit and is demonstrating a dedication and commitment to address the local needs of REALTOR® members.
NSDCAR and PSAR leading brokers and legal counsel worked together to create this new version that will provide REALTORS® with a disclosure document that focuses on items that may concern their clients and that are especially, and in many cases, unique to San Diego County.
For consumers, this new LAD will provide important information on all pertinent issues relating to a property they are interested in. It also will help buyers not rely solely on information received from sellers and agents.
"It was a very rewarding, collaborative experience working with our REALTORS® on this LAD project," said Rich D'Ascoli, CEO, PSAR. "Our team members developed close bonds with a sense of expertise and camaraderie on this project, all with the goal of empowering our members to succeed."
"Brokers want to provide their clients with accurate and current information," said Tommy Thompson, CEO, NSDCAR. "Real estate dealings come with potential legal risk. So, disclosure of information is key to our jobs of informing buyers about the exact condition of a property before they agree to purchase it. Keeping tabs on legal concerns in day-to-day dealings help our members safeguard their reputations, businesses and careers."
Disclosures are one of the most important areas in today's real estate industry. Full disclosure provides parties with the information needed to properly negotiate price and assess the property's suitability for their needs.
All sellers are required to disclose certain information and material facts, including information on the property including known hazards and defects that could have an effect on a buyer's decision to enter into the deal.
In addition, all REALTORS® are required to have a thorough knowledge of California real estate disclosure laws. A real estate professional has a fiduciary duty to disclosure any information that might impact the value of a sale. It is always in your best interest to disclosure all known and suspected hazards. If information is withheld, the buyer or seller may be entitled to damages.
The new LAD publication is presented in easy-to-read format with chapter sections with such titles as "General Disclosures," "Environmental Disclosures," "Traffic, Roads and Transportation Disclosures" and "Air Traffic and Airport Disclosures." Another section called "Specific Area Disclosures" includes specific information on particular communities in San Diego County, including coastal and desert areas, as well as North County, East County, South County, City of San Diego areas.
Topics for the sections include the following:
-- General Disclosures: County of San Diego General Plan Update, Homeowner Associations, High Wind and Flooding areas, Prison and Jails, Attractions and Amusement Parks, Casinos, Historic Districts, Short-term Rental Restrictions, Parking Restrictions, Soil Conditions, Gas Pipelines, Proposition 65.
-- Environmental Disclosures: Hazardous Materials, Coastal Cliffs, Electrical and Magnetic Fields, Flooding Valleys, Landfills, Lead-based Paint, Nuclear Materials, Agricultural Lands, Toxic Mold Advisory.
-- Traffic, Roads and Transportation: Major Freeways, Mass Transit, Buses.
-- Air Traffic and Airport Disclosures: Aircraft Noise, Airport Sites and Runway Expansion, Military Airfield Restrictions.
A variety of topics are mentioned on the pages about specific San Diego County communities, including information about off-road vehicles activity, nearby farms and agricultural odors, equestrian areas, sewage plants, groundwater seepage, landslide incidents, military ordinances in canyons, quarry noise and facilities for homeless and transients.
The new LAD publication will be available to members on the PSAR and NSDCAR websites.
About PSAR
The Pacific Southwest Association of REALTORS® (PSAR), a 3,100-member trade group for San Diego-area REALTORS®, offers CRMLS multiple listing services, educational training, advocacy and other resources to its REALTOR® members. Founded in 1928, PSAR has played a significant role in shaping the history, growth and development of greater San Diego County. The Association maintains a leadership role in the industry, empowering REALTORS® by leveraging our collective strength so they may serve homebuyers and sellers and the greater community. PSAR offices are located in Clairemont, Chula Vista, and El Cajon. PSAR Service Centers provide Sentrilock, Supra, retail store, MLS training and REALTOR® education, networking and much more. For more information, visit www.PSAR.org.
About NSDCAR
The North San Diego County Association of REALTORS® (NSDCAR), a 7,000-member trade group for San Diego-area REALTORS®, offers San Diego County REALTORS® access to the California Regional MLS (CRMLS) service, along with educational training, advocacy and other services and resources. NSDCAR is the largest trade association in San Diego's North County Region. Service centers are located in Vista, Carmel Valley, Carlsbad, Escondido, Fallbrook and Kearny Mesa. NSDCAR was founded in 1994 when several small boards of REALTORS® joined forces to better serve REALTORS® and real estate consumers in the rapidly growing areas of North San Diego County. For more information on NSDCAR, visit www.NSDCAR.com.