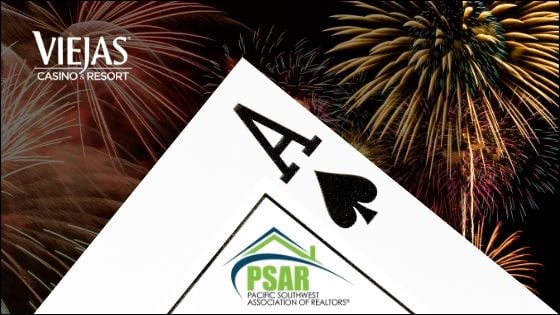 It will be an unforgettable experience that you don't want to miss. PSAR will present its 2020 Officers and Directors Installation Dinner and Awards on Saturday, Nov. 2, at the classy and luxurious Viejas Resort & Casino, 500 Willows Road, Alpine.
Bigger and better than ever, this year's Installation event is destined to be the biggest real estate event of the year, as we welcome the 2020 board of directors in this exclusive venue and celebrate success in the REALTOR® community with the top producers in the industry.
Don't be late. Upon arrival, ask for directions to the Viejas Event Center, Oak Ballroom. With an adjoining outdoor terrace, the Oak Ballroom is the Grande Dame of the Viejas Event Center. It's the ideal setting for large-scale special events.
Hors d'oeuvres service begins at 5:30 p.m. with beef skewers, crab cakes and coconut shrimp. In addition, appetizer stations include assorted veggie platters, cheese boards and charcuterie (an assortment of meats that are paired with different accompaniments, such as toast, fruit, cheese, and sauces).
Dinner service begins at 7 p.m. The menu is fabulous. Entree choices for the three-course meal include: Stuffed Chicken with spinach, fontina and pesto; Chianti Braised Short Ribs with shiitake red wine jus; Beef Wellington with roasted seasonable vegetables, spinach pesto.
This year's Installation event will feature the swearing in of board members, including Robert Cromer as 2020 PSAR president. "I am really excited about the upcoming year, having the opportunity to build on the success of our PSAR staff, the Board of Directors, the committees and our current and past presidents," said Cromer. "This truly could be a break-out year for PSAR. Although we have had almost double-digit growth in membership each of the last two years, there are going to be a lot of changes in the marketplace. We hope San Diego County REALTORS® will find comfort in our culture, our education and our support for REALTORS® and home ownership. We empower REALTORS® to be the best they can be!"

Additional highlights at the Installation will include the presentation of special awards, including Realtor of the Year, Affiliate of the Year and Broker of the Year. Three special awards will be presented according to geographical areas, including South, East and Central.
The Installation event also will include a photo booth, raffle prizes (a 60-inch Smart TV is one of the prizes), dancing, happy-hour drinks and $500 in "play" money, as well as plenty of networking with colleagues and industry peers. This will be your opportunity to reconnect with old friends and engage with new friends while raising your profile, expanding your influence, telling your story and generating referrals and more business.
Take note that your skill with the "play" money will mean more chances to win a raffle prize. Here's the deal: After enjoying the blackjack, craps and roulette games with the "play" money, you can turn in every $100 in chips for an additional raffle ticket at the end of the night. Plus, attendees can purchase more "play" money that will benefit local community nonprofits. Every $20 donation will get you another $500 in "play" money. All money raised from the purchase of "play" money will be donated to the PSAR Charity Committee.
Individual tickets to the PSAR 2020 Officers and Directors Installation Dinner and Awards start at $80 per person, or $300 for a group of four, which is a tremendous bargain. RSVPs can be made at https://dinner2020.eventbrite.com. If you would like to purchase tickets without the Eventbrite transaction fee, please feel free to call PSAR at 619-421-7811 and our friendly staff will be happy to take your payment over the phone.