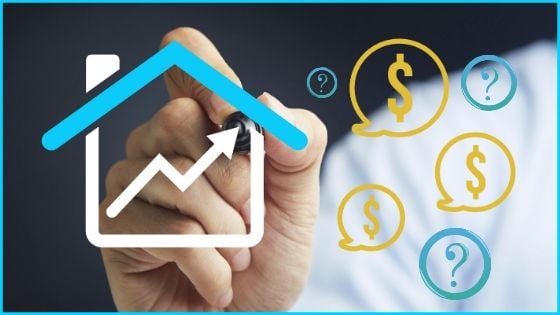 San Diego County's housing market saw lower home sales prices and fewer sales in September, 2019, according to a recent report from California Association of REALTORS® (C.A.R.).
The median sales price of an existing single-family home in San Diego County in September, 2019 was $636,750, making it a month-over-month drop of 2 percent from the $650,000 figure in August, 2019, and a minor slide of 0.5 percent in a year-over-year comparison to $640,000 posted in September, 2018.
Meanwhile, home sales in San Diego decreased 10.8 percent in September, 2019, compared to August, 2019, but rose 16.3 percent in a year-over-year comparison to September, 2018.
On a statewide basis in September, amid the most favorable mortgage rates in nearly three years, California's housing market recorded a third consecutive year-over-year sales increase as month-over-month sales remained essentially flat.
September's statewide sales total of 404,030 was down 0.5 percent from the 406,100 level in August and up 5.8 percent from home sales in September, 2018 from a revised 382,040. The year-over-year sales increase was the largest in two-and-a-half years. Year-to-date statewide home sales were down 3.1 percent in September.
September's statewide median home price was $605,680, down 1.9 percent from the August figure of $617,410 and up 4.7 percent from September, 2018's figure of $578,420. It marked the sixth straight month the median price remained above $600,000. The annual price gain was the largest in nearly a year.
Closed escrow sales of existing, single-family detached homes in California totaled a seasonally adjusted annualized rate of 404,030 units in September, according to information collected from more than 90 local REALTOR® associations and MLSs statewide. The statewide annualized sales figure represents what would be the total number of homes sold during 2019 if sales maintained the September pace throughout the year. It is adjusted to account for seasonal factors that typically influence home sales.
"The housing market has been performing better so far in the second half of 2019, with both sales and prices up as mortgage rates remain near their three-year lows," said C.A.R. President Jared Martin. "Additionally, pending sales have been on an upward trend with a near-10 percent increase over a year ago, making it the largest gain in three years. The solid improvement in pending sales suggests that the market may see more sales gains in the coming months."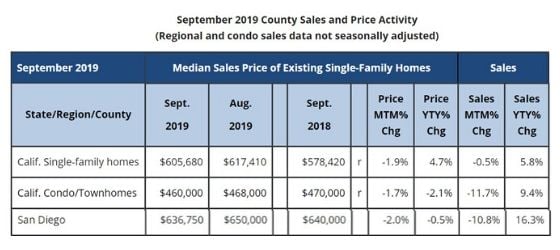 "Despite having the largest annual gain in the last 30 months, sales remained just slightly above the 400,000 benchmark and have not shown meaningful growth in the last few years," said C.A.R. Senior Vice President and Chief Economist Leslie Appleton-Young. "As such, while low mortgage rates have motivated buyers to enter the market in the short term, we should be mindful that economic uncertainties, supply constraints and low housing affordability could continue to hold demand back in the long run."
Even with near record low mortgage rates, consumers still see challenges in the current housing market conditions. According to a monthly Google poll conducted by C.A.R. in October, 22 percent of respondents believe that it is a good time to buy now, slightly better than last year (21 percent), when interest rates were 100 basis points higher. More than half (52 percent) believe it is a good time to sell, an improvement from the prior month (46 percent) but below last year's 56 percent.
Other key points from the September, 2019 resale housing report included:
-- At the regional level, non-seasonally adjusted sales rose on an annual basis in all major regions, with Los Angeles County recording the largest yearly gain at 9.2 percent.
-- In the Southern California region, median home prices grew in every county except San Diego and Ventura. Riverside had the largest annual price gain of 5.8 percent in the region, followed by San Bernardino (5.0 percent), Los Angeles (4.5 percent), and Orange (0.6 percent).
-- After 15 straight months of year-over-year increases, the number of active listings fell for the third straight month, dropping 11.8 percent from year ago. The decline was the largest since December, 2017.
-- The Unsold Inventory Index (UII), which is a ratio of inventory over sales, was 3.5 months in September, up from 3.2 in August and down from 4.2 months in September 2018. The index measures the number of months it would take to sell the supply of homes on the market at the current sales rate.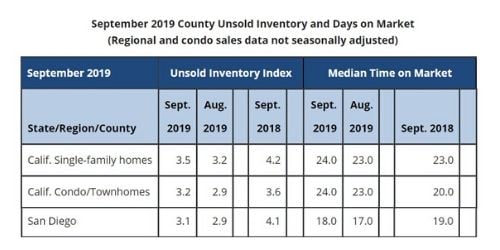 -- Statewide, the median number of days it took to sell a California single-family home edged up to 24 days in September, 2019, compared with 23 days in August, 2019, 21 days in July, 2019 and 23 days in September, 2018.
-- In San Diego County, the median number of days a home remained unsold on the market stood at 18 days in September, 2019, compared with 17 days in August, 2019, 15 days in July, 2019, 13 days in June, 2019, 14 days in May, 2019, 17 days in April, 2019, 19 days in March 2019, 22 days in February, 2019 and 19 days in September, 2018.
-- The statewide sales-price-to-list-price ratio was 98.5 percent in September, 2019, unchanged from September, 2018. It was 98.7 percent in August, 2019 and 99.0 percent in July, 2019. Sales-to-list-price ratio is an indicator that reflects the negotiation power of home buyers and home sellers under current market conditions. The ratio is calculated by dividing the final sales price of a property by its last list price and is expressed as a percentage. A sales-to-list ratio with 100 percent or above suggests that the property sold for more than the list price, and a ratio below 100 percent indicates that the price sold below the asking price.
The 30-year, fixed-mortgage interest rate averaged 3.61 percent in September, down from 4.63 percent in September, 2018, according to Freddie Mac. The five-year, adjustable mortgage interest rate was an average of 3.38 percent, compared to 3.94 percent in September, 2018.
In other recent real estate and economic news, according to news reports:
-- According to real estate tracker Core Logic, San Diego County home sales jumped 14.7 percent in September from the same time last year, which analysts largely attribute to a drop in mortgage rates. In the same month, home prices dipped slightly, said Core Logic. The median home price was $570,000 in September, down from $575,000 at the same time last year. It marks the second consecutive month of declining prices.
-- The latest S&P Case-Shiller report shows home prices were up 2.3 percent annually in the San Diego metropolitan area as of August. The gain was part of a continued reversal of fortunes for San Diego since mortgage interest rates started to drop. For months, the metro area was at the bottom of the 20-city index.
-- According to Redfin, 23.2 percent of San Diego property searches in the third quarter were by residents who live outside the area. It is a slightly smaller percentage than the 24.7 percent figure recorded in the third quarter of last year. San Diego was ranked as the ninth strongest inflow market overall. People from Los Angeles were most interested in relocating to San Diego. The top out of state origin for San Diego zip code searches came from Seattle.
-- Also according to Redfin, home bidding wars have fallen off a cliff from a year ago, both in San Diego County and the nation as a whole. In San Diego, just 16 percent of homebuying transactions faced competition in September, a drop of more than 24 percent from September, 2018. The rate experienced a 3.7 percent month-over-month drop. Nationally, just 11 percent of offers written faced a bidding war in September, down from 41 percent a year earlier.
-- San Diego homeowners are the second-most leveraged in the nation, trailing only Los Angeles, according to a new LendingTree report. San Diego has a leverage ratio of 3.64, a median mortgage amount of $455,000, and a median borrower income of $125,000. L.A. homeowners were the only ones more leveraged with a leverage ratio of 3.91, a median mortgage amount of $485,000, and a median borrower income of $124,000.
-- With increasing national defense spending and a growing number of homeported warships, the military now accounts for a full one-fifth of San Diego's economy and its impact is growing.
That was the conclusion of a recent economic report from the San Diego Military Advisory Council, which has tracked the military's impact on the community since 2008. The report identified $28.1 billion in direct spending that supports 109,000 active duty personnel, 26,000 civilians and 7,000 reserves. The ripple effect on the local economy creates over 210,000 more jobs and a total impact of $51 billion.
-- A new report from CBRE Group ranks San Diego among the top 10 fastest-growing high-tech job markets in the U.S. The commercial real estate services firm's annual Tech-30 report, which measures the industry's impact on office rents in the 30 leading technology markets in the U.S. and Canada, found that the local tech-job market has experienced a 19.7 percent growth rate in the last two years. The region also saw nearly 6,000 new high-tech jobs in 2017 and 2018, which accounted for more than three-quarters of all new office jobs. According to the report, San Diego now has more than 35,000 high-tech software and services jobs.
-- San Diego County's jobless rate in September reached one of its lowest points in 20 years. San Diego County's unemployment rate for September was 2.7 percent, down from 3.4 percent in August and below the 3.1 percent jobless figure from a year ago, according to the state Employment Development Dept. San Diego County added 30,600 jobs in a year, up from the 27,000 at the same time last year. The jobless rate for September was 3.5 percent for California and 3.3 percent for the nation.
-- The U.S. added more jobs than expected in October despite a 40-day General Motors strike and trade-war tensions. A stronger-than-expected jobs report for October pushed stocks higher this past Friday. The Bureau of Labor Statistics said the U.S. economy added 128,000 nonfarm payrolls last month, compared to estimates of 85,000. The healthy employment gains reassured investors amid uncertainty around the trade war between the US and China and talk of a looming economic slowdown.