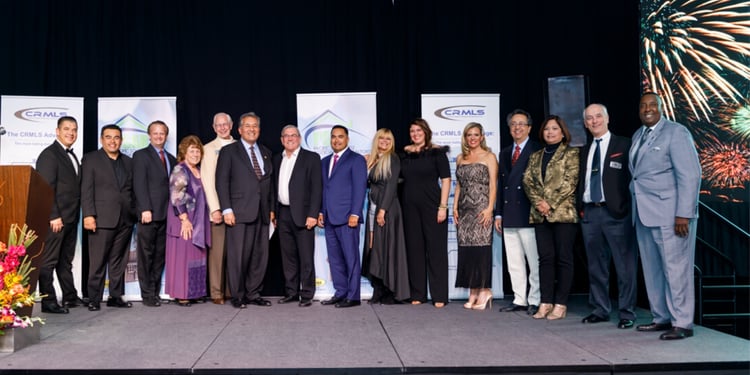 More than 400 PSAR REALTORS®, affiliates, friends and family members converged on the Viejas Casino & Resort in Alpine to enjoy a memorable PSAR Officers Installation Dinner on Nov. 2.
The Installation event celebrated the success of the REALTOR® community with leaders who are committed to serving the industry. The program featured the swearing in of the 2020 PSAR Board of Directors and Robert Cromer as 2020 PSAR President by U.S. Representative Juan Vargas.
Also recognized at the installation were recipients of special awards. These awards targeted three geographical areas in San Diego PSAR, including South, East and Central San Diego County. Recipients included:
-- Merrie Espina, Realtor of the Year, South
-- Julie Lupo, Realtor of the Year, East
-- Shonee Henry, Realtor of the Year, Central
-- Hector Zamaro, Broker of the Year, South
-- Jan Farley, Broker of the Year, East
-- Jason Lopez, Broker of the Year, Central
-- Rhonda Beathard, Affiliate of the Year, South
-- Raymundo Gill, Affiliate of the Year, East
-- Megan Oliva, Affiliate of the Year, Central
In his message to the members, Cromer stated, "I am really excited about the upcoming year and having the opportunity to build on the success of our Board of Directors, the committees, the staff, and our current and past presidents. This truly could be a break-out year for PSAR. Although we have had almost double-digit growth in membership each of the last two years, there are going to be a lot of changes in the marketplace. We hope San Diego County REALTORS® will find comfort in our culture, our education and our support for REALTORS® and homeownership. We empower REALTORS® to be the best they can be!"
Joining Robert on the PSAR board of directors for the 2020 calendar year beginning Jan. 1, 2020, will be Ditas Yamane as president-elect, Sam Calvano as secretary-treasurer and Robert Calloway as immediate past president. Other REALTOR® members also serving on the 2020 board will include: Mike Anderson, Yvonne Cromer, Carey Guthrie, Sean Hillier, Robert Kilbourne, Jason Lopez, Laurie MacDonald, Peter Mendiola, Norma Scantlin and Mike White. Also serving on the board will be Tony Santiago as an affiliate director.
PSAR is grateful to Shonee Henry, Dennis Ryan and Jan Farley, three PSAR board members whose terms will end December 31, 2019. Farley served as 2018 PSAR President.
In his farewell comments, Robert Calloway said, "Thank you for a wonderful year as PSAR's 2019 President. PSAR was able to accomplish so many things this year. This was the year of service and our members definitely stepped up and served our Association by committing themselves to our mission of empowering our members. I encourage those members who are not serving on a committee to please take some time and visit a committee where you fit. Finally, I would like to thank the 2019 Officers and Directors for your selfless dedication and service to our Association, and a special thanks to the committee chairs for leading your committees and assisting with following the Association's strategic plan. I want to welcome the 2020 Leadership Team and Directors and wish you well on your journey. Fair Winds and Following Seas!"
In his message to the members, PSAR CEO Richard D'Ascoli stated: "Even as these critics question the viability of REALTORS® and their associations, PSAR continues to flex its muscles and grow even stronger. We are committed to helping REALTORS® succeed. REALTORS® are thriving because our association is the glue that holds the industry together. Together, with our MLS and our State and National Associations, we provide a platform to support our members' efforts to build homeownership opportunities."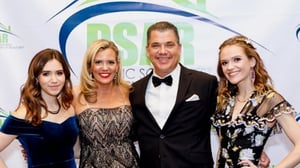 Special speakers at the Installation Dinner included Robert and Yvonne Cromer's two daughters, Hannah and Haley, who spoke to the audience in Spanish. Haley graduated from the University of California Davis with a degree in Spanish. She is now working on her Masters at Grand Canyon University. Hannah is a freshman at Creighton University. Both are bilingual.
Also speaking was Jeny Parra, a Cromer family friend. Jeny's parents and Yvonne's parents were friends back before both girls were born. Jeny's late husband Victor was a close friend of Robert. In 2018, Victor passed away from heat stroke during a hike in the Blue Sky Ranch area of Lakeside. He was 47. Victor worked for the San Diego Unified School District as a facilities and equipment supervisor. He was also the Grand Knight of the Knights of Columbus fraternal council at Chula Vista's St. Rose of Lima Catholic Church. A $1,000 scholarship in Victor's name was announced at the Installation Dinner.