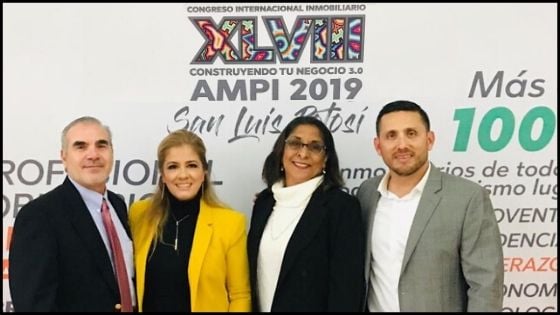 All PSAR members can be proud in knowing that PSAR is providing important leadership in its efforts to build friendships, education, professionalism, networking and mutual business cooperation between real estate professionals internationally, in Mexico and the United States. The members of PSAR's Global Real Estate Council (GREC) have been very supportive in the building of cross-border alliances.
So, it is with great honor to inform you that PSAR was recently invited to attend and speak at the national conference presented by AMPI (Asociacion Mexicana de Profesionales Inmobiliarios). AMPI, the Association of Mexican Real Estate Professionals, is Mexico's counterpart to the National Association of REALTORS® (NAR).
AMPI was formed in 1956 to establish laws and codes of ethics and conduct in order to create a reliable, trustworthy and efficient real estate environment in Mexico. Mexico's largest real estate association, AMPI has bi-national agreements of cooperation with NAR and the California Association of REALTORS®, as well as with PSAR.
To be invited to be a presenter at the AMPI national conference in October was a real honor. With over 1,200 associations in NAR, PSAR received the honor to join representatives from other international associations from such countries as El Salvador, Brazil, Canada, Panama and many others. The AMPI conference was held in San Luis Potosi, south of Mexico City.
Also attending the AMPI conference were representatives from Consejo Estatal de Profesionales Inmobiliarios de Baja California, (CEPIBC), a statewide real estate trade group located in the Mexican state of Baja California.
(You may recall that in 2018, PSAR signed a Bi-Regional Cooperation Agreement with CEPIBC. The agreement was signed by Jan Farley, PSAR president, and Gustavo Chacon Aubanel, Presidente de Consejo Estatal de Profesionales Inmobiliarios de Baja California. The agreement called for the scheduling of classes covering the financial, legal and cultural differences in real estate transactions between Mexico and the United States. It also fostered, respect and adherence to each association's Code of Ethics for business interaction. Founded in 1984, CEPIBC comprises the 10 local real estate trade associations that operate in five Baja California cities, including Tijuana, Ensenada, Rosarito, Tecate and Mexicali. CEPIBC promotes standards of professionalism, licensing and increased business relationships with U.S. real estate professionals, primarily in California and Arizona.)
The PSAR delegation attending the AMPI conference was included Hector Zamaro, PSAR GREC chair, Nick Iniguez, GREC member and Catalina Spuehler, GREC member.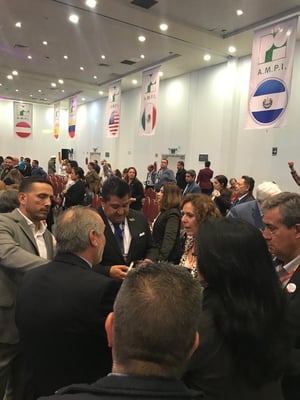 At the AMPI conference, Gabriela Isabel Cerezo Morales, CEPIBC 2019 President and AMPI National Treasurer, introduced us to Pablo Vasquez, AMPI 2019 National President, and Roberto Barrios, AMPI 2020 National President-Elect, as well as other dignitaries and international speakers. Both Gabriela Cerezo Morales and Miguel Urriza from CEPIBC attended the recent PSAR Installation Dinner held at Viejas Casino & Resort.
Our presentations at the AMPI conference were titled: "Forming International Alliances," with Hector Zamaro as speaker and "New MLS in Mexico," with Nick Iniguez as speaker.
Also at the AMPI conference, there was an historic announcement introducing the first formal MLS System operating in Mexico. Now, properties can be listed in Mexico and viewed internationally. Thanks to Art Carter, CEO CRMLS, and Ross E. Buck, President of Terminus MLS (Mexico's MLS). Terminus recently signed their first contract with the Baja California CEPIBC state chapter.
PSAR's trade mission to the AMPI conference concluded with excellent coverage and networking with bilateral partners and inviting them to participate in a mutual referral business with our PSAR membership. We anticipate further growth and participation with our colleagues in Mexico and other countries.
An invitation has been extended to all our membership and leadership to attend the "AMPI International Summit 2020" in March 2020. It will be an excellent gesture of cooperation, as wll as a potentially profitable one, to send a delegation of PSAR representatives to participate in this Summit. Many countries will have representatives attending, with whom alliances could be formed.
We appreciate all the hard work by Gabriela Isabel Cerezo Morales and her CEPIBC Board for all their support during 2019. They have been instrumental in furthering bilateral relationships to the benefit of PSAR members.
I want to encourage any PSAR member who may be interested in cross-border opportunities and who wants to network with other international real estate practitioners to get involved with GREC. PSAR's GREC is dedicated to assist the needs of PSAR members who desire to expand their international outreach. GREC will help you find mentors who can facilitate connections with individuals internationally. GREC offers PSAR members the opportunity to learn and expand their real estate market opportunities internationally. The vision of the Council is to provide and facilitate educational avenues that enable PSAR members to expand their practice and organize global-themed events.
Formed in 2013, PSAR's GREC has hosted several educational events in recent years focused on helping PSAR international capital investment clients make informed transaction decisions with effective counsel across multiple jurisdictions. The training sessions have focused on cultural customs and diversity, as well as panel discussions and forums with international partners.
The Council also encourages PSAR members to earn the Certified International Property Specialist (CIPS) certification, a professional designation offered by the National Association of REALTORS® which results in expanded knowledge, a worldwide network and tools helpful in serving international clients.