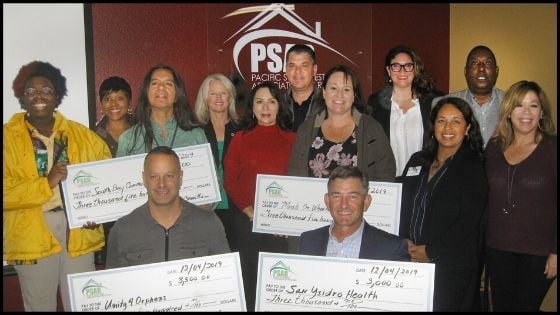 Congratulations to the PSAR Charity Committee.
At a recent PSAR Rally & Ride pitch session, in addition to hearing information about available properties, attendees recognized the outstanding efforts in 2019 by members of the PSAR Charity Committee.
Four local nonprofits were presented with checks from proceeds resulting from two events organized this past year by the Charity Committee.
Three of the nonprofits benefited from proceeds generated by the 2019 PSAR REALTOR® Games, held Friday, June 21. The nonprofits included South Bay Community Services, Unity 4 Orphans and Meals on Wheels San Diego County. Each received $3,500, for a grand total of $10,500, which exceeded the amount raised last year.
The fourth nonprofit, San Yisdro Health Center, was presented with a check for $3,000. These proceeds were generated by, the 2019 PSAR Zombie 5k Run-Walk, held Saturday, Oct. 12.
"PSAR is very proud to support these nonprofits and the extraordinary service they provide to our local communities," said Laurie MacDonald, 2020 Charity Committee chair. "REALTORS® care greatly about supporting our local communities. We are active volunteers who play an important role in improving neighborhoods to the benefit of homeowners who want to share in the American dream and have a better place to live, work and raise their families."
PSAR's third annual PSAR REALTOR® Games, held at Scobee Park, located at 2390 Boswell Road in Chula Vista's EastLake community, drew more than 200 participants.
The REALTOR® Games featured teams competing in mental and physical challenges. The competitions included agility activities, such as a sack race, free-throw contest, balloon catch and cornhole, plus mental challenges, including a spelling bee, board puzzle and "REALTOR® Feud," a game resembling TV's "Family Feud." Another competition cwas "Jenga," a game of skill featuring players taking turns removing one wooden block at a time from a tower constructed of several dozen blocks.
Members of PSAR's Charity Committee who organized this year's REALTOR® Games were Robert Cromer, Laurie MacDonald, Angie West and Rhonda Beathard.
The 2019 PSAR Zombie 5k Run-Walk, held at Rohr Park, located at 4548 Sweetwater Road, Bonita, drew an enthusiastic crowd. Participants dressed in their best zombie attire, including Halloween costumes. A contest was held for best-dressed pet and child. Additional activities included face painting, a jumpy inflatable, trick-or-treat booths and a raffle with prizes. Food was also provided. The event was a lot of fun and organizers received rave reviews from participants.
This year's organizers of the PSAR Zombie 5k were Robert Cromer, Laurie McDowell, Rhonda Beathard and Juliet Montoya. The 2019 Zombie 5K was held in partnership with John and Susan Carroll as a fundraiser to benefit cancer screenings at the San Ysidro Health Center.
The PSAR Charity Committee is a wonderful group of caring PSAR members who are willing to share PSAR resources and talent with the community through outreach and service. The committee goal is to provide the support necessary to make a positive charitable impact in the communities served by PSAR members. The volunteers serving on the PSAR Charity Committee evaluate and review requests from nonprofits in the communities and they select charitable causes that will benefit from committee support.