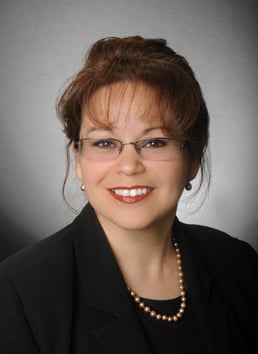 Meet Amy Ruiz, who was recently elected to a two-year term (2021-2022) on the PSAR board of directors.
She was born in Monterrey, Mexico, grew up in Chicago and then moved at an early age with her mother and brothers to Sacramento. In kindergarten, she learned English and was helpful as a translator for family members. "Because I'm bilingual, I've always been involved in helping people my entire life," said Amy. "That's a big reason why I love real estate and why I ran for a seat on the PSAR board."
In Sacramento, she graduated from Valley High School and learned professional office and technology skills while attending Heald Business College.
In 1986, she relocated to San Diego and began an 18-year career in the human resources (HR) field. She worked in HR at various sales training and hotels before joining Barona Casino for eight years in recruitment, on-boarding, information services, benefits training, staff retention and staff relations.
Then, in 2006, she left Barona and began full-time real estate sales with Keller Williams. Except for a few months, she has remained with KW throughout her entire real estate career.
"After getting my license, I interviewed with 11 different brokerages before selecting KW because of their values and belief systems," Amy said. "In my first year in real estate sales, I won the Rookie of the Year award."
After earning her real estate sales license, Amy was a member of another real estate association for a short time. "Then I went to a PSAR property pitch meeting and I couldn't believe the difference," said Amy. "At PSAR, there's a totally different environment. People are friendly. You get to know people and make new friends. When I'm doing deals with other agents, I want that agent to be a PSAR member, someone I can trust and do repeat business with."
Amy served on the PSAR Budget and Finance Committee before entering her name for the board of directors.
"Our members need to realize how terrific their association is. There is a huge difference," Amy said. "The training and educational opportunities are the best. And, the staff is willing to answer your questions and follow-through. They are knowledgeable and eager to help you."
Amy said she is looking forward to serving on the PSAR board. "All REALTORS® have an obligation to help other REALTORS®," she said. "I encourage our members to expand their participation and volunteer with our Association. With PSAR, you can make a difference and be a change-maker.
"After all, the people you spend time with will shape who you are. So, when you surround yourself with people who adhere to high standards and strive to do better, then their motivation, dedication and energy are contagious and they will positively influence you. At PSAR, we have a group of high-quality people who have outstanding leadership skills, bold expectations and high ethical and moral standards. Their examples of excellence are encouraging to me and motivate me."
Amy is continuing her trademark of helping others as a new productivity coach for newly licensed agents at the Keller Williams brokerage. "We offer support and encouragement to agents to have a positive mindset and assist with strategies in working with buyers, sellers, lead generation and objection handling," said Amy. "We also role play with agents and guide them through the transaction process. I'm enjoying it because I'm dedicated to helping others, it's part of who I am."
_______________________________
Our Mission is to empower our members to flourish while being accountable to each other
our clients and our community.
Since 1928, the Pacific Southwest Association of REALTORS® has played a significant role in shaping the history, growth & development of the Real Estate industry in San Diego County. This program is only open to REALTORS® and PSAR Affiliate Members. There is no cost for attending this program.