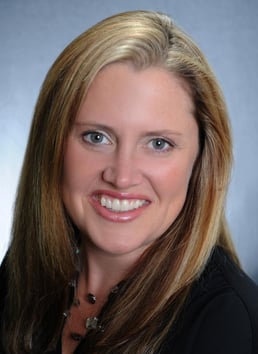 Meet Amber Tannehill, who was recently elected to a two-year term (2021-2022) on the PSAR Board of Directors.
Amber is a California native, born in Ojai, Ventura County. She was raised in Ventura and graduated from Buena High School (class of 1993). She earned her real estate sales license at age 20 in 1995.
"My mother and I decided to take the two-week license course at a local brokerage," said Amber. "My mother immediately started working in real estate and is still selling today in Ventura County as a member of the Ventura County Coastal Association of REALTORS®. I assist her with a majority of her transaction paperwork. She loves working with people, but is not as excited about fighting with passwords and doing the paperwork, considering the new technology. I enjoy collaborating with her on negotiation strategies and finding solutions for our clients. We make a great team!"
The summer after high school, Amber interned at a local Santa Barbara radio station, KJEE 92.5-FM. "I worked for free, but it was one of the most fun jobs because I did voice-overs for commercials and I attended back-stage the summer concerts presented by the radio station," said Amber. "We saw Red Hot Chili Peppers, Gwen Stefani and Social Distortion to name a few. Before their concert, Mike Ness (lead singer for Social Distortion, a punk rock band) walked up to me and asked me to watch his younger son while he went on stage. I said, `Sure.' It was crazy, here I was, holding this toddler for four or five songs before somebody else from the band came and took him offstage."
"I was just an unknown number as a member of the other association.Everyone else in my
office was a member of PSAR. I couldn't believe the difference between the two associations.
Everyone at PSAR was like a big welcoming family. They were fun, engaging and encouraging."
While living in Ventura, Amber began a 12-year stint, from 1995 to 2007, working in property management as a manager of large, multi-family communities in Santa Barbara and Ventura counties. In 2007, she relocated to San Diego and was a property manager at Sunrise Management for seven years.
"In 2012, I was starting to lose my mind while managing a 563-unit, 55 and over community in the Sports Arena area. The problems were overwhelming," said Amber. "That's when I decided to switch to real estate sales. My boss begged me to stay, but I sold five houses in a short time while doing both jobs, and a total of 11 houses during my first year. The choice was easy. I had made more money in five months in real estate than I ever had in a solid year in property management. I've never looked back."
When Amber started full-time in real estate sales in 2013, she was a member of another REALTOR® association. "I was just an unknown number as a member of the other association.Everyone else in my office was a member of PSAR. I couldn't believe the difference between the two associations. Everyone at PSAR was like a big welcoming family. They were fun, engaging and encouraging."
Amber said the relationships made with other PSAR members, as well as educational and networking opportunities, have been an important part of her real estate business.
"Trust is so important when putting together a deal, and I would prefer doing business with another agent whom I know and can trust," Amber explained. "Also important is being a lifelong learner. The educational resources available at PSAR are outstanding. The ability to share ideas collectively also is important to me."
Amber entered a leadership role at PSAR in 2019 as co-chair of the Young Professionals Network (YPN). (She previously served as a board member with the Women's Council of REALTORS® San Diego chapter.) YPN focuses on connecting and engaging the next generation of realtors with the tools and encouragement they need to succeed. Throughout 2020, Amber has been chairing PSAR's YPN group.
"This year, YPN has certainly been different and challenging with COVID and the inability to gather," said Amber, "but we've enjoyed outstanding participation from PSAR members for our events held over Zoom and continued to provide value to our much needed sponsors."
Amber is a big believer in YPN.
"YPN is for all ages, there is no age limit" she said. "YPN is a group of PSAR members who work together with a purpose. We focus on learning and growing together. We share and discover new ideas together. It's a peer networking opportunity unlike any other because we engage, educate and elevate.
"YPN is a dynamic entry point for real estate professionals striving to become more successful in their careers and gain leadership experience. It's a platform for REALTORS® to volunteer, network and learn more about the real estate industry, as well as fundraise and make a positive difference in our communities. By belonging to a network of peers who face similar issues, we can bounce ideas off each other and provide support to one another.
"I'm so proud of our YPN leaders and our association leaders during this pandemic. Everyone has been willing to pivot and change to a new normal. It's the same way in our business. The only thing real estate agents can expect is change and all of us need to be prepared to shift quickly or we'll be left in the dust."
Amber also is a big believer in the benefits of participating in leadership at PSAR.
"Everyone always seems to be looking for a leader, but maybe he or she is not willing to stand up and take the roll," she said. "It's true that when you put yourself in a leadership role, you open yourself up to opinions, both good and bad. But, I have found that the more I listen and the more I delegate, the better the outcome.
"I think it is important to set the expectation and the goal and then allow the creativity of the members of your association, company or group to figure out a way to meet the desired expectation. Surrounding yourself with people who are from different backgrounds, multi levels of expertise and experience and embracing the diversity has provided wonderful results for our YPN network. A good leader doesn't need to know or do everything. They just need to know how to find balance and to facilitate the process."
Amber, a Santee resident, is a single parent raising two children, a son age 19, who currently attends Grossmont College, and a daughter age 8, a third grader. "I am hoping the schools will open soon," Amber said. "It's tough to have a career and be a mom plus a school teacher, all at the same time."
Amber also is active in the Santee community as a board member of the Cameron Family YMCA as well as the board of the Parent Teacher Association (PTA) at Carlton Hills Elementary School.
_______________________________
Our Mission is to empower our members to flourish while being accountable to each other
our clients and our community.
Since 1928, the Pacific Southwest Association of REALTORS® has played a significant role in shaping the history, growth & development of the Real Estate industry in San Diego County. This program is only open to REALTORS® and PSAR Affiliate Members. There is no cost for attending this program.