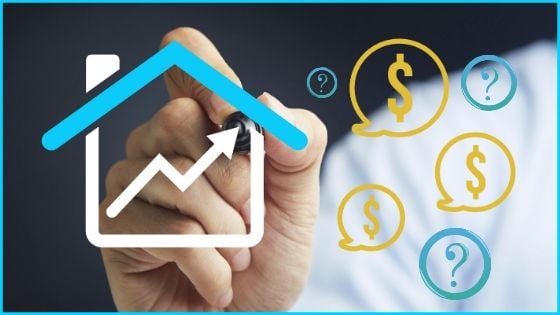 San Diego County's housing market saw a slight increase in home sale prices but a drop in the number of sales in November 2019, according to a recent report from the California Association of REALTORS® (C.A.R.).
The median sales price of an existing single-family home in San Diego County in November, 2019 was $659,000, compared to $652,000 in October, 2019 and $626,000 in November, 2018. That's an increase of only 1.1 percent comparing November to October. 2019, and an increase of 5.3 percent in a comparison of November, 2019 to November, 2018.
Meanwhile, San Diego home sales in November, 2019 saw a decrease of 9.3 percent, compared to October, 2019, but a 10 percent increase in a comparison of November, 2019 to November, 2018.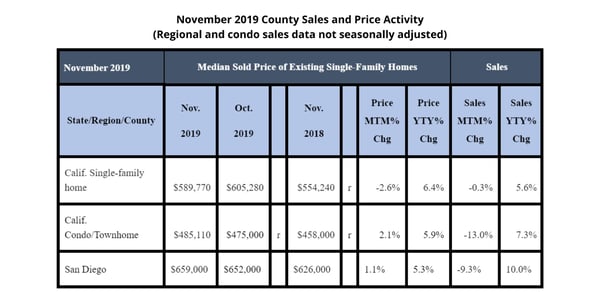 Statewide, it was a different story in November 2019, when home sales and prices retreated.
The statewide median price decreased by 2.6 percent from $605,280 in October, 2019 to $589,770 in November 2019, marking the first time in seven months the median price was under $600,000. November, 2019's median price was up 6.4 percent from $554,240 in November, 2018. The year-over-year price increase was the largest gain in nearly a year and a half since July 2018.
The number of closed escrow sales of existing, single-family detached homes statewide in November 2019 was down 0.3 percent to 402,880, compared to 404,240 in October, 2019, but up 5.6 percent from home sales in November, 2018 with a revised total of 381,690. Year-to-date statewide home sales were down 1.9 percent in November, 2019.
The statewide annualized sales figure based on information collected by C.A.R. from more than 90 local REALTOR® associations and MLSs statewide represents what would be the total number of homes sold during 2019 if sales maintained the November pace throughout the year. It is adjusted to account for seasonal factors that typically influence home sales.
After 15 straight months of year-over-year increases, active listings fell for the fifth straight month, dropping 22.5 percent from year ago. The decline was the third consecutive double-digit drop and the largest since April 2013. The sharp drop in active listings and slight uptick in year-over-year sales put a dent in housing inventory. The Unsold Inventory Index (UII), which is a ratio of inventory over sales, was 3.1 months in November, up slightly from 3.0 months in October but down sharply from 3.7 months in November 2018. It was the second lowest level in the last 17 months. The index measures the number of months it would take to sell the supply of homes on the market at the current sales rate.
"While statewide home sales and prices eased back slightly as the housing market continued to move into the off season, a favorable lending environment continues to draw interest from buyers who want to take advantage of low rates," said 2020 C.A.R. President Jeanne Radsick, a second-generation REALTOR® from Bakersfield, Calif. "The upper end of the market, in particular, is showing some welcomed improvement in recent months as both sales and prices posted mild growth from a year ago in November."
"We're seeing a more robust market in the second half of the year, driven primarily by the lowest interest rates in nearly three years," said C.A.R. Senior Vice President and Chief Economist Leslie Appleton-Young. "While uncertainties and supply constraints will continue to dictate the market outlook in 2020, the California housing market will likely wrap up 2019 in slightly better shape than previously thought."
With prices rising faster in recent months while supply continued to shrink, home sellers' optimism improved both month-over-month and year-over-year. According to a monthly Google poll conducted by C.A.R. in December, slightly more than half (51 percent) believe it is a good time to sell, up from 47 percent a month ago, and up from 46 percent a year ago. Buyers, however, remain uncertain about the current housing market conditions as less than one-fourth of respondents (24 percent) believe that it is a good time to buy now, lower than last year (25 percent), when interest rates were more than 100 basis points higher.
Other key points from the November 2019 resale housing report included:
-- At the regional level, non-seasonally adjusted sales rose on an annual basis in all major regions, except the San Francisco Bay Area. Southern California increased the most at 4.6 percent, followed by Central Coast (1.0 percent) and Central Valley (0.6 percent).
-- Also, regionally speaking, median home prices rose from a year ago in all major regions with Southern California recording the largest gain (7.5 percent), followed by Central Valley (6.3 percent), Central Coast (3.3 percent) and the Bay Area (2.2 percent).
-- In the Southern California region, median home prices grew in every county, led by Los Angeles County, which recorded a 7.4 percent jump from a year ago. The six counties in the Southern California region posted an average year-to-year price gain of 5 percent in November.
-- Statewide, the median number of days it took to sell a California single-family home fell from a year ago, declining to 25 days in November 2019 from 28 days in November 2018. That compares to 24 days in October 2019, 24 days in September 2019, 23 days in August 2019 and 21 days in July 2019.
-- In San Diego County, the median number of days a home remained unsold on the market in November 2019 decreased five days in a year-over-year comparison, from 22 days in November 2018 to 17 days in November 2019.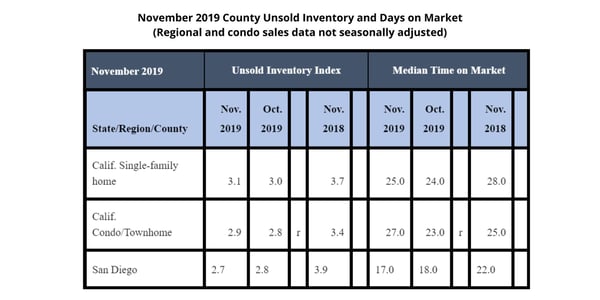 -- The statewide sales-price-to-list-price ratio was 98.4 percent in November, 2019, up from 97.9 percent in November, 2018. That compares to 98.5 percent in October and September, 2019, 98.7 percent in August, 2019 and 99.0 percent in July 2019. Sales-to-list-price ratio is an indicator that reflects the negotiation power of home buyers and home sellers under current market conditions. The ratio is calculated by dividing the final sales price of a property by its last list price and is expressed as a percentage. A sales-to-list ratio with 100 percent or above suggests that the property sold for more than the list price, and a ratio below 100 percent indicates that the price sold below the asking price.
-- The 30-year, fixed-mortgage interest rate averaged 3.70 percent in November, down from 4.87 percent in November, 2018, according to Freddie Mac. The five-year, adjustable mortgage interest rate was an average of 3.41 percent, compared to 4.11 percent in November, 2018.
In other recent real estate and economic news, according to news reports:
-- San Diego will be the hottest major home market for California in 2020, according to a group of more than 100 economists and housing experts who participated in a Zillow study. The experts are predicting a more sluggish year of price increases across the nation, but a quarter of panelists expect San Diego home values will grow faster than the national rate, 39 percent said they would grow slower and 37 percent said it would be able the same.
-- Also according to Zillow, the median value of a single-family home was $600,560 in November, marking a 1.7 percent year-over-year increase. Nationwide, the home value growth in November reached its lowest point since January, 2013.
-- According to CoreLogic, San Diego County's median home price hit an all-time high of $594,455 in November 2019, pushed up by declining inventory and dropping interest rates. The previous high in the county was $590,000 in June 2019.
-- The latest S&P CoreLogic Case-Shiller Indices report shows a marked slowdown in residential real estate appreciation in San Diego, with a 0.2 percent price decline in October, 2019 and a revised estimate of no change in September, 2019. Nevertheless, San Diego prices were still 2.9 percent higher in October, 2019 compared to a year ago.
-- San Diego County continues to be one of the least affordable markets to buy a home in the U.S., according to an Attom Data Solutions report. The real estate analytics company found that a San Diegan with an annual wage of $62,907 would need to spend 63.1 percent of his or her income to buy a $570,000 home.
-- San Diego County experienced the largest decline in active listing inventory in the nation in November, 2019, falling 28.1 percent in a year-over-year comparison, according to a Realtor.com report. The online real estate data company also said the region's median list price rose 8.4 percent year-over-year in November. Realtor.com placed the median listing price of a single-family home in San Diego at $715,000.
-- The amount of money that San Diegans spent on rent has increased greatly over the past 10 years. Renters in San Diego County spent $86.2 billion on housing over the decade as rent prices steadily increased, according to Zillow. From January 2010 to December 2019, San Diegans saw the amount they spent on rent increase 53.6 percent. That's based on a Zillow estimate of median rent in January, 2010 of $1,997 a month and $2,548 a month now.
-- San Diego ended the year with the distinction of being the ninth most expensive rental market among the 10 largest U.S. cities. Zumper, a national online rental listings site, reported that the median monthly rent for a one-bedroom apartment in San Diego was $1,780 in December. A two bedroom apartment went for $2,350. Tech-mecca San Francisco was the priciest U.S. rental market at $3,490 for a one-bedroom unit and $4,500 for two.
-- The unemployment rate in San Diego County remained at near 20-year lows in November 2019 at 2.9 percent. San Diego County's jobless rate is one of the lowest in California and below the national rate of 3.3 percent. San Diego's rate hit 2.7 percent in May, based on revised numbers, which was the lowest since December 1999.