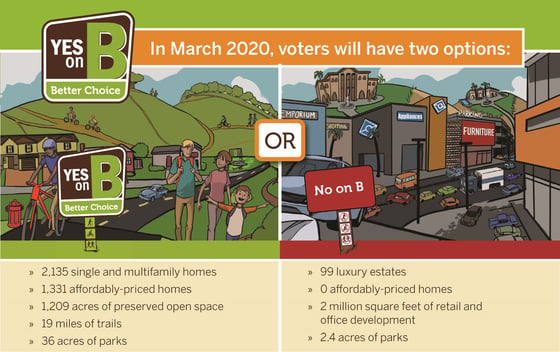 The Pacific Southwest Association of REALTORS® (PSAR) Board of Directors recommends a "No" vote on Measure A and a "Yes" vote on Measure B in March California Primary Election. All members should inform friends and clients about these recommendations. Both measures are related because they address housing development in San Diego County. Voting by mail begins February 3rd and Election Day is a month later.
Measure A
Proponents named Measure A the "Save Our San Diego Countryside" initiative, is designed to stop land owners from building in both San Diego County and any city that introduces similar no-growth measures that stop new-home building. Measure A will harm the economy, take away private property rights and make the housing crisis worse. It will drive young home buyers away and force them to commute long distances. It will cost taxpayers up to $104 million to hold costly elections to approve as few as six additional homes if zoning is amended.
"Brought to you by wealthy, out-of-town investors"
The backers of Measure A have a secret weapon: A ballot argument that leaves out critical details about this unfair and deceptive ballot-box-planning measure. Measure A is brought to you by wealthy, out-of-town investors who wrote Measure A to protect the Golden Door luxury spa, which has contributed hundreds of thousands of dollars in support of Measure A. This luxury resort near Escondido attracts the rich and famous. These extremely wealthy investors want to keep affordable homes far away from their exclusive hotel and force them into already-congested neighborhoods. Their measure exempts commercial and industrial developments, including casinos, hotels and Golden Door expansion.
"The measure uses deceptive language to gloss over the absurd six-unit threshold."
Measure A would require a countywide vote to add just six houses to the county's General Plan, a planning document that guides growth in the unincorporated areas of the county. That means if someone wanted to add as few as six homes, Measure A would require that 1.6 million voters go to the ballot box to approve that change, in addition to the County's current approval process. The measure uses deceptive language to gloss over the absurd six-unit threshold. The measure is flawed, with too many loopholes, and it sticks taxpayers with the tab for costly elections. Measure A creates an unfair ballot box planning scheme, allowing voters in large urban areas to make decisions for small rural communities.
"Measure A is opposed by both the Democratic Party and the Republican Party."
Measure A is opposed by both the Democrat Party and Republican Party, along with multiple chambers of commerce, firefighters, sheriff deputies and police officers. Add to that laborers, the Taxpayers Association, Farm Bureau, San Diego Housing Federation, Mayor Kevin Faulconer and Mayor Mary Casillas Salas, as well as Supervisors Greg Cox, Kristine Gaspar, Jim Desmond and Nathan Fletcher. PSAR is joined in opposing A by other organizations, including the North San Diego County Association of REALTORS® (NSDCAR), Greater San Diego Association of REALTORS® (GSDAR), Associated General Contractors San Diego Chapter, New Majority San Diego, Save Our Rural Economy, California Apartment Association San Diego Chapter, Institute of Real Estate Management, Rental Housing Association and San Diego East County Economic Development Council.


Measure B
"...would approve 2,135 single-family and multi-family homes."
Home builders are bringing forth Measure B which is called "the Better Choice Measure." It would approve 2,135 single-family and multi-family homes, 60 percent of which (1,331) would be priced affordably for local working families. First priority for up to 500 of the first homes would be given to police, firefighters, teachers, active duty military and veterans. Yes on B would also approve 1,209 acres of permanent open space, 19 miles of trails and 36 acres of parks. This new housing community is located on 1,985 acres of privately owned land just west of Interstate 15, north of Deer Springs Road, and a little more than a mile from Escondido, Vista and San Marcos.
"Voting Yes on B would authorize the development of affordable homes for working families"
Under the county's current General Plan this 1,900-acre site is designated for the development of 2 million square feet of commercial space and 99 estate homes. Voting "Yes" on B will authorize the development of affordable homes for working families, while voting "No" will retain the existing General Plan designation permitting massive 2 million-square-foot retail and office development, along with 99 luxury estates (zero affordably-priced homes).
Voting Yes on B would affirm the Board of Supervisors' September 2018 approval of this new community that creates homes for working families instead of the current General Plan designation. This housing development went through the required planning process with the County of San Diego. So why are all San Diego County residents voting on this?
Unfortunately, special interest groups behind the nearby Golden Door Spa are spending millions to reverse the Board of Supervisor's approval of this community. So, voting Yes on B would uphold the County's planning process and the Supervisors' previous approval.
As REALTORS®, we know firsthand about the lack of housing available to families across our region. We need more housing, not another massive commercial complex.
PSAR is joined by a broad coalition in supporting Yes on B, including the San Diego Regional Chamber of Commerce, Deputy Sheriff's Association of San Diego, CALFIRE Firefighters and San Diego County Taxpayers Association. Other organizations supporting Yes on B include the North San Diego County Association of REALTORS® (NSDCAR), San Diego East County Chamber of Commerce, Chula Vista Chamber of Commerce, Oceanside Chamber of Commerce and San Diego North Economic Development Council. A number of city mayors are supporting Measure B, including Judy Ritter (Vista), Matt Hall (Carlsbad), Peter Weiss (Oceanside), Paul McNamara (Escondido), Rebecca Jones (San Marcos), Bill Wells (El Cajon), John Minto (Santee), Mary Casillas Salas (Chula Vista), Richard Bailey (Coronado) and Racquel Vasquez (Lemon Grove).
For more information on Yes on B, visit https://betterchoicesd.org/.
A special presentation covering Measures A & B, along with AB 1816, a fire insurance bill, will start at 9 a.m., Friday, January 31, at the PSAR East County Service Center, 1150 Broadway, El Cajon. Admission is free and a free breakfast will be served. For more information, call (619) 421-7811 or visit https://blog.psar.org/200131hottopics.