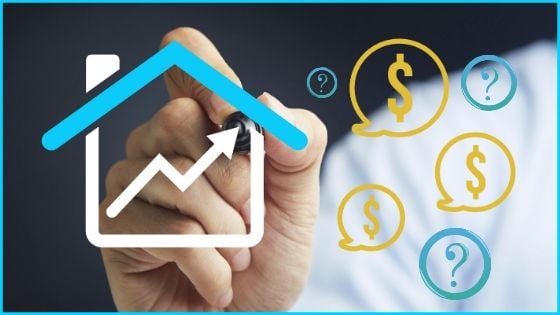 San Diego County's housing market saw a slight drop in home sale prices and home sales in December 2019, according to the recent statistics from the California Association of REALTORS® (C.A.R.).
The median sales price of an existing single-family home in San Diego County in December 2019 was $655,000, a drop of 0.6 percent from November 2019, when the median sales price was $659,000. But, a year ago, in December 2018, the median sales price in San Diego was lower at $618,500, a difference of 5.9 percent.
Meanwhile, San Diego home sales in December 2019 saw a decrease of 1.3 percent compared to November 2019, but a 17.4 percent increase in a year-over-year comparison between December 2019 and December 2018.
Statewide, in December, tight housing inventory tamped down the benefits of low interest rates and held back California home sales. Existing, single-family home sales totaled 398,880 in December 2019 on a seasonally adjusted annualized rate, down 1.0 percent from the 402,880 level in November 2019 and up 7.4 percent from December 2018's revised 371,410 figure. It marked the first time in six months that sales fell below the 400,000 benchmark. For the year 2019, annual existing statewide home sales fell for the second consecutive year to a preliminary 397,910 closed escrow sales in California, down from 2018's pace of 402,640, a drop of 1.2 percent.
The December 2019 statewide median home price was $615,090, up 4.3 percent from November 2019 and up 10.3 percent from $557,740 from December 2018. The statewide median home price for the year was $592,450, an increase of 4.0 percent from a revised $569,480 in 2018. The year-over-year price increase was the largest since May 2014 and the first double-digit price increase in more than five-and-a-half years.
December 2019 County Sales and Price Activity
(Regional and condo sales data not seasonally adjusted)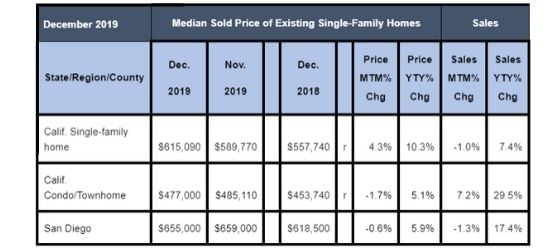 "Despite a sales slowdown at year-end, home sales were up from a year ago as interest rates remained low," said 2020 C.A.R. President Jeanne Radsick, a second-generation REALTOR® from Bakersfield, Calif. "It's important to note, however, that the increase was due partly to low housing demand in the prior year. Looking ahead, low rates should continue to provide support to the market as buyers have become more motivated to get back into the market, and home sales in California should see an improvement at the start of the year."
"With housing supply dropping to the lowest level in nearly seven years, California experienced an unusual jump in its median price at the end of the year when the market is supposed to cool down," said C.A.R. Senior Vice President and Chief Economist Leslie Appleton-Young. "While low rates were fueling demand in the second half of 2019, supply constraints continued to put a drag on the market and undercut the positive effect of low rates. The surge in price is a byproduct of the imbalance between supply and demand as market competition continues to heat up."
With prices rising faster in recent months while supplies continued to shrink, home sellers' optimism improved both month-over-month and year-over-year, according to a monthly Google poll conducted by C.A.R. in December. The poll revealed that slightly more than half (56 percent) believe it is a good time to sell, up from 51 percent a month prior and up from 48 percent a year ago. Many buyers, however, remain uncertain about the current housing market conditions as only one-quarter of respondents (25 percent) believe that it is a good time to buy now, slightly higher than last year (22 percent), when interest rates were more than 100 basis points higher.
Other key points from the December 2019 resale housing report include:
-- At the regional level, non-seasonally adjusted sales rose on both a monthly and annual basis in all major regions. On a yearly basis, sales in the Central Coast increased the most at 42.4 percent, followed by the San Francisco Bay Area (16.0 percent) and Los Angeles (15.6 percent). The Inland Empire and Central Valley rounded out the remaining regions with annual increases of 13.3 percent and 11.6 percent, respectively. Forty of the 51 counties tracked by C.A.R. experienced year-over-year sales growth.
-- Also, regionally speaking, median home prices increased from last year in all regions except the Central Coast, with Southern California up the most at 10.0 percent, followed by the Central Valley (7.7 percent) and the Bay Area (6.9 percent). The median price in the Central Coast dipped from a year ago by 2.2 percent but edged up 0.7 percent from November.
-- Thirty-nine of the 51 counties tracked by C.A.R. reported a year-over-year price gain in December, with Siskiyou county experiencing the highest at 23.3 percent over last year. Of the 11 counties that experienced a price drop from last December, Mono county had the biggest decline at 26.1 percent, while the rest of the counties all had 8.3 percent or less in price losses.
-- California's housing supply recorded back-to-back drops of more than 20 percent at the end of 2019, with active listings declining 26.5 percent in December after a 22.5 percent decrease in November. December marked the sixth consecutive month of year-over-year decline in supply, and it was the largest decline since April 2013. The number of active listings in December was, in fact, at the lowest level in nearly seven years.
-- The sharp drop in active listings and surge in year-over-year sales sharply curbed housing inventory in December. The Unsold Inventory Index (UII), which is a ratio of inventory over sales, was 2.5 months in December, down from 3.1 months in November and down sharply from 3.5 months in December 2018. The index measures the number of months it would take to sell the supply of homes on the market at the current sales rate.
-- Statewide, the median number of days it took to sell a California single-family home fell from a year ago, declining from 32 days in December 2018 to 28 days in December 2019. That compares to 25 days in November 2019, 24 days in October 2019, 24 days in September 2019, 23 days in August 2019 and 21 days in July 2019.
-- In San Diego County, the median number of days a home remained unsold on the market was seven fewer days in a year-over-year comparison, from 27 days in December 2018 to 20 days in December 2019. That compares to 17 days in November 2019, 18 days in October 2019, 18 days in September 2019, 17 days in August 2019, 15 days in July 2019, 13 days in June 2019, 14 days in May 2019, 17 days in April 2019, 19 days in March 2019 and 22 days in February 2019.
-- The 30-year, fixed-mortgage interest rate averaged 3.72 percent in December, down from 4.64 percent in December 2018, according to Freddie Mac. The five-year, adjustable mortgage interest rate was an average of 3.39 percent, compared to 4.02 percent in December 2018.
In other recent real estate and economic news, reports:
-- According to CoreLogic, San Diego County's median home price was $575,000 in December, a slight decrease from the previous month of November when the median price hit an all-time high of $594,909. San Diego County's average price in December was up 4.5 percent in a year, ending the year on a high note after a sluggish first six months, per Core Logic.
-- San Diego County had 347 properties in some form of distress in 2019, a 4.6 percent decline in a year-over-year comparison, according to Attom Data Solutions. The total included 225 notices of default, 70 notices of a trustee's sale and 52 REO properties. Among San Diego's approximately 1.19 million housing units, only one in every 3,446 housing units are under some sort of distress. Nationally, default notices, scheduled auctions and bank repossessions fell 21 percent year-over-year in 2019 to 493,066, which was the lowest level since tracking of this statistic began in 2005.
December 2019 County Unsold Inventory and Days on Market
(Regional and condo sales data not seasonally adjusted)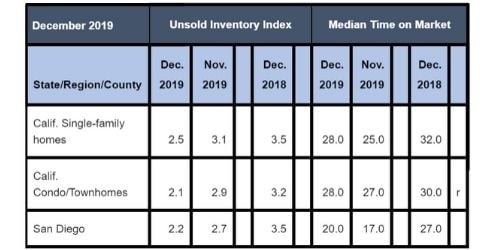 -- December 2019 saw the largest year-over-year decline of housing inventory nationally since January 2018, according to Realtor.com's Housing Trends report. The 12 percent year-over-year drop pushed the number of homes for sale in the U.S. to its lowest level since January 2018. San Diego County experienced a much more significant drop as inventory fell 28.3 percent year-over-year in December. The inventory has continued to decline despite the median list price reaching $719,444 in December 2019, a 9.8 percent increase over the same month the previous year.
-- San Diego County closed out the year experiencing the fastest job growth rate in Southern California and a near-record low of 2.8 percent unemployment. There were 34,800 jobs added in San Diego County in the 12 month period, state labor officials said. The 2.8 percent unemployment rate in December 2019 was even lower than November 2019 at 2.9 percent. San Diego County's jobless rate is one of the lowest in California (3.7 percent overall) and below the national rate (3.4 percent). San Diego's rate hit 2.7 percent in May, based on revised numbers, the lowest rate since December 1999.
###