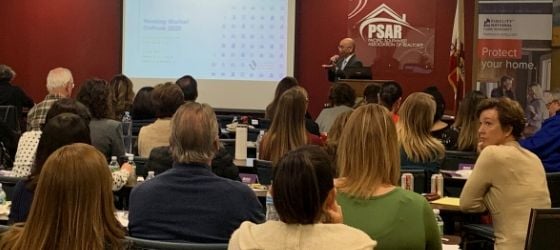 PSAR members filled a packed room earlier this week at the South County Service Center in Chula Vista for a look into the future by attending "2020 Housing Market Outlook," a presentation by Oscar Wei, from the California Association of REALTORS® (C.A.R.).
Wei is the Senior Economist and the Director of Research for C.A.R. He analyzes housing market conditions, consumer behavior, and public policy issues. He utilizes transactional data and survey research studies conducted by C.A.R. He assumes the managerial responsibility of data mining and analyzing housing market statistics that are released to the public on a periodic basis.
Wei told PSAR members to expect slow growth for the California housing market in 2020, but a recession is not expected this year. He also said rates will remain low this year, possibly 4 percent or lower, and sales will improve as low rates continue to provide support. But, Wei said, the supply shortage has gotten worse, which means lack of inventory will put pressure on price growth.
"There are a number of economic uncertainties that could put a drag on both the California market and the state's housing market," Wei said. He listed the uncertainties as stock market correction, Brexit, global economic slowdown, coronavirus outbreak, Federal Reserve decisions, trade conflicts and the presidential election. He said consumer confidence in January 2020 was at 131.6, the highest point since August 2019, but that American business leaders remain concerned about the current environment.
Wei said the economic fundamentals are solid for now. According to the Bureau of Labor Statistics and Bureau of Economic Analysis in the 2019 4th quarter, GPD was 2.1% and consumption was at 1.8%. In December 2019, the CPI was 2.3%, the unemployment rate was 3.5% and job growth was 1.4%. Total non-farm payroll employment increased by 145,000 in December. Employers added positions for a record 10th straight year.
Existing single-family home sales in California for December 2019 were up 7.4 percent from the prior year, but declined 1.2 percent for the year as a whole from 2018. Tight housing inventory tamped down the benefits of low interest rates and held back California home sales in 2019. Existing, single-family home sales totaled 398,880 in December 2019 on a seasonally adjusted annualized rate, down 1.0 percent from the 402,880 level in November 2019. It marked the first time in six months that sales fell below the 400,000 benchmark.
In December, the median single-family home price was $615,090, a 10.3 percent year-over-year increase from $557,740 in December 2018. The statewide median home price for the year as a whole was $592,450, an increase of 4.0 percent from a revised $569,480 figure in 2018. The year-over-year price increase was the largest since May 2014 and the first double-digit price increase in more than five-and-a-half years.
Statewide, the median number of days it took to sell a California single-family home stood at 28 days in December, which was a 12.5 percent decrease from 32 days in December 2018. The December number compared to 25 days in November 2019, 24 days in October 2019, 24 days in September 2019, 23 days in August 2019 and 21 days in July 2019.
Wei also noted that a sharp drop in active listings and a surge in year-over-year sales sharply curbed housing inventory in December 2019. The Unsold Inventory Index, which is a ratio of inventory over sales, was at 2.5 months in December, a drop of 28.6 percent in a year-over-year comparison (3.5 months in December 2018). The index measures the number of months it would take to sell the supply of homes on the market at the current sales rate.
Wei said California cities are still not allowing construction of a sufficient number of new homes. "We're not building enough housing units in California to keep up with demand," said Wei. New housing permits totaled 114,370 in 2018, compared to an estimated total of 108,170 in 2019 and a forecast number of 108,620 in 2020.
Wei also offered highlights from C.A.R.'s most recent annual housing market survey and "Housing Affordability Index" (HAI) report, including:
Housing affordability is still the main reason for out-migration.
Housing affordability is a much bigger problem for first-time buyers. The reasons why most buyers delay buying sooner include saving for a down payment, waiting for finances to improve and prices to stabilize and/or difficulty qualifying for a mortgage.
49 percent of first-time buyers changed their county residency due to housing affordability.
31 percent of California households could afford to purchase an existing $613,470 median-priced home in the third quarter, which was up from 30 percent in the second quarter of 2019 and 27 percent in the third quarter of 2018.
In San Diego County, 29 percent of local households could afford to purchase a $645,000 median-priced home in the 2019 third quarter, an improvement from 27 percent in the 2019 second quarter and 23 percent in the third quarter a year ago.
To qualify to purchase a statewide median-priced, single-family home of $613,470 in the third quarter 2019, a household would need a minimum annual income of $120,400 to make the necessary monthly payments of $3,010.
In San Diego County, a minimum qualifying annual income of $126,400 would be needed to make the monthly payments of $3,160.
Wei also discussed local market activity. In Chula Vista, 1,533 homes sold in 2019, compared to 1,407 in 2018, an increase of 9.0 percent. In El Cajon, 1,152 homes sold in 2019, compared to 1,133 in 2018, an increase of 1.7 percent. In the city of San Diego, 7,064 homes sold in 2019, compared to 6,774 in 2018, an increase of 4.3 percent.
Wei also shared with attendees the December median home price for the following cities: Chula Vista -- $589,000 in 2019 and $569,500 in 2018, a difference of 3.4 percent; El Cajon -- $539,950 in 2019 and $575,000 in 2018, a difference of 6.1 percent; City of San Diego -- $750,000 in 2019 and $695,000 in 2018, a 7.9 percent difference.
In December in Chula Vista, there were 105 active listings, a decrease of 58.3 percent from last year, and 24.8 percent of those active listings featured reduced prices.
Wei also mentioned December's monthly Google poll conducted by C.A.R. With prices rising faster in recent months while supply continued to shrink, home sellers' optimism improved both month-over-month and year-over-year. The poll revealed that slightly more than half (56 percent) believe it is a good time to sell, up from 51 percent a month ago, and up from 48 percent a year ago. Many buyers, however, remain uncertain about the current housing market conditions as only one-quarter of respondents (25 percent) believe that it is a good time to buy now, slightly higher percentage than last year (22 percent), when interest rates were nearly more than 100 basis points higher.
Wei's presentation can be found at www.car.org/marketdata.
Wei contributes frequently to C.A.R.'s market analysis articles, Housing Matters Podcast and Housing Perspective. He has written about housing supply, distressed sales, housing tax policy, housing affordability, and many other topics relevant to the real estate industry.
To Download the Slide Deck from the Presentation Click Here