January's home sales were down by 19% from December 2019.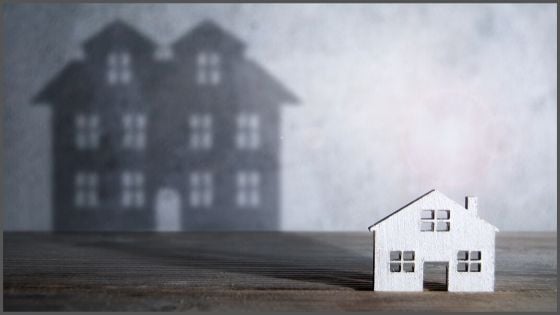 San Diego County's housing market started this year with a 14.6 percent increase in existing home sales for January 2020, compared to January 2019, according to recent statistics from the California Association of REALTORS® (C.A.R.). However, January's home sales were down by 19 percent from December 2019.
The median sales price of an existing single-family home in San Diego County in January 2020 was $660,000, a slight $5,000 increase from the $655,000 figure for December 2019. In January 2019, the median sales price in San Diego was $610,000, a decline of 8.2 percent from January 2020.
Statewide, in January, mortgage interest rates, which were at near or record lows, continued to sustain California home sales, while statewide home prices pulled back from one of the highest levels recorded last year.
Closed escrow sales of existing, single-family detached homes in California totaled a seasonally adjusted annualized rate of 395,550 in January 2020, down 0.7 percent from the 398,370 level in December 2019 and up 10.3 percent from January 2019, when 358,540 homes sold. January was the second straight month for sales below the 400,000 benchmark.
January 2020's statewide median home price was $575,160, down 6.5 percent from December 2019's price of $614,880, and up 7.1 percent from January 2019's price of $536,830.
January's median price drop, the largest in the last seven years, was largely due to a change in the mix of sales with lower-priced properties making up a bigger share of the market, coupled with a seasonal slowdown. January marked the fourth straight month that the median price registered year over year growth of 6 percent or higher.
January 2020 County Sales and Price Activity
(Regional and condo sales data not seasonally adjusted)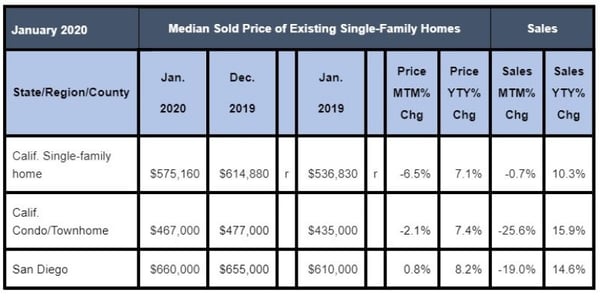 "The strong sales momentum that we saw in the second half of last year carried over into the new year, thanks to favorable homebuying conditions," said 2020 C.A.R. President Jeanne Radsick, a second-generation REALTOR® from Bakersfield, Calif. "And while home sales were up double-digits from a year ago, it's important to remember that current sales are being compared to a market that one year ago was at its lowest level in 10 years as economic uncertainties clouded the market outlook while the government shutdown delayed escrow closings."
"With interest rates on a declining trend again due to concerns about the impact of the coronavirus, motivated buyers will have an opportunity to stretch their purchasing power in the housing market," said C.A.R. Senior Vice President and Chief Economist Leslie Appleton-Young. "The economic outlook, however, is less clear than a month ago before the outbreak of the disease, and we should expect market uncertainties to continue to linger on for the short term."
With prices rising faster in recent months as housing inventory continued to shrink, consumer optimism rose both month-over-month and year-over-year based on those who believe it is a good time to sell a home. According to a monthly Google poll conducted by C.A.R. in January, 62 percent said it is a good time to sell, up from 56 percent a month ago, and up from 50 percent a year ago.
The same motivating factors, however, may have curbed the optimism for homebuying as only 23 percent of the consumers who responded to the poll believe that now is a good time to buy a home, slightly less than last year (25 percent), when interest rates were 84 basis points higher.
Other key points from the January 2020 resale housing report include:
-- The available supply of homes for sale in the state inched up slightly after reaching an 80-month record low in December but declined on a year-over-year basis for the seventh consecutive month.
-- Housing inventory continued to dwindle, with active listings declining 26.9 percent in January following a 25.9 percent dip in December. The January drop was the largest since April 2013.
-- The median number of days it took to sell a California single-family home devreased from a year ago, to 38 days in January 2019 to 31 days in January 2020. That compares to 28 days in December 2019, 25 days in November 2019, 24 days in October 2019, 24 days in September 2019, 23 days in August 2019 and 21 days in July 2019.
-- In San Diego County, the median number of days an existing, single-family home remained unsold on the market was 23 days in January 2020, which compares to 20 days in December 2019 and 28 days in January 2019. In other months, the number-of-days figure was 17 days in November 2019, 18 days in October 2019, 18 days in September 2019, 17 days in August 2019, 15 days in July 2019, 13 days in June 2019, 14 days in May 2019, 17 days in April 2019, 19 days in March 2019 and 22 days in February 2019.
-- The sizable drop in active listings, together with the surge in sales, resulted in a decline in Unsold Inventory Index (UII) to 3.4 months from 4.6 months a year ago. On a month-to-month basis, supply climbed 1.6 percent from the prior month but was lower than the average December-to-January increase of 2.8 percent, based on data going back to 2008.
The 30-year, fixed-mortgage interest rate averaged 3.62 percent in January, down from 4.46 percent in January 2019, according to Freddie Mac. The five-year, adjustable mortgage interest rate was an average of 3.33 percent, compared to 3.91 percent in January 2019.
In other recent real estate and economic news, according to news reports:
-- After a slow start to the year, San Diego County home prices finished 2019 on a high note. Prices in the San Diego metropolitan area jumped more than any other West Coast market in December, according to the S&P CoreLogic Case-Shiller Indices. San Diego metro's price gain was 4.7 percent, ahead of the national average of 3.8 percent. America's Finest City ranked fourth in the 20-city index for annual price gains, its highest showing since November 2017.
-- San Diego County's median home price opened the year at $585,000, up slightly from the previous month. Home prices in January were up 7.9 percent annually, said CoreLogic. The median was down from the peak reached in November 2019 of $594,909. The same factors that have pushed up national and local home prices the past few months, including a shrinking number of homes for sale, low interest rates and job demand, are expected to continue to put upward pressure on prices.
-- San Diego County's housing inventory plummeted 34 percent year-over-year in January, marking the third most precipitous decline in the U.S., according to a new Realtor.com report. San Diego's drop was exceeded only by San Jose-Sunnyvale-Santa Clara (37.3 percent) and Phoenix-Mesa-Scottsdale (35.4 percent). Nationally, housing inventory declined 13.6 percent from January 2019, the steepest year-over-year decrease in more than four years. It pushed the supply of "for sale" homes in the U.S. to its lowest level since Realtor.com began tracking the data in 2012.
January 2020 County Unsold Inventory and Days on Market
(Regional and condo sales data not seasonally adjusted)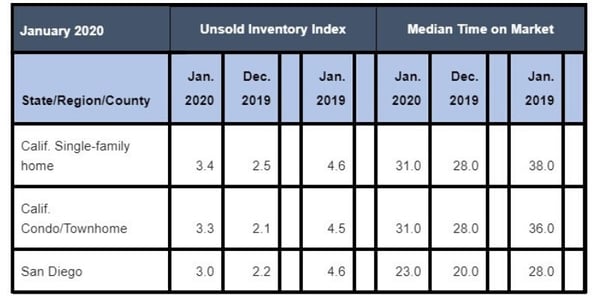 -- San Diego County was the fourth least affordable housing market in the U.S. last year, according to a First American Financial Corp. survey that concluded the least affordable markets were along the California coast. The survey found San Jose was the nation's least affordable market when comparing median income to sales price. San Jose's median household income of $128,570 was sufficient to purchase an $806,600 home, but the median price for a single-family home in the city was over $1.03 million in 2019. San Francisco was the second least affordable with a median household income of $114,763 and a median priced home of $945,547. San Diego's median household income of $81,274 in 2019 was sufficient to purchase a $509,883 home, but the median price of a single-family home in the county was $564,813.
-- 90 percent of Americans are satisfied with the way things are going in their personal life, reflecting a new high in Gallup's four-decade trend. The latest figure bests the previous high of 88 percent recorded in 2003.These results are from Gallup's Mood of the Nation poll, conducted in January, which also recorded a 20-year high in Americans' confidence in the U.S. economy. The percentage of Americans who report being satisfied with their personal life close to the 86 percent who said in December that they were very or fairly happy.
-- U.S. employers added 225,000 jobs in January, a higher number than expected. The unemployment rate ticked up slightly, at 3.6 percent. Wages increased 3.1 percent from the previous year; wages have grown at an average pace of 3 percent for the last 18 months. Also, the "labor-force participation rate," meaning the percentage of Americans seeking employment, also increased.
# # #