Southern California Housing Forecast Live Every Wednesday - 10:00 am
What will be the state of our real estate profession, and both local and national economies, after the COVID-19 pandemic is passed? Will the "new norm" of mandated adaptions we have made during the crisis become permanent?
Economist Steven Thomas, publisher of "Reports on Housing," recently spoke to PSAR members on Wednesday during a virtual "Zoom Meeting"and offered several interesting insights. Since 2004, Thomas has been publishing "Reports on Housing," a monthly report for real estate professionals. The report tracks regional demand, inventory, distressed homes and market data. It also shares what buyers, sellers and real estate professionals are experiencing in the trenches. He will be providing a new live report next Wednesday, April 8th at 10:00 am. (and every Wednesday till April 29th)
Thomas is a California real estate broker with decades of real estate experience. He has a degree in Quantitative Economics and Decision Sciences from the University of California San Diego. He has been quoted in news stories published by the Orange County Register, Los Angeles Times, San Diego Union-Tribune, The Wall Street Journal, Fortune, USA Today, Bloomberg, ABC, CBS and NBC television, Cox Cable Television, KNX 1070,-AM News Radio, KFI AM-640 Radio, blogs and Internet news sites.
In the aftermath of COVID-19, Thomas' predictions for the remainder of 2020 include:
• Initially, the coronavirus lock-down will limit new supply and damper demand
• Unfortunately, coronavirus fears have resulted in many more cautious fence-sitter buyers
• After the public health concerns subside, look for a more balanced market with fewer unrealistic, overpriced
homes by sellers who refuse price reductions
• Expect a "tug-of-war" between buyers' irrational thinking and market realities
• Low mortgage rates also will also stimulate demand and speed up the recovery. Rates are likely to remain in
the 3 percent range
• The luxury market will be sluggish until 2021
• Overall, the Southern California housing market is projected to appreciate 3-to-5 percent by the end of 2020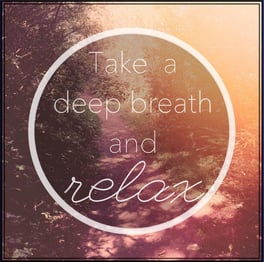 Thomas said don't get discouraged by news media reports of Covid-19- caused low economic numbers. This temporary downturn differs from previous downturns in U.S. macroeconomic history
He said, "recession" does not equal "housing crisis." Home prices appreciated during three of the last five recessions:1980 (6.1 percent), 1981 (3.5 percent) and 2001 (6.6 percent), while decreasing in 1991 (1.9 percent) and 2008 (19.7 percent)
According to Thomas, the economic hardship resulted from the government effectively ordering a nationwide recession by asking businesses to close and workers to stay home. Much of the economic disruption will continue throughout the second quarter. Real GDP will decline not due to recessionary factors but, instead, in response to meet health objectives as an investment in public health
Among other observations from Thomas:
• The pandemic has changed the real estate industry virtually overnight and presented unprecedented obstacles for realtors accustomed to an in person, high-touch process. REALTORS® are encouraged to utilize long-standing technology to enable remote home closings and other steps of the transaction process.
• We must adapt to a "new norm" by using available technology solutions and ingenuity to drive sales and meet client expectations. It's important that real estate professionals work together responsibly to ensure the safety of and service to each other and our clients.
• Thomas observed that COVID-19 is a shared American experience, a touchpoint for tens of millions of us who are facing the same crisis and its challenges, even if in different ways. We're discovering that disruptive times like this can be a catalyst for mass unification around a shared experience.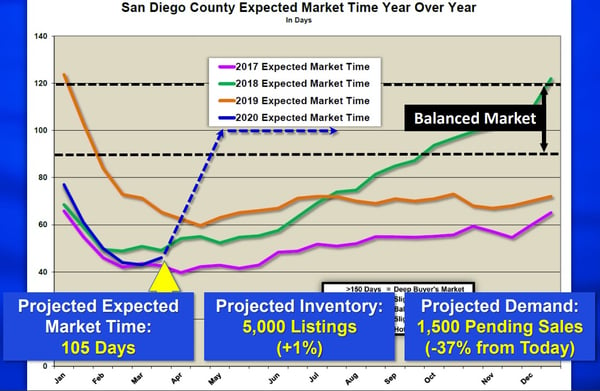 Prior to the coronavirus outbreak, the housing market was pumping on all cvc lenders. It was on the edge of the hottest spring market since 2013. Multiple offers were the norm, home values were on the rise, and there were not enough homes on the market to satisfy the voracious appetite of buyers. Low mortgage rates, in the 3-percent range, were also propelling the housing market surge.
In the month of February prior to COVID-19, sales of existing homes in San Diego County were 3.4 percent higher compared to January 2020, and 7.2 percent higher when compared to February 2019, according to the California Association of REALTORS®. The median sales price of an existing single-family home in San Diego County was $670,000, a $10,000 increase from the $660,000 figure for January 2020. A year ago, in February 2019, the median sales price in San Diego was $625,000, a 7.2 percent lower compared to February 2020. The median number of days an existing single-family home remained unsold on the market in San Diego County was 12 days in February 2020 before the Covid-19 impact. That compares to 23 days in January 2020 and 22 days in February 2019.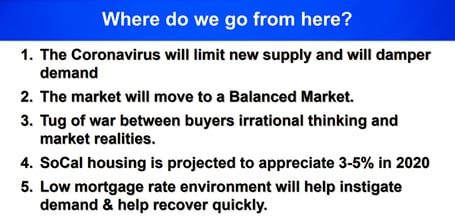 Thomas offers a free housing forecast webinar every Wednesday at 10:00 a.m. Registration is available at www.reportsonhousing.com. He sells a "Reports on Housing" monthly subscription for $15 per month or $150 per year. The regional reports feature a local real estate snapshot. One month free is available upon sign-up. Follow Thomas on YouTube, visit www.Youtube.com/ReportsOnHousing, and Facebook at @reportsOnHousing.
Review Steven's last presentation from April 1st, 2020. View Slides | Watch recorded video
---
Co-Hosted by: