Home sales locally and statewide dropped sharply in the month of April as the housing market felt the full impact of the COVID-19 pandemic stay-at-home lock-down order.
In its most recent monthly home sales and price report, the California Association of REALTORS® (C.A.R.) stated that April 2020 home sales in San Diego County dropped 27 percent, compared to April 2019, and 15.9 percent, compared to March 2020.
Statewide, April 2020 home sales in California were down 30.1 percent from a year ago and 25.6 percent compared to March. Statewide year-to-date home sales were down 5.4 percent in April 2020.
Closed escrow sales of existing, single-family detached homes in California totaled a seasonally adjusted annualized rate of 277,440 units in April, according to information collected by C.A.R. from more than 90 local REALTOR® associations and MLSs statewide.
It was the first time for statewide home sales to drop below the 300,000 level since March 2008, and the month-to-month drop was the largest since at least 1979, when C.A.R. began tracking the data. Additionally, the year-over-year decline was the first double-digit loss in 15 months and the largest decrease since December 2007.
Sales in April reflect purchases that began in March as stay-at-home orders swept the nation. While fear of economic insecurity stopped some potential buyers, another likely major factor in the slowdown was that many skittish sellers took their houses and condos off the market to wait out the COVID-19 virus crisis.
Meanwhile, home prices themselves have remained relatively unaffected by the effects of the pandemic-influenced market.
The median price for a single-family home in San Diego County in April 2020 was $671,000, down 0.6 percent from $675,000 in March 2020, but still 3.4 percent higher than the $649,000 figure in April 2019.
April 2020 County Sales and Price Activity
(Regional and condo sales data not seasonally adjusted)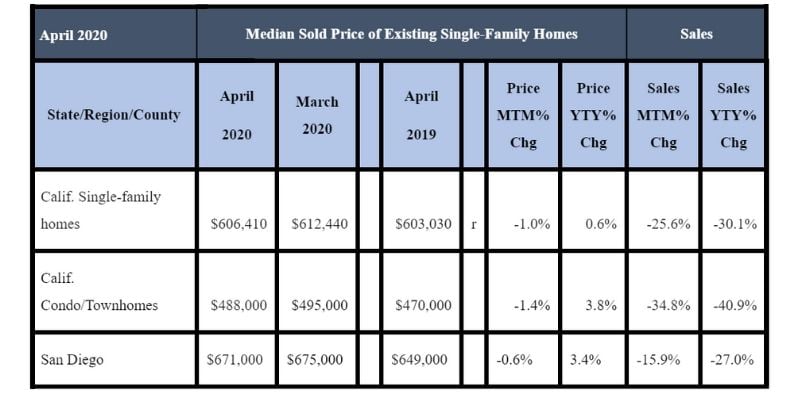 Statewide, the median price of $606,410 for an existing single-family home in April 2020 was 1.0 percent lower than the $612,440 figure in March 2020, and 0.6 percent lower than a year ago in April 2019, when the median price was $603,030.
While the median price remained above the $600,000 benchmark statewide for the second consecutive month in April, price growth showed signs of softening when compared to the past six months. The year-over-year price gain was substantially less than the six-month average gain of 7.8 percent recorded between October 2019 and March 2020.
"As expected, California home sales experienced the worst month-to-month sales decline in more than four decades as the coronavirus pandemic prompted stay-at-home orders, which kept both buyers and sellers on the sidelines," said 2020 C.A.R. President Jeanne Radsick, a second-generation REALTOR® from Bakersfield, Calif. "While some economic activity will resume as the state gradually reopens, the housing market is expected to remain sluggish for the next couple of months as potential market participants deal with the impact of stay-in-place restrictions."
"With the recession-level decline in closed home sales, the statewide median price was just barely able to avoid going into negative territory in April, in part because high-end homes saw the biggest sales declines," said C.A.R. Senior Vice President and Chief Economist Leslie Appleton-Young. "Even with tight supply and low interest rates, home prices will continue to be tested by economic deterioration in the short term."
Reflecting the dramatic change in market conditions, a monthly Google poll conducted by C.A.R. in early April found nearly one-third (29 percent) of consumers said it is a good time to sell, up from 26 percent a month ago, but down from 45 percent a year ago. The market uncertainty has not curbed the optimism for homebuying as much; 31 percent of the consumers who responded to the poll believed that now is a good time to buy a home, a figure sharply higher than last year, when 22 percent said it was a good time to buy a home.
Other key points from the April 2020 resale housing report include:
• All major regions reflected a dip in sales by more than 25 percent from last year, with the Bay Area dropping the most at -37.4 percent, followed by the Central Coast (-31.6 percent), Southern California (-30.2 percent), and the Central Valley (-26.1 percent).
• Median prices were lower in April from a year ago in the Central Coast (-6.1 percent) and the Bay Area (-0.8 percent) but increased modestly in both the Central Valley (4.8 percent) and in Southern California (3.5 percent).
• Regarding California's supply of available housing, the Unsold Inventory Index jumped to 3.4 months in April from 2.7 months in March and was unchanged from last April. The index calculates the number of months needed sell the supply of homes on the market at the current rate of sales.
• Total active listings continued to decline on a year-over-year basis for the 10th consecutive month, and the 25 percent decrease in listings was consistent with what was observed before the shutdown.
• The median number of days to sell a California single-family home fell significantly from a year ago, from 21 days in April 2019 to 13 days in April 2020. That compares to 15 days in March 2020 and 23 days in February 2020.
• In San Diego County, the median number of days an existing, single-family home remained unsold on the market was eight days in April 2020, which compares to 10 days in March 2020, 12 days in February 2020, 23 days in January 2020 and 17 days in April 2019.
April 2020 County Unsold Inventory and Days on Market
(Regional and condo sales data not seasonally adjusted)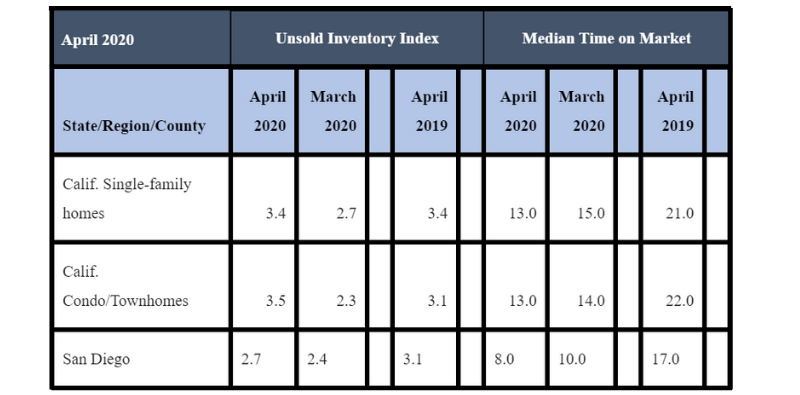 • The 30-year, fixed-mortgage interest rate averaged 3.31 percent in April, down from 4.14 percent in April 2019, according to Freddie Mac. The five-year, adjustable mortgage interest rate was an average of 3.31 percent, compared to 3.75 percent in April 2019.
In other recent real estate and economic news, according to news reports:
• Nationwide in April, sales of existing homes in the U.S. dropped 17.8 percent in a month-over-month comparison and 17.2 percent year-over-year, according to the National Association of REALTORS®. NAR stated each of the country's four major real estate regions experienced a decline in both monthly and yearly sales, with the West seeing the greatest dip in both categories.
• NAR also reports that 77 percent of potential home sellers in the U.S. are preparing to sell once the stay-at-home orders end. According to NAR's Economic Pulse Flash Survey, conducted May 3-4, nearly three in four (73 percent) of REALTORS® currently working with sellers said their clients have not reduced listing prices to attract buyers. About 20 percent said buyers are expecting a five-to-10 percent decrease in home prices over the next 12 months.
• Home sellers are slowly returning to the market, according to realtor.com. After several weeks of nearly 40 percent year-over-year declines, new listings moved toward positive territory as evidenced by a 29 percent decline in a year-over-year comparison during the week of May 9. In San Diego County, new listings were still down 28.4 percent year-over-year during the same time period.
• Zillow reports after a 25 percent reduction in year-over-year web-page views on March 22, when COVID-19 was declared a global pandemic, San Diego County had experienced a 27 percent increase in year-over-year page views by April 15. Nationwide, both Zillow page views of for-sale listings and requests to be connected to Zillow agents were higher in April than in the same month a year ago.
• According to CoreLogic, San Diego home sales had their biggest annual drop in April 2020 since the 2008 Great Recession. There were 2,499 home sales in April, down 30 percent from the same time last year. The last time there was a year-over-year drop of that magnitude was March 2008. However, there was not a corresponding drop in home prices in April. The median home price reached $594,500, which was $50,000 less than the record high reached in November 2019.
• Redfin said there were 31 percent fewer homes for sale in San Diego County from April 6 to May 3. As of May 3, Redfin said there were 5,166 active listings in San Diego County, down from around 7,250 the same time last year
.