The full impact of the coronavirus pandemic was felt in the local and statewide housing market in May, as revealed by the most recent monthly home sales and prices report from the California Association of REALTORS® (C.A.R.).
California home sales in May fell to their lowest level since the 2008 Great Recession with closed escrow sales of existing, single-family detached homes totaling a seasonally adjusted annualized rate of 238,740 units, according to information collected by C.A.R. from more than 90 local REALTOR® associations and MLSs statewide.
Statewide, May 2020 home sales were down 13.9 percent from the 277,440 units sold in April, and down 41.4 percent from a year ago, when 407,330 homes were sold in May 2019. Statewide year-to-date home sales are down 12.9 percent, the largest drop since November 2007.
In San Diego county, homes sales in May 2020 were down 14.6 percent, compared to April 2020, and 42.3 percent, compared to May 2019.
San Diego county's year-over-year decrease of 42.3 percent in home sales in May compares to these Southern California counties: 53.3 percent in Orange, 52.0 percent in Ventura, 47.5 percent in Los Angeles, 43.0 percent in Riverside and 37.6 percent in San Bernardino .
The statewide median home price in May 2020 fell below last year's price for the first time since February 2012 and breaking the state's 98-month, year-over-year price-gain streak. The May 2020 statewide median price of $588,070 for existing single-family homes was down 3.0 percent from April 2020's $606,410 figure and down 3.7 percent from May 2019, when the median price was a revised $610,940.
In San Diego, the median price for a single-family home in San Diego County in May 2020 was $655,000, down 2.4 percent from $671,000 in April 2020, with only a 0.8 percent difference from the $650,000 figure for May 2019.
May 2020 County Sales and Price Activity
(Regional and condo sales data not seasonally adjusted)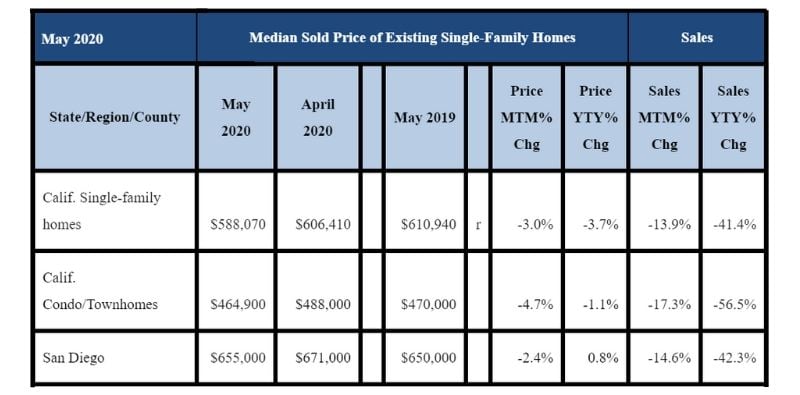 "The sharp sales drop in May was the steepest we've seen in some time, but there are encouraging signs that show the market is recovering and should continue to improve over the next few months," said 2020 C.A.R. President Jeanne Radsick, a second-generation REALTOR® from Bakersfield, Calif. "With pending home sales up a stunning 67 percent in May, buyer demand is on the upswing amid record-low rates that are making monthly mortgage payments $300 less than a year ago."

"As we predicted, May home sales took the full impact of the coronavirus pandemic as much of the state remained in lockdown during the past few months and caused three straight months of double-digit sales declines, which we haven't experienced since the Association began reporting monthly home sales in 1979," said C.A.R. Senior Vice President and Chief Economist Leslie Appleton-Young. "While we expect sales activity to remain below pre-COVID-19 levels, closed sales will improve markedly as the phased reopening of the economy continues and consumers feel more confident returning to the market."
Reflecting the dramatic change in market conditions, a monthly Google poll conducted by C.A.R. in early June found 40 percent of consumers said it is a good time to sell, up from 29 percent a month ago, but down from 51 percent a year ago. The market uncertainty has not curbed the optimism for homebuying as much; as 32 percent of the consumers who responded to the poll believed that now is a good time to buy a home, sharply higher than last year, when 26 percent said it was a good time to buy.
Other key points from the May 2020 resale housing report included:
• At the regional level, all major regions dipped in sales by more than 35 percent from last year, with the Bay Area and Central Coast dropping the most at -51.1 percent each, followed by Southern California (-45.6 percent), and the Central Valley (-36.6 percent).
• Fifty of the 51 counties tracked by C.A.R. experienced a year-over-year loss in sales, with Monterey declining the most from last year at -63.0 percent, followed by Mendocino (-59.7 percent), and San Benito (-59.2 percent). Counties that experienced a sales decline compared to last year averaged a loss of 42.2 percent. Del Norte was the only county with an increase over last year.
• Median prices continued to dip in May versus last year in the Central Coast and the Bay Area but inched up slightly in the Central Valley region. The median home price was virtually unchanged in Southern California.
• Thirty-one of the 51 counties tracked by C.A.R. reported a year-over-year price gain in May, with Glenn County leading the way at 31.9 percent. Of the 19 counties that experienced a price drop over last May, Plumas showed the biggest decline at 23.3 percent.
• The Unsold inventory Index jumped to 4.3 months in May, up from 3.4 months in April and 3.2 months in May 2019. The index calculates the number of months needed sell the supply of homes on the market at the current rate of sales.
• Total active listings continued to decline on an annual basis for the 11th consecutive month; the 34 percent year-over-year decrease in listings was the biggest drop since March 2013.
• All major regions recorded a decrease in housing supply of more than 25 percent, with both the Southern California and the Central Valley regions falling by more than 33 percent. All counties in Southern California, except Ventura, declined 36 percent or more from last year, with San Diego dropping the most at 42.7 percent.
• The median number of days needed sell a California single-family home increased to 17 days in May 2020 compared to 13 days in April 2020 but was lower than the 18 days in May 2019. to the figure in March 2020 was 15 days, with a 23 day figure in February 2020.
• In San Diego County, the median number of days an existing, single-family home remained unsold was 11 days in May 2020, compared to eight days in April 2020, 10 days in March 2020, 12 days in February 2020, 23 days in January 2020 and 14 days in May 2019.
May 2020 County Unsold Inventory and Days on Market
(Regional and condo sales data not seasonally adjusted)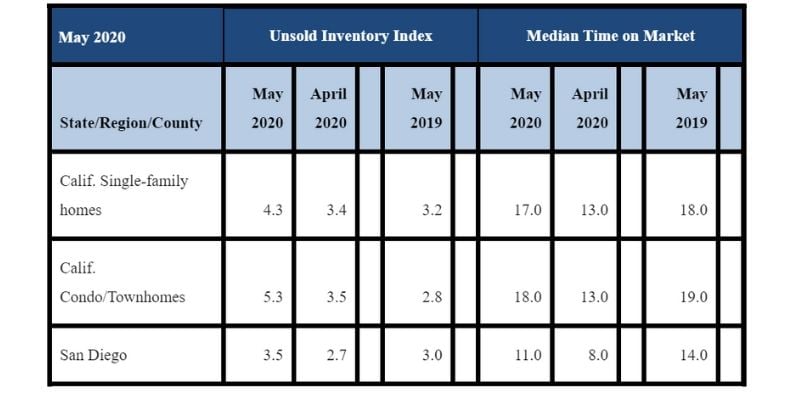 • The 30-year, fixed-mortgage interest rate averaged 3.23 percent in May, down from 4.07 percent in May 2019, according to Freddie Mac. The five-year, adjustable mortgage interest rate averaged 3.16 percent, compared to 3.65 percent in May 2019.
In other recent real estate and economic news, according to news reports:
• Nationwide sales of new single-family homes in May continued to rebound from a COVID-19-influenced low in April, according to the U.S. Census Bureau and the Department of Housing and Urban Development. Sales of new single-family homes in May were up 12.7 percent in a year-over-year comparison.
• There were fewer bidding wars for homes in May in San Diego. According to Redfin, 49.1 percent of homes for sale drew multiple offers, a decrease from April's 53.4 percent figure. Nationwide, Redfin found that 49.4 percent of U.S. home offers in May faced competition, compared to 43.9 percent of offers in April. Of the 24 metros in the Redfin analysis, 11 saw a majority of Redfin offers facing competition in May. That's up from eight metros in April.
• CoreLogic said home sales in May had their biggest drop in nearly 30 years because COVID-19 held the market to a crawl. The home sales total of 2,327 in May was 40.7 percent down from the same month last year. It was the biggest drop in home sales since January 1991, when sales were down by 41.5 percent. Despite fewer sales, average home prices were largely unchanged, said CoreLogic.
• Small business owners turned more optimistic in May about an economic rebound and are expecting the coronavirus-induced recession will be short lived. The National Federation of Independent Business said its optimism index rose 3.5 percent in May to 94.4, an increase that was twice the Wall Street forecast.
• San Diego's economy in dealing with COVID-19 will fare better than that of other parts of California because of a higher number of essential workers. Roughly 67 percent of workers in San Diego County are considered essential and less likely to have suffered furloughs, according to Beacon Economics. That's a higher percentage than Silicon Valley, Los Angeles and San Francisco.
• Who says you can't go home again? According to Zillow, about 2.7 million adults moved back home in March and April. Over 32 million adults were living with a parent or grandparent as of April 2020, up 9.7 percent from the same time the year before and is the highest number on record.
• The moving industry could potentially use up to $2.5 billion in revenue because of the coronavirus, according to HireAHelper.com, a moving website. During the 2008 recession, the moving industry lost about 16.5 percent of its revenue. This time around, revenues could decline between 12.2 and 19.9 percent.