All PSAR members throughout San Diego County are invited to participate in an online mayoral candidate forum over the Zoom meeting platform with Barbara Bry and Todd Gloria, two candidates running for San Diego mayor in the November general election. The forum will be held from 2:00 pm to 4:00 pm, this Friday, July 31st.
The candidates are expected to discuss their positions on real estate and homeownership. Questions for the candidates can be submitted in advance to George Ching, PSAR Staff Member, at george@psar.org. There is no cost for joining the forum, which is available only to PSAR members. Here is the link to join the discussion.

Gloria and Bry, both Democrats, were the top two vote-getters among a field of six candidates in the March 2020 primary election.
After serving two terms on the city council, Gloria has represented the 78th District in the California Assembly since 2016. A San Diego native, Gloria, 41, has identified some of his biggest issues as homelessness, housing and climate change. If elected, Gloria said he would set a housing production goal for the city along with investment in transit. He has pledged to focus on permanent housing for homeless people.
Bry, who has lived in San Diego for 39 years, has represented District 1 on the City Council since 2016. Bry, 70, has served as council president pro tempore and Chair of the Budget and Government Efficiency Committee. Her campaign website highlights a wide range of issues, but paring down short-term rentals to allow for more housing is one of her most prominent.
Representatives of the two candidates were invited to submit a statement for this article.
Here is the statement from Barbara Bry's campaign: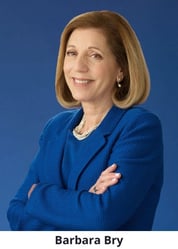 "Barbara Bry is the only candidate for Mayor of San Diego with experience in the private sector as a successful businesswoman and entrepreneur. She is also the only candidate committed to maintaining local control of land use decisions, and not allowing Sacramento politicians to take over control of our neighborhoods. Bry has been a supporter of the legal hotel industry. She opposes illegal short-term vacation rentals (STVRs) which have taken approximately 16,000 residential units off the market in San Diego, and as a result has exacerbated the housing shortage. As Mayor, Bry will enforce the existing municipal code that prohibits commercial uses in residential neighborhoods. Additionally, Bry has consistently opposed rent control. That's why she voted against pro-rent control Proposition 10, while her opponent didn't take a position and later voted for state rent control legislation. Barbara will make the tough decisions, even if they are unpopular with special interests and the political establishment, because the Mayor's Office is not a political stepping-stone for her. Her first and only commitment will be to the people of San Diego."
Here is the statement from Todd Gloria's campaign:

"As a renter, I understand how hard it is to afford higher and higher rents, let alone to buy a home in San Diego. This is a reality for many San Diegans who work hard and still can't afford market-rate housing, yet earn too much to qualify for housing assistance. In order to ensure a thriving and diverse economy, and provide opportunities for our children and grandchildren to live in San Diego, we have to increase the supply of housing. Too often, this issue gets set-up as a false choice: build more housing or protect community character. I believe we can do both. I cherish San Diego's unique neighborhoods and will be steadfast in protecting the character of our communities while increasing housing stock near jobs and transit. As Mayor, I will set a robust housing production goal that prioritizes appropriate new housing construction in the right locations. When combined with aggressive investment in transit and multimodal infrastructure, appropriate development will not only reduce the crushing burden of sky-high housing costs, but also improve our neighborhoods, provide transportation options and help us meet our climate action goals."
_______________________________
The PSAR Mission is to empower our members to flourish while being accountable to
each other, our clients and our community.
Since 1928, the Pacific Southwest Association of REALTORS® has played a significant role in shaping the history, growth & development of the Real Estate industry in San Diego County. This program is only open to REALTORS® and PSAR Affiliate Members. There is no cost for attending this program.