The rebound happened over one month's time.
In May of this year, the full impact of the coronavirus pandemic nosedived California's home sales to their lowest level since the 2008 Great Recession.
By contrast, California's housing market in June regained its footing with the largest month-over-month sales increase in nearly 40 years, according to the most recent monthly home sales and prices report from the California Association of REALTORS® (C.A.R.).
Statewide, June 2020 home sales were up a whopping 42.4 percent compared to May 2020. This month-over-month increase was the largest since C.A.R. began reporting monthly sales in January 1979. Closed escrow sales of existing single-family detached homes in California totaled a seasonally adjusted annualized rate of 339,910 units in June, compared to 238,740 in May. Compared to a year ago, statewide home sales were down 12.8 percent, when 389,730 homes were sold on an annualized basis.
In San Diego County, June 2020 homes sales were 58.1 percent higher when compared to May 2020, when home sales were down 14.6 percent in a comparison to April 2020. There was a nominal increase of 1.7 percent in home sales in June 2020 over June 2019.
Meanwhile, home prices remained strong in June 2020, setting another record high statewide, despite the Covid-impacted sales environment.
After dipping briefly below $600,000 in May, California's median home price increased to $626,170 in June 2020, an improvement of 6.5 percent from $588,070 in May 2020 and 2.5 percent from $610,720 in June 2019. The monthly price increase was higher than the historical average price change from May to June and, in fact, was the highest ever recorded for a May-to-June comparison.
A change in the mix of sales was a key factor that pushed the median price higher in June, as sales of higher-priced properties showed stronger than lower-priced homes. Homes priced below $500,000, which made up 48 percent of total sales in the California market in May 2020, only comprised 44 percent of all sales in June 2020. Sales of million-dollar and above properties, on the other hand, increased in market share to 18.1 percent in the most recent month compared with 15.6 percent in May 2020.
In San Diego, the median price for a single-family home in San Diego County in June 2020 was $678,000, an increase of 3.5 percent from $655,000 in May 2020, and 2.0 percent higher than $665,000 in June 2019.
June 2020 County Sales and Price Activity
(Regional and condo sales data not seasonally adjusted)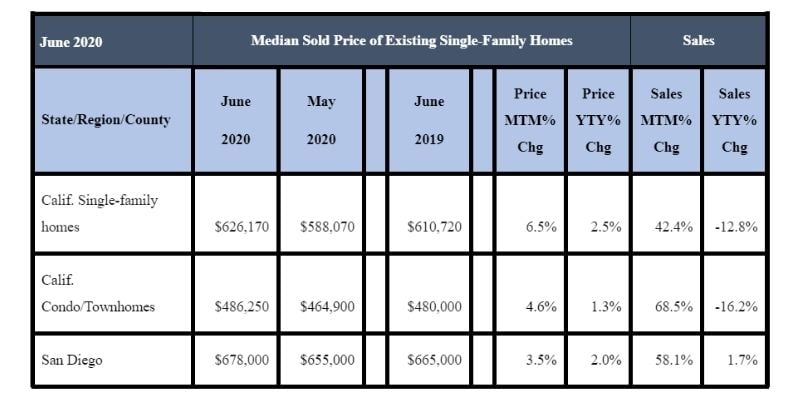 "Home sales bounced back solidly in June after hitting a record bottom in May, as lockdown restrictions loosened and pent up demand driven by record-low interest rates roared back," said 2020 C.A.R. President Jeanne Radsick, a second-generation REALTOR® from Bakersfield, California.
"A new record high in the statewide median price suggests that there is stronger housing demand from more qualified, affluent buyers in this extremely favorable lending environment," said C.A.R. Senior Vice President and Chief Economist Leslie Appleton-Young. "It also highlights both the affordability and supply issues created by the uneven impact of the coronavirus pandemic as the more affordable segments of the state's housing market are recovering at a slower pace."
Reflecting growing confidence in market conditions, a monthly Google poll conducted by C.A.R. in early July found that 44 percent of consumer respondents stated it is a good time to sell, up from 40 percent a month ago, but down from 49 percent a year ago. Meanwhile, low interest rates continue to fuel the optimism for homebuying. 31 percent of the consumers who responded to the poll believe that now is a good time to buy a home, a sharply higher figure than last year's 23 percent of respondents.
Other key points from the June 2020 resale housing report include:
-- Median prices increased in all regions in June, with the more affordable markets increasing year-over-year in the high-single digits. The Bay Area and the Central Coast regions, which experienced dips in price in May, bounced back in June with moderate increases of 4.2 percent and 5.4 percent, respectively. Median prices in the Central Valley and the Southern California continued to rise from last year by 7.4 percent and 3.3 percent, respectively, as pent-up demand returned to the market.
-- Housing supply continued to trend downward on a year-over-year basis, with active listings falling more than 25 percent for the seventh consecutive month. A sizable year-over-year drop in active listings of 43 percent, coupled with a robust gain in closed sales, led to a decline in C.A.R.'s Unsold Inventory Index (UII) in June. The Index dropped to 2.7 months in June from 4.3 months in May and was down from 3.4 months in June 2019. The index indicates the number of months it would take to sell the supply of homes on the market at the current rate of sales.
-- Housing supply continued to decline significantly across the state, with all areas falling more than 30 percent in active listings from last year. Southern California had the biggest drop in supply, with for-sale properties plunging 47.3 percent year-over-year. While all counties in the region dropped at least 40 percent from a year ago, both Riverside and San Bernardino plummeted more than 50 percent in active listings.
-- The median number of days it took to sell a California single-family home was 19 days in June 2020, equal to that of June 2019. June 2020's 19-day figure compares to 17 days in May 2020, 13 days in April 2020, 15 days in March 2020 and 23 days in February 2020.
June 2020 County Unsold Inventory and Days on Market
(Regional and condo sales data not seasonally adjusted)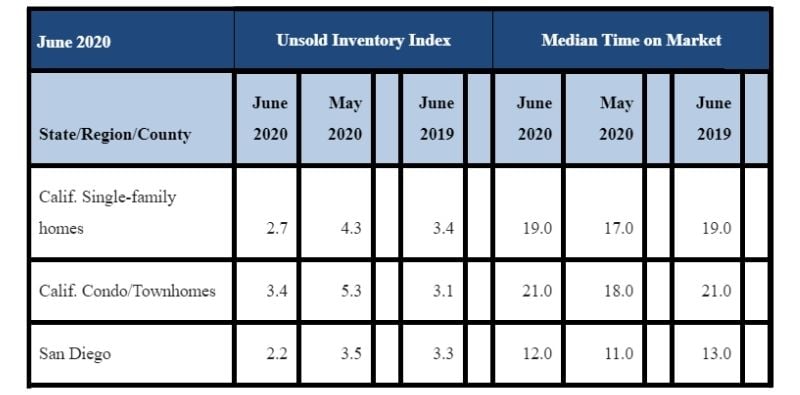 -- In San Diego County, the median number of days an existing single-family home remained unsold on the market was 12 days in June 2020, which compares to 11 days in May 2020, eight days in April 2020, 10 days in March 2020, 12 days in February 2020, 23 days in January 2020 and 13 days in June 2019.
-- The 30-year, fixed-mortgage interest rate averaged 3.16 percent in June, down from 3.80 percent in June 2019, according to Freddie Mac. The five-year, adjustable mortgage interest rate averaged 3.09 percent, compared to 3.48 percent in June 2019.
In other recent real estate and economic news, according to news reports:
-- According to CoreLogic, the median home price in San Diego reached a new high of $600,250 in June, indicating that COVID-19 has not stopped the upward pressure on home prices. San Diego was not alone in this trend, with three of the six Southern California counties reaching record price peaks in June.
-- According to Zillow, the median price of a single-family home in San Diego County rose 5 percent year-over-year in June to $636,815 while inventory experienced a 27.6 percent year-over-year decline. Nationally, home values continued their steady, upward trajectory in June, growing 4.3 percent year-over-year to $252,178. Phoenix is the hottest top-50 market, reported Zillow. Home values in the Arizona city rose 9.6 percent year-over-year in June, followed by Birmingham, Ala. (up 7.6 percent) and Memphis, Tenn. (up 7.5 percent).
-- Home prices are expected to increase through the summer, including in San Diego County, which has the second-highest year-over-year price increase behind New York City, according to First American Financial Corp. The five markets with the greatest year-over-year increase based on First American's Real House Price Index include New York (14.8 percent), San Diego (10.1 percent), Pittsburgh (8.8 percent), Orlando (6.3 percent), and St. Louis (5.4 percent).
-- The Covid pandemic is not affecting home sales, according to Realtor.com, which said monthly traffic hit an all-time high of 86 million unique users in June, breaking May's record of 85 million users. Supply still remains the biggest factor slowing the recovery, however, as total listings remain 31 percent lower than last year.
-- Although buyers appeared to regain confidence in June, sellers lagged behind as new listings slumped during the month, according to Realtor.com's June Monthly Housing Trends report. In the San Diego-Carlsbad market, new listings dropped by 21 percent in June 2020, compared to June 2019, and the year-over-year, "active listing count" decreased by 36.6 percent. Nationally, housing inventory across the U.S. was down 27.4 percent year over year in June. The national volume of new listings was down by 19.3 percent from last year, which actually represented an improvement from declines of 44.1 percent in April and 29.4 percent in May.
-- Bidding wars for homes are increasing in San Diego. According to Redfin, 65.7 percent of home offers in June faced multiple competitive offers. San Diego was the second most competitive market in the country in June, trailing only Boston, which had 72.4 percent of homes fielding multiple bids.
-- The total value of residential real estate in San Diego County is $564 billion, according to a recent LendingTree report. For perspective, this figure is comparable to the value of Warren Buffet's Berkshire Hathaway firm or the GDP of Poland., San Diego's total is the 12th highest in the U.S.New York City is top-rated at $2.8 trillion, which is more than the GDP of the United Kingdom in 2019. Los Angeles, with $2.3 trillion, has the second-highest residential real estate value in the U.S. nearly the GDP of Italy and the combined value of Amazon and Google's parent company Alphabet. San Francisco is third at $1.3 trillion, the equivalent of Mexico's GDP or the value of Microsoft.