The Covid-19 pandemic that depressed California's housing market earlier this year seems like a distant memory after the release of the most recent monthly home sales and price report from the California Association of REALTORS®.
In August 2020, California's housing market continued to improve as statewide home sales climbed to their highest level in more than a decade and median home prices set another high, breaking July's record.
The August numbers are the latest evidence that buyers and sellers have brushed off economic uncertainty in the reality of a post-Covid-19, housing market rebound.
Existing, single-family home sales in California totaled 465,400 in August 2020 on a seasonally adjusted annualized rate, up 6.3 percent from July 2020's sales of 437,890, and 14.6 percent higher from August 2019, when 406,100 homes were sold on an annualized basis.
It was noteworthy that August's sales total climbed above the 400,000 level for the second straight month since the Covid-19 crisis depressed the housing market earlier this year. It was the first time since the summer of 2016 that sales increased from the previous month three months in a row.
In San Diego County, August 2020 homes sales were down 2.2 percent from July 2020, but 10.2 percent higher than August 2019.
In addition to home sales records, home prices also set a record in August 2020. The statewide median price hit another new high after setting records in June and July.
California's median home price broke the $700,000 mark, reaching $706,900 in August 2020, a 6.1 percent jump from July 2020's $666,320 and reflecting a year-over-year rise of 14.5 percent compared to the $617,410 price set in August 2019.
August 2020 County Sales and Price Activity
(Regional and condo sales data not seasonally adjusted)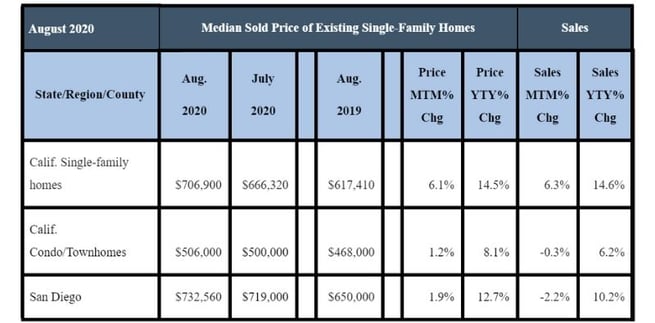 Sales of higher-priced properties are recovering faster than the rest of the market, pushing upward the statewide median home price. The median price represents the point at which half of the homes sell above a price and the other half below it.
The yearly price increase was the highest recorded since March 2014 and larger than the six-month average of 4.3 percent observed between February 2020 to July 2020.
In San Diego County, the median price for a single-family home in August 2020 was $732,560, a figure which was 1.9 percent higher than the $719,000 price tag in July 2020 and 12.7 percent higher than the $650,000 amount for August 2019.
"California's strong housing recovery in terms of sales and price over the past few months is encouraging as motivated buyers are eager to purchase homes amid the lowest interest rates ever, which led to the fastest sales growth in a decade," said 2020 C.A.R. President Jeanne Radsick, a second-generation REALTOR® from Bakersfield, Calif. "However, persistently low housing inventory will continue to push up home prices due to heavy buyer competition, which is starting to outweigh the benefits of record low interest rates and hamper housing affordability."
"Low rates and tight housing inventory are contributing factors to the statewide median price setting a new record high three months in a row from June to August, said C.A.R. Senior Vice President and Chief Economist Leslie Appleton-Young. "A change in the mix of sales is another variable that keeps pushing median prices higher, as sales growth of higher-priced properties continued to outpace their more affordable counterparts."
Reflecting the rise in home prices, consumers continue to say it is a good time to sell, according to C.A.R.'s monthly Consumer Housing Sentiment Index. Conducted in early September, the poll found that 58 percent of consumers said it is a good time to sell, up from 54 percent a month ago, and up from 46 percent a year ago. Meanwhile, low interest rates continue to fuel the optimism for homebuying; 34 percent of the consumers who responded to the poll believed that now is a good time to buy a home, sharply higher than last year, when 22 percent said it was a good time to buy a home.
Other key points from the August 2020 resale housing report included:
-- Home sales at the regional level increased in all major regions from last year. The Central Coast and the San Francisco Bay Area had the strongest sales growth in August with both regions surging more than 10 percent in sales from last year. The Far North and Southern California regions increased more modestly in sales with a gain of 8.6 percent and 5.5 percent, respectively.
-- Home prices at the regional level posted double-digit price increases from last year in nearly all major regions. San Francisco Bay Area had the highest median price increase, rising 18.7 percent from last year, followed by the Central Coast (16.4%), Southern California (12.9%), and Central Valley (12.2%).
-- All but two counties reported a year-over-year gain in price, with 33 of the counties growing more than 10 percent. Santa Barbara had the highest price increase, gaining 41.7 percent year-over-year.
-- With fewer for-sale properties being added to the market, housing supply remained significantly below last year's level. The 50.3 percent drop from a year ago was the biggest decline in active listings since at least January 2008. It was also the ninth consecutive month with active listings falling more than 25 percent from the prior year.
-- With higher-than-normal housing demand and supply not being replenished as fast as prior to the pandemic, the Unsold Inventory index (UII) remained at the lowest level in the last 15 years. The UII fell sharply from 3.2 months in August 2019 to 2.1 months this August.
-- Housing supply tightened up in all price segments, but the housing shortage is especially pronounced in more affordable markets. While active listings in every price range declined by double-digits on a year-over-year basis, for-sale properties priced below $1 million fell 58 percent from last year. Compared to a year ago, the supply of homes priced between $1 million to $3 million declined 33.1 percent, and homes priced at or above the $3 million benchmark declined 17.2 percent.
-- The median number of days it took to sell a California single-family home was 13 days in August 2020, down from 23 days in August 2019. The August 2020 timeframe compares to 17 days in July 2020, 19 days in June 2020, 17 days in May 2020, 13 days in April 2020, 15 days in March 2020 and 23 days in February 2020.
August 2020 County Unsold Inventory and Days on Market
(Regional and condo sales data not seasonally adjusted)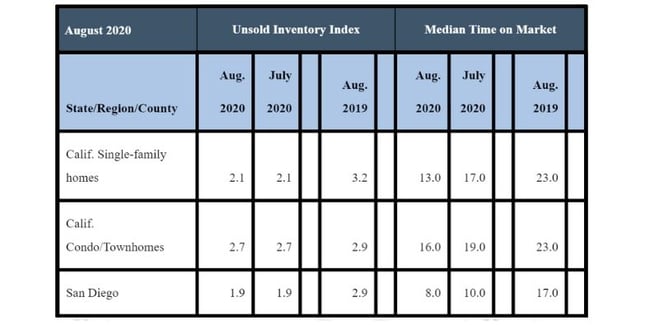 -- In San Diego County, the median number of days an existing, single-family home remained unsold on the market was eight days in August 2020, compared to 17 days in August 2019. The August 2020 timeframe compares to 10 days in July 2020, 12 days in June 2020, 11 days in May 2020, eight days in April 2020, 10 days in March 2020, 12 days in February 2020 and 23 days in January 2020.
-- The 30-year, fixed-mortgage interest rate averaged 2.94 percent in August 2020, down from 3.62 percent in August 2019, according to Freddie Mac. The five-year, adjustable mortgage interest rate was an average of 2.91 percent, compared to 3.36 percent in August 2019.
In other recent real estate and economic news, according to news reports:
-- Realtor.com said the number of listings in San Diego County is 43 percent lower than a year ago, according to its report for the week ending Sept. 12. Also, the median listing price is 8.8 percent higher in a year-over-year comparison.
-- CoreLogic said San Diego County's median home price in August 2020 hit another all-time high of $640,000, up from the previous peak of $634,000 in July 2020. The real estate data reporting firm also said home prices in the county have risen more than 8 percent since March, when the Covid-19 pandemic began, and 9.4 percent since this same time last year.
-- More than 20 percent of Californians say they are bored of where they live and want to move somewhere else, according to a recent survey by Unclutterer.com, a website for home and office organization. The survey also revealed that 36 percent of city dwellers in California now want to move out to the suburbs or the country.
-- Home sales nationwide exceeded 1 million in August 2020, according to the U.S. Census Bureau and Department of Housing and Urban Development. Sales totaled 1,011,000, a 43.2 percent increase since August 2019, 4.8 percent compared to July 2020 and a record high not seen since 2006.
-- The Covid-19 pandemic has aggravated the housing's market longstanding lack of supply, creating a historic shortage of homes for sale, reports The Wall Street Journal. Many potential home sellers are keeping their homes off the market for pandemic-related reasons. Meanwhile, buyers are accelerating purchase plans or considering homeownership for the first time to get more living space as many Americans anticipate working from home for the long term. The National Association of REALTORS® said there were 1.3 million existing single-family homes for sale at the end of July, the lowest count for any July going back to 1982. For the week ending Sept. 12, Zillow Group Inc. reports the nationwide inventory was down 29.4 percent from a year ago and the lowest level since late 2017.