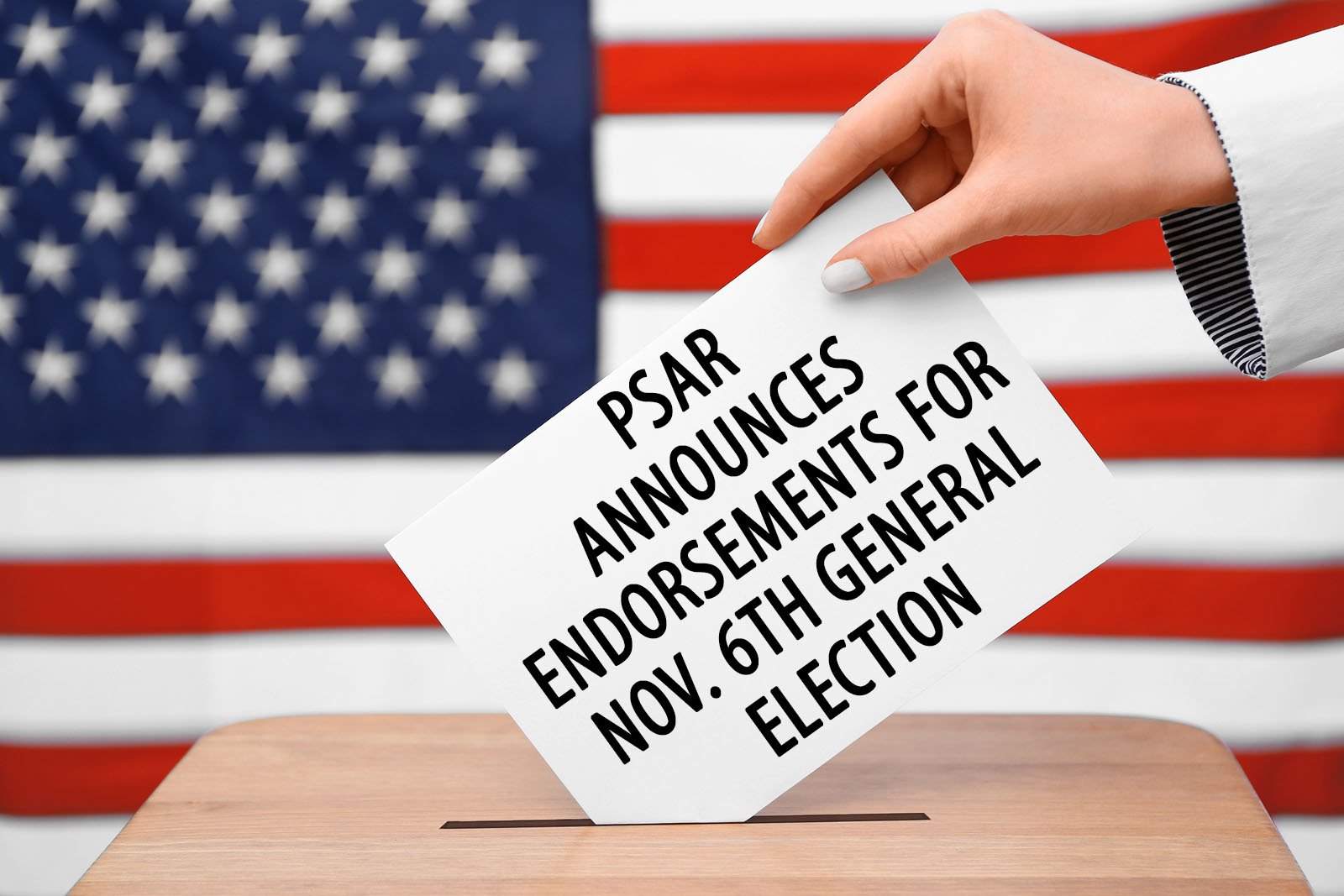 The Pacific Southwest Association of REALTORS® (PSAR) has announced its endorsement of candidates for the Nov. 6th general election. Endorsed candidates include:

Brian Jones for California State Senate 38th District



Mary Casillas Salas, Chula Vista Mayor



John McCann, Chula Vista City Council, District 1



Ditas Yamane, National City Mayor

Ron Morrison, National City City Council

Bill Wells, El Cajon Mayor

Gary Kendrick, El Cajon City Council

Mark Arapostathis, La Mesa Mayor

Guy McWhirter and Bill Baber, La Mesa City Council

Ronn Hall, Laura Rose Koval, Rob McNelis, Santee City Council

Jerry Jones, Lemon Grove City Council

Dan McMillan, Helix Water District, District 1

John Olsen, Grossmont-Cuyamaca Community College District Board of Trustees, Area 1
PSAR's Government Affairs Committee recommended the endorsements to the board of directors, which then ratified the recommendation. The Government Affairs Committee is involved in political advocacy and public policy and its impact on homeownership and private property rights.

In addition, PSAR is recommending the following:
"No" on Measure "W," Rent Control in National City. If approved, Measure W would put a 5 percent limit on annual rent increases and ban certain types of evictions, making it tougher to evict problematic renters.
PSAR believes rent control reduces the quality and quantity of housing. Typically, rent control leads to reducing available rentals and landlords skimping on repairs. Rent control eliminates incentives for landlords and property owners to fix up, or invest in, their units, as well as discourages new housing construction and decreases the number of available rental units. Vote "No" on "W."

"Yes" on California Proposition 5, Property Tax Transfer Fairness Initiative. If approved, Prop. 5 would allow homeowners over ages 55 to transfer their lower property tax rates to a newly bought home anywhere in the state. A couple, for example, could sell a home assessed at $250,000 for $750,000 then buy another property for $750,000 and continue to pay property taxes at the $250,000 valuation. If the new home cost more or less, property tax would be adjusted based on simple formulas that continued the property tax breaks that residents enjoyed with their previous homes.
PSAR believes this measure would create new homeownership opportunities by generating more sales of single-family homes in existing neighborhoods. This will benefit young families at a time when California faces a severe shortage of homes for sale. Prop. 5 is actually a smart idea that will both give older people more flexibility with their lives and introduce liquidity to a housing market that could badly use it. The revenue it would cost local government is relatively small. Also, Prop. 5 is a common sense way to expand the benefits of Proposition 13 protections while providing more affordable housing.

Prop. 5 was initiated by the California Association of REALTORS® (C.A.R.). C.A.R. qualified the measure for the ballot after it submitted nearly 1 million voter signatures to the Secretary of State's office, indicating strong voter support. Vote "Yes" on Prop. 5.

"No" on California Proposition 10, Local Rent Control Initiative. If approved, Prop. 10 would overturn an existing state law blocking cities from imposing rent control on rental units built after 1995 and on all single-family homes and condominiums. Repealing the longstanding Costa-Hawkins Rental Housing Act would exacerbate the housing crisis, eventually allowing local governments to impose draconian rent control measures. If approved, unelected bureaucrats would oversee rent control ordinances and determine how much landlords could charge tenants for renting apartments and houses.
PSAR believes Prop. 10 is a flawed rent control initiative that would make housing more expensive, not less, and worsen the housing crisis. Vote "No" on Prop. 10.
In addition to positions on Prop. 5 and Prop. 10, C.A.R. is supporting Proposition 1, the Housing Programs and Veterans' Loans Bond. A "yes" vote on this measure would authorize the state to borrow up to $4 billion in general obligation bonds for housing-related programs benefiting veterans. If approved, additional affordable housing would be provided for veterans. The vast majority of the bonds, about $3 billion, would be set aside for various types of housing programs. The biggest share, or $1.5 billion, would go toward the construction and rehabilitation of permanent and transitional rental housing and apartments for California households who earn of up to 60 percent of the area median income. The second biggest portion of the $3 billion, about $150 million, would be earmarked for cities, counties, transit agencies, and developers to build higher density housing near transit stations. The remaining $1 billion would be earmarked for veterans participating in a home loan program. In addition to C.A.R., Prop. 1 has support from major California newspapers, including the San Francisco Chronicle, Los Angeles Times, and Sacramento Bee, as well as the League of Women Voters and Democratic state lawmakers.
The Pacific Southwest Association of REALTORS® (PSAR), a 2,600-member trade group for San Diego-area REALTORS®, offers educational training, advocacy and other services and resources to its REALTOR® members. Founded in 1928, PSAR has played a significant role in shaping the history, growth and development of greater San Diego County. The Association maintains a leadership role in the industry, empowering REALTORS® by leveraging our collective strength so they may serve homebuyers and sellers and the greater community. For more information, visit www.PSAR.org.