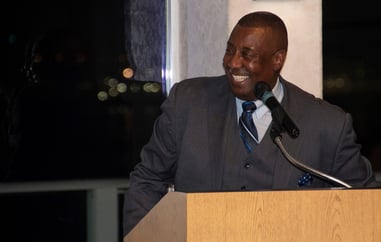 It was an inspirational, wonderful and unforgettable evening. More than 255 people gathered at the Admiral Kidd Conference Center on Harbor Island for PSAR's 2019 Officers and Directors Installation Dinner. Held Friday, Nov. 9, this year's installation event was at an exclusive venue, the Admiral Kidd Conference Center located on military property on Naval Base Point Loma. The views of the San Diego Bay and downtown skyline were stunning.

The installation celebrated success in the PSAR REALTOR® community with REALTORS committed to serving in the industry. The program featured the swearing in of the 2019 PSAR board of directors, including Robert Calloway as 2019 PSAR president.

In his message to the members, Calloway stated the following:

"The 2019 theme for PSAR is Salute to Service. On Jan. 20, 1961, it was a cold day in Washington, D.C. for President John F. Kennedy's inauguration. There, Mr. Kennedy spoke his famous words: `And so, my fellow Americans: Ask not what your country can do for you, ask what you can do for your country.' He then continued by addressing his international audience: `My fellow citizens of the world: Ask not what America will do for you, but what together we can do for the freedom of man.' It was a call to action for the public to do what is right for the greater good. President Kennedy called on all Americans to commit themselves to service and sacrifice.

"Today, I am calling on all PSAR members to do the same. Let me encourage you to get involved by volunteering and serving on a PSAR committee or on the board of directors. Don't just show-up, volunteer. Find your passions, utilize your strengths, be a participant, not just an observer, and you will get more out of PSAR. You will develop your skills, advance your career and the experience will be rewarding to you both personally and professionally. While no one is capable of doing everything, everyone is capable of doing something. However, all of us can extend the reach of PSAR by building relationships and spreading the word about the many benefits PSAR offers."

Joining Robert on the PSAR board of directors during the 2019 calendar year beginning Jan 1, 2019, will be: Robert Cromer as president-elect, Sam Calvano as secretary-treasurer and Jan Farley as immediate past president. Other REALTOR® members also serving on the 2019 board will include: Mike Anderson, Yvonne Cromer, Carey Guthrie, Shonee Henry, Sean Hillier, Robert Kilbourne, Jason Lopez, Dennis Ryan, Norma Scantlin and Ditas Yamane. Also serving on the board will be Tony Santiago as an affiliate director.

Also announced at the installation were recipients of special awards, including:

Laurie MacDonald, East County Realtor of the Year;
Sarah Heck, South County Realtor of the Year;
Robert Hillard, East County Affiliate of the Year;
Juanita Adame, South County Affiliate of the Year;
Nikki Coppa, East County Broker-Office Manager of the Year;
Max Zaker, South County Broker-Office Manager of the Year.
Jan Farley presented four Presidential Awards of Appreciation. Recipients included: Shun Wakita and Aaron Kerper for their services as a Sandicor Director; Anthony Andaya and Sarah Heck for their service on the PSAR Legal Taskforce.

Special guest speaker Sammy Lee Davis drew several standing ovations at the installation. Davis served in the U.S. Army during the Vietnam War and was awarded the nation's highest military medal for valor, the Medal of Honor. As Private First Class Davis, he told an emotional first-person story of a nightlong mortar firefight at Cai Lay in Vietnam as experienced by his Battery C group. His entertaining performance of "Oh Shenandoah" on his harmonica was breathtaking. Mr. Davis certainly made this year's Veterans Day Weekend very memorable.

In his message to the member, PSAR CEO Rich D'Ascoli stated: "While many question the viability of REALTOR® associations, PSAR is continuing to get stronger. We remain committed to our collaborative relationships with other local associations, such as NSDCAR, C.A.R., NAR, as well as, most recently, as a member of the California Regional Multiple Listing Service (CRMLS.) Together, REALTORS® are thriving because our associations are the glue that both holds the industry together and the fuel which powers our members for success.

"While REALTORS® may operate in an extremely competitive business arena, we come together through our associations and the MLS to create a marketplace that directly benefits consumers. As an industry, we don't give ourselves enough credit. Because of REALTORS®, the MLS creates a transparent marketplace that provides consumers with choices and information which helps them to make sound financial decisions. Residential buyers and sellers are making the largest investment decisions of their lifetime. Without REALTORS®, we wouldn't have the MLS marketplace or the market transparency that exists today."