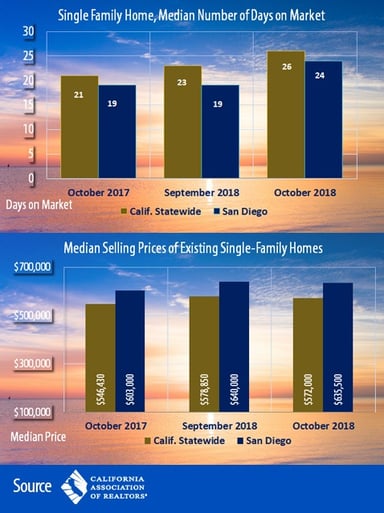 California's housing market declined for the sixth straight month in October, according to the latest housing market report from the California Association of REALTORS® (C.A.R). C.A.R. also found that existing home sales in the state dropped below the 400,000 level for a third consecutive month. The last time there were three straight months when the sales dipped below 400,000 was February 2015.

Summarizing the overall housing market, mortgage rates remain affordable while demand for existing homes is slowing, home prices are falling slightly, price growth is moderating, price reductions are becoming more common and a tight supply of available homes, still low, is increasing, while many potential buyers are putting their homeownership plans on hold.

In October, C.A.R. said the month's sales figures was up 3.8 percent from the revised 382,550 level in September and down 7.9 percent compared with home sales in October 2017 of 431,070.

C.A.R. said October's statewide median home price was $572,000, down 1.2 percent from September ($578,850) and up 4.7 percent from October 2017 ($546,430).

In San Diego County, the median price of a single-family home was $635,500 in October 2018, a slight decrease from the $640,000 price reported for September 2018 and a 13.2 percent decline from October 2017 when the median price was $603,000. San Diego's year-over-year comparison between October 2018 and October 2017 was the largest decrease among any Southern California market, said C.A.R. Orange, San Bernardino, and San Diego counties all experienced year-over-year, double-digit declines of 11.3 percent, 11.4 percent, and 13.2 percent, respectively. Sales in Los Angeles County declined 5.9 percent and were down 2.9 percent in Riverside County.

Closed escrow sales of existing, single-family detached homes in California totaled a seasonally adjusted annualized rate of 397,060 units in October, according to information collected by C.A.R. from more than 90 local REALTOR® associations and MLSs statewide. The statewide annualized sales figure represents what would be the total number of homes sold during 2018 if sales maintained the October pace throughout the year. It is adjusted to account for seasonal factors that typically influence home sales.

"Homebuyers continued to put their homeownership plans on hold in October and wait out the market," said 2019 C.A.R. President Jared Martin. "With mortgage rates at seven-year highs making homeownership more expensive and home prices beginning to flatten, this phenomenon will likely continue for the near term as buyers wait for further price adjustments and for interest rates to stabilize."
"October's sales decline was not as severe as the double-digit drop experienced in September, but the continued pullback in sales suggests the market will continue to slow and likely soften further into 2019," said C.A.R. Senior Vice President and Chief Economist Leslie Appleton-Young. "Likewise, as home sales continue to soften, the median price, which was the lowest since March 2018, will also ease up," said Appleton-Young.
Other key points from C.A.R.'s October 2018 resale housing report included:
Homes are taking longer to sell than they did just a few months ago. The median number of days it took to sell a California single-family home rose from 21 days in October 2017 to 26 days in October 2018.
Meanwhile, in San Diego County, the median number of days a home remained unsold on the market was 24 days in October 2018, compared to 19 days in both September 2018 and October 2017.
Statewide active listings rose for the seventh consecutive month after nearly three straight years of declines, increasing 28 percent from the previous year. October's listings increase was the largest in four years.
Active listings in the $500,000-$750,000 price range experienced the largest year-over-year gain (43.9 percent), followed by homes priced $750,000-$999,999 (40.1 percent). The sub-$200,000 market was the only price segment with a decline of 6.2 percent from last year.

The unsold inventory index, which is a ratio of inventory over sales, increased year-to-year for the seventh consecutive month in October from 3.0 months in October 2017 to 3.6 months in October 2018. The index measures the number of months it would take to sell the supply of homes on the market at the current sales rate.
The 30-year, fixed-mortgage interest rate averaged 4.83 percent in October, up from 3.90 percent in October 2017, according to Freddie Mac. The five-year, adjustable mortgage interest rate also increased in October to an average of 4.08 percent from 3.18 from October 2017.
In other recent real estate and economic news, according to news reports:

According to real estate tracker CoreLogic, a chill is settling over the once white-hot Southern California housing market. San Diego home sales decreased 17.5 percent in September 2018. A total of 2,942 homes were sold in the county, down 17.5 percent from 3,568 during the same month the previous year. It was the lowest number of sales for a September in 11 years, compared to September 2007 just before the Great Recession when 2,152 units were sold.
CoreLogic also said in September 2018, the median price of a San Diego County home was $575,000, up 7.5 percent from $535,000 in September 2017, but it was the first decrease since January 2018 after hitting an all-time high of $583,000 in August. Most experts are attributing the slowdown to a rise in mortgage interest rates as potential buyers balk at higher monthly payments.
The number of seriously underwater homes in San Diego County continued to decline in the third quarter as home equity maintained an upward trajectory, according to Attom Data Solutions. The real estate analytics company's latest report found that only 6.5 percent of San Diego homes surveyed had mortgages that were at least 25 percent higher than the property's estimated market value.
Discounts, gift cards, and free streaming services for new renters are on the rise across the nation, but San Diego County seems to be bucking that trend, according to a HotPads report. The online real estate company found that rental listings advertising a concession have increased by 15.8 percent since the fall of last year, but San Diego County has seen a 27.1 percent decrease in rental concessions year-over year. HotPads pegged the median San Diego County rent at $2,680 a month, representing a 4.8 percent year-over-year increase.
San Diego County's unemployment rate rose slightly in October, although total nonfarm employment increased by more than 10,000 jobs, according to the California Employment Development Dept. The county unemployment rate ticked up from an adjusted 3.2 percent in September to 3.3 percent in October, but is down from 3.6 percent in October 2017. A year ago, the rate stood at 3.6 percent.
Wages and salaries jumped by 3.1 percent in October, the highest level in a decade. Also in October, U.S. consumer confidence rose to an 18-year high amid optimism about jobs and the economy, according to the Conference Board.