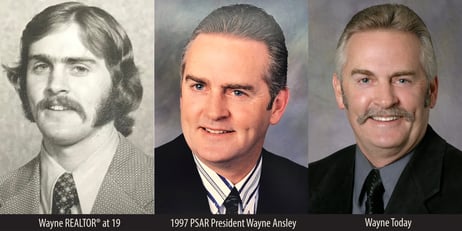 This article is the latest in a series highlighting former PSAR presidents.

It was 1973. As a teenager growing up in Chula Vista, Wayne Ansley had long hair, a ponytail and played guitar and keyboard in a rock band. But, then, he realized he had to get a real job. His father Bill, a retired U.S. Army lieutenant colonel, was a real estate broker at the time and encouraged his son to get his real estate sales license.

"After I graduated from Anthony's Real Estate School and received my sales license, my dad gave me $500 to go buy some business suits," said Wayne. "Then, I joined what was then called the South San Diego Bay Cities Association of Realtors, which later became PSAR (in 1992). I was 19 years old, and I think I was the youngest member ever to have joined the Association, until someone who was 18 years old joined later.

"My first real estate deal in 1973 was selling a home on Agua Tibia Street in Chula Vista for $22,000. The sellers, an elderly couple, the Papes, took pity on me and trusted a young, new agent. On those days, the sales contract was a one-page, legal-size form and copies were made with carbon paper. Cell phones weren't invented yet. If you had a pager, you were a hot-shot like a doctor."

After his father Bill passed away at age 61 in 1983, and Wayne got his broker's license and took over the family business. In 1991, he joined the PSAR board of directors. He also became a California Association of REALTORS® (C.A.R.) Director in 1992, and attended many C.A.R. state conventions on behalf of PSAR. In the 1990s, Wayne served on many PSAR committees, including Community Relations, Grievance, Professional Standards, Government and Political Affairs and Building Operations. For two years, in 1994 and 1995, Wayne served as board VP. In 1996, he was elected as president-elect. In 1997, he served as president of PSAR.

As a member of the PSAR Building Committee in 1992, Wayne played a role in the relocation of the PSAR offices in Chula Vista from "L" Street to PSAR's current headquarters, a 16,467-square-foot building at 880 Canarios Court.

Wayne estimates he has sold more than $100 million of property over his 45-year career. He remains today an active full-time broker. His diversified background in real estate has included residential sales, investment properties (including commercial, apartment and industrial sales and leasing), foreclosure short sales and full-service property management. He also has developed and built several apartment buildings, houses and a condo project.

"While previewing or showing properties, I have set-off alarms, broken keys in locksets, accidentally let out dogs and cats and, one time, walked into a master bedroom where a naked lady was in the shower. She screamed at the top of her lungs," said Wayne.

"As a young agent, I had a string of bad luck with several unreliable cars. I had a Mercury Capri sports car with a broken passenger seat that was propped up with a piece of wood. I picked up a buyer from Japan who had a camera hung around his neck. I hit a bump in the road and the piece of wood came loose and the buyer went flat on his back and got hit in the head by his camera.

"Then, I bought a Ford Pinto for $300. I was showing property to a Naval officer wearing his dress whites uniform. On the freeway, the front end started shaking at 40 miles per hour and then rusty water from the heater leaked on his white pants. He actually bought the house I showed him and later he told me, `Wayne, the first thing I want you to do with your commission check is to go buy a new car.'"

Over the years, Wayne said his other cars have included an Oldsmobile Delta 88 and a Cadillac Sedan Deville. He then purchased his dream car, a BMW 740 I-L.

Wayne is especially proud of his contributions as a member of the Pilgrim Lutheran Church. As a volunteer, he donated more than 3,000 hours over the past year-and-a-half and helped the church sell its previous three-acre property at 497 "E" St. for $5.5 million (escrow closed in August). The church has since merged with their sister church located on a larger 8.5-acre site at 810 Buena Vista Way to become the Victory Lutheran Church and Christian Academy. "It was the most difficult transaction I ever had, but also the most gratifying because I was able to give back to the Lord in gratitude of 45 years of success," he said. Construction recently began on their new church project.