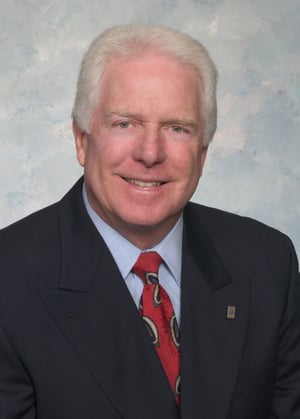 Tom Money, a longtime PSAR member and past President (1984) passed away at his home in Bonita on Jan. 5, 2019, after a courageous fight with cancer. He was 75.

A year ago, he was diagnosed with cholangiocarcinoma, a rare bile duct cancer in the liver, according to his wife Sherry. "He got to live each day the best he could," said Sherry. "He didn't dwell on 'Why me?' He was very positive."

Tom was considered a legendary figure at PSAR. He served as President when the Association was called the San Diego Bay Cities Board of REALTORS® (the Association's name was changed to PSAR in 1993).

"He took great delight in hooking up first time buyers with a home," said Sherry.

In addition to serving as President, Tom served on numerous PSAR committees as a member and chair, including the Government Affairs Committee. He also served as a California Association of REALTORS® (C.A.R.) Director. He was a recipient of the PSAR REALTOR® of the Year award.

In a 2015 interview with PSAR, Tom voiced his long-time support for the Association. "Over the many decades, the Association has never lost its focus, which is to serve its members and homeowners."

"He was a good friend who helped me a great deal when I first got hired at PSAR," said Rich D'Ascoli, CEO, PSAR. "Last summer, a big celebration of life event was held for him when he was still alive and many elected officials and dignitaries attended to honor him."

The City of Chula Vista declared Aug, 8, 2018, as "Tom Money Day." The celebration gathering drew the attendance of five mayors of Chula Vista to honor him.

In a recent edition of The Star-News newspaper, Chula Vista Mayor Mary Casillas Salas said, "Tom Money was more than a successful businessman and realtor. He had a great sense of community pride and was someone who believed in giving back through volunteerism on a number of boards, commissions, and especially devoting his time and treasure through his leadership and service in our Chula Vista Kiwanis Club. He will be missed."

Thomas George Money was born at San Diego's Mercy Hospital on March 3, 1943.

He met Sherry Seagraves, in August of 1970, on a blind date, and they married three years later, Aug. 25, 1973 in Balboa Park.

Tom attended local elementary schools and graduated from Chula Vista High School (class of 1961). In high school, he was the photographer for the Spartan newspaper. He contributed a photo of President Dwight D. Eisenhower for the Senior Year Scroll.

Tom operated Money Realty at 355 Third Ave. in Chula Vista. His office in Downtown Chula Vista holds the longevity record in San Diego County for continuous location as a real estate sales office. The office was opened by his father Mark in 1944, when the company was called Mark H. Money & Associates. Previously, Mark had relocated the family from Wisconsin to work in San Diego as an aircraft mechanic.

In 1963, after his father's passing, Tom, age 28 at the time, joined the family real estate business as a REALTOR® and maintained the same office address since then. Tom's mother Jane served as broker for the real estate company.

In addition to his service to PSAR, Tom was active in the community as a volunteer with a number of service clubs, charities and community organizations. In the 1970s and 1980s, he served on the board of the Junior Chula Vista Chamber of Commerce. He later served on the boards of the Third Avenue Village Association (TAVA) and Chula Vista Chamber of Commerce. He also served as president of the Chula Vista Kiwanis Club. He also served on an advisory board for Scripps Health.

Tom's passion was sailing. He served on a committee in 1976 to save the Star of India, and then later sailed on the world's oldest active sailing ship as part of the crew. The Star of India, a full-rigged iron windjammer ship built in 1863, is moored along Harbor Drive in Downtown San Diego and operated by the Maritime Museum of San Diego. Tom also was instrumental in having the America's Cup trophy on display at Harbor Days, a summertime community event now known as Chula Vista HarborFest.

Tom experienced a number of sailing adventures during his life. As a young man, one of his adventures consisted of hitchhiking around the world on sailboats. He started a three-part, two-year journey around the globe in Hawaii. "I was 22 years old and working in Honolulu at odd jobs when I met a guy sailing to Tahiti in French Polynesia in the South Pacific who needed a crew member," said Tom in a 2015 interview. "Then, in Tahiti I met a guy sailing to Africa who also needed a crew member. Then, in Africa, I met a guy sailing to Newport, Rhode Island. So, I call it a round-the-world trip on a sailboat as a hitchhiker."

In 1969, Tom joined a gold mining company that was dredging the Bering Sea, between Alaska and Russia, looking for gold. According to Tom, "We were off the coast of Nome and a big storm came in and created huge chunks of ice. Our boat was crushed by the ice and we walked ashore on the ice about a quarter mile. The whole town turned out in the middle of the night with sleds to help us get our gear off the boat before it sank."

In 1970, Tom was member of the crew who sailed a 100-foot-long, square-rigged, iron windjammer ship (similar to the Star of India) from Tahiti to Sydney, Australia, to commemorate Captain James Cook's discovery of Australia in 1770.

In 1991, at age 48, Tom sailed across the Pacific Ocean, 2,250 miles in 12-and-a-half days, from San Diego to Honolulu, with himself and National City resident John Walton, a member of the Walton family who founded Wal-Mart (John was a son of Wal-Mart founder Sam Walton). A race was being held to raise money for Mercy Hospital and John Walton was building a new style of trimaran sailboats that were lightweight and fast (a trimaran is a multi-hull sail boat that comprises a main hull and two smaller outrigger hulls, or floats, which are attached to the main hull with lateral beams).

According to Tom, "I went to John and asked him to sponsor me in this race. He kept asking me questions and then decided to go with me. We finished first by a day-and-a-half, but were declared to be in second place by 15 minutes because of our ship's handicap. In some races, boats have handicaps just like golfers." (John Walton passed away on June 27, 2005, in a private plane crash in Wyoming).

Tom is survived by his wife Sherry, two daughters, Courtney Money and Colleen Varnum and husband Matt, and two grandsons, Evan and Zach; sisters Susanna Money of San Diego and Roxanne Money Zunich and her husband John of Fresno. He was preceded in death by his parents Mark H. Money and Jane Milke Money.

Broker and longtime family friend Mayra Swanson recently took over the real estate business. A memorial service will be held at 3 p.m., Sunday, Feb. 24, at the San Diego Yacht Club 1011 Anchorage Lane, San Diego, 92106. To RSVP for the service, send an e-mail to Mayra at mayra@moneypropertyinc.com, or call her at 619-422-0177. His ashes will be scattered off the coast of Pt. Loma, the family said.