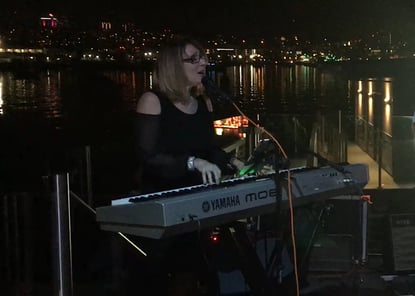 As many of you know, since I'm a singer in a band, I'm a big fan of the Beatles. And, there's a famous Beatles song called "Hello, Goodbye." Written by John Lennon and Paul McCartney, the song was recorded at the Abbey Road Studios in October 1967. The lyrics include the words: "You say goodbye, and I say hello, hello, hello."

In a number of ways, "Hello, Goodbye" describes my sentiments after serving as your 2018 PSAR President. I'm saying "goodbye" after a fantastic year. It was a terrific experience serving as your President. I am so proud of several major accomplishments achieved during 2018.

In 2018, I believe we better united our two Districts, both East and South. Plus, soon to open will be a new central location service center. A Grand Opening Celebration will be held for the new PSAR Central Service Center at 10 a.m., this Wednesday, Jan. 23. I hope all of you can join us for networking, refreshments and a ribbon cutting ceremony photo opportunity at the new office located at the Liberty Park Plaza, 4340 Genesee Ave., Suite #203, San Diego, 92117. The new Service Center in the Clairemont Mesa area is located on the back side (the west side) of a two-story office building, above Gymboree. The first 100 REALTORS® in attendance receive free "Sold" rider courtesy of California Signs & Marketing.

Also in 2018, we made a bold move to bring our members the California Regional Multiple Listing Service (CRMLS), which gave us access to a statewide MLS. CRMLS means PSAR subscribers have access to an industry-leading MLS platform where 143,000 agents share listing information with one another.

Also in 2018, we settled a lawsuit over the MLS with another Association. The settlement covering all outstanding litigation will be beneficial to all San Diego County REALTORS®.

I especially want to thank the entire PSAR board for being wise and bold this year in making all these changes. And, I'm doubly grateful to our members for supporting the PSAR board.

I was thinking the other day about the difference between mediocrity and excellence. Is it luck, skill or education? Is it hard work, midnight oil, elbow grease and initiative? I'm now at a place in life where I think the difference between mediocrity and excellence boils down to one primary factor: Execution.

Let me explain: Having a dream is great, but working on the dream is what matters. Seeing opportunities is helpful, but seizing them is what takes you to new levels. All too often, I will share with people about the importance of a strategy and a plan for growth and improvement. Unfortunately, the conversation often ends with something like, "Yeah, I really should do that..." And then, nothing, perhaps because of fear, skepticism or procrastination. So, my new prayer for 2019 is, "God, give me a bias toward action and to do what I know is right without delay or hesitation."

I can't recall exactly where I found this quote, but I have it on my board at the office and at home: "Success is doing what you don't want to do, when you don't want to do it, at the highest level." Sometimes I find that when I don't want to do something or go somewhere, after I make myself do it, then I realize that it was something that I wouldn't have wanted to miss, or it turned out that a great connection was made. So, in 2019, I'm trying to change from "I don't want to" into "I am going to."

Just like the Beatles song says, in a manner of speaking, I'm saying "Goodbye" as PSAR President. However, on the other hand, I'm saying "Hello" to many new and exciting opportunities to serve our industry as a past Association president.

Truly, we work in a marvelous profession that is making such a positive difference in our society and culture. The extent of our selfless contributions to hundreds of thousands of families is incalculable. As REALTORS®, we work at a stressful and exhausting job that includes grueling experiences with inexperienced clients facing affordability and financing challenges and the largest purchase of their lives. Our long work hours can test our levels of patience, creativity and resiliency. But, after all the escrow papers are signed and the transaction is closed, we can realize a tremendous sense of "job-well-done" pride, plus reward and satisfaction because we made a dream come true for our client.

As we begin 2019, let me convey my personal wishes to you for a successful, prosperous and enjoyable year. Here are some wise words from T.D. Jakes: "Living in the rhythm of where you are and preparing for your next season does not necessarily mean keeping your winter coat handy just because it's January. You must be adaptable and ready to seize an opportunity when it comes your way. You must know when to hibernate and stay away from last year's spring fling and when to risk blazing your own trail along uncharted territory. You need to ask yourself if a particular harvest is worth investing so much of your energy to produce. You must pay attention to when you need rest and when it's worthwhile to push yourself through the tired barrier in order to accomplish your goal."

In 2019, may your hard work reap tremendous rewards as a result of excellent customer service throughout this coming year. May your circle of influence grow as you develop and nurture relationships with other agents resulting in business deals for all parties involved. May you take advantage of our Association's excellent educational opportunities and resources because PSAR empowers its members to flourish. I hope your efforts provide you with a great earning potential, a path to financial freedom and the personal fulfillment of helping people with major life milestones involving their real estate needs. Have a great 2019!