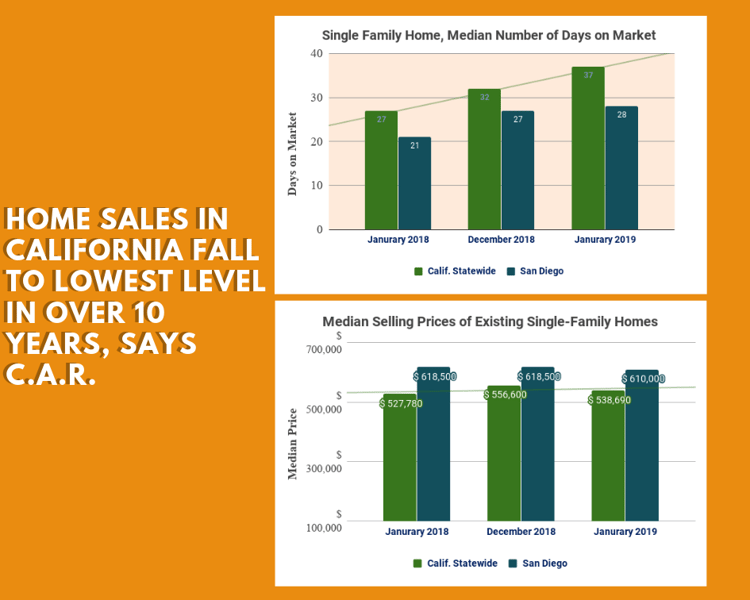 California home sales fell to the lowest level in more than 10 years in January 2019, according to the latest housing market report for home sales and prices from the California Association of REALTORS® (C.A.R). Housing demand in the state remained subdued for the ninth consecutive month in January as economic and market uncertainties sent home sales to their lowest level since April 2008, said C.A.R.
Existing, single-family home sales statewide totaled 357,730 in January on a seasonally adjusted annualized rate, down 3.9 percent from the revised 372,260 in December and down 12.6 percent from January 2018 of 409,520. January marked the ninth consecutive month of decline and the sixth month in a row that sales were below 400,000, dipping to the lowest level since April 2008.
Sales in San Diego in January 2019 were down 17 percent from December and 10 percent lower from January 2018, according to C.A.R.
Closed escrow sales of existing, single-family detached homes in California totaled a seasonally adjusted annualized rate of 357,730 units in January, according to information collected by C.A.R. from more than 90 local REALTOR® associations and MLSs statewide. The statewide annualized sales figure represents what would be the total number of homes sold during 2019 if sales maintained the January pace throughout the year. It is adjusted to account for seasonal factors that typically influence home sales.
"California continued to move toward a more balanced market as we see buyers having greater negotiating power and sellers making concessions to get their homes sold as inventory grows," said C.A.R. President Jared Martin. "While interest rates have dropped down to the lowest point in 10 months, potential buyers are putting their homeownership plans on hold as they wait out further price adjustments."
C.A.R. said the statewide median home price declined to $538,690 in January 2019, which was down 3.4 percent from $557,600 in December and up 2.1 percent from a revised $527,780 in January 2018.
In San Diego County in January 2019, the median home price was $610,000, which was 1.4 percent lower than the $618,500 figure for December 2018 and 3.4 percent higher than the $590,000 figure for January 2018.
"While we expected the federal government shutdown during most of January to temporarily interrupt closings because of a delay in loan approvals and income verifications, the impact on January's home sales was minimal," said C.A.R. Senior Vice President and Chief Economist Leslie Appleton-Young. "The decline in sales was more indicative of demand side issues and was broad and across all price categories and regions of the state. Moreover, growing inventory over the past few months has not translated into more sales."
Other key points from C.A.R.'s January 2019 resale housing report included:
-- The median number of days it took to sell a California single-family home rose from 27 days in January 2018 to 37 days in January 2019, compared to 32 days in December 2018. Meanwhile, in San Diego County, the median number of days a home remained unsold on the market rose from 21 days in January 2018 to 28 days in January 2019, compared to 27 days in December 2018.
-- Statewide active listings rose for the 10th consecutive month in January after nearly three straight years of declines, increasing 27 percent from the previous year. All major regions recorded an increase in active listings, with the Bay Area posting the highest increase at 57 percent, followed by Southern California (29.7 percent), Central Valley (19.5 percent) and the Central Coast (14.5 percent).
-- The Unsold Inventory Index (UII), which is a ratio of inventory over sales, increased year-to-year from 3.6 months in January 2018 to 4.6 months in January 2019. The index measures the number of months it would take to sell the supply of homes on the market at the current sales rate. The jump in the UII from a year ago can be attributed to the double-digit sales decline and the sharp increase in active listings.
-- Forty of the 51 counties reported by C.A.R. posted a sales decline in January with an average year-over-year sales decline of nearly 19 percent. Twenty-eight counties declined by double-digits on an annual basis, and 10 counties experienced an increase in sales from a year ago.
-- The 30-year, fixed-mortgage interest rate averaged 4.46 percent in January, up from 4.03 percent in January 2018, according to Freddie Mac. The five-year, adjustable mortgage interest rate also increased in January to an average of 3.91 percent from 3.47 from January 2018.
In other recent real estate and economic news, according to news reports:
-- A new LendingTree report found that 63 percent of homebuyers in San Diego County last year shopped around for a mortgage before settling on a home. The report also found that just 39 percent of the buyers had good or excellent credit, and the typical down payment was 12 percent of the purchase price. LendingTree ranked the 50 largest metropolitan areas in the U.S. based on an average of the city's rank in three categories that contribute to the competitiveness of homebuyers in an area. Based on shopping for a mortgage, credit and the down payment percentage, Denver, Los Angeles, and Portland, Ore., have the most competitive buyers in the country. Buyers in these areas have higher than average credit scores and the ability to put down a larger down payment.
-- San Diego's Real Housing Price Index declined at the fifth fastest rate nationwide in November 2018 at 0.1 percent, according to First American Financial Corp. While the decline may seem marginal, the rate of that drop was exceeded only by San Jose (with a 0.7 percent decline), Boston (0.4 percent), Portland, Ore. (0.2 percent) and Pittsburgh (0.2 percent). Seattle tied San Diego with a 0.1 percent decline.
-- According to S&P CoreLogic Case-Shiller, San Diego's home prices rose 3.32 percent in 2018, the third slowest of the 20 cities covered by the index. National home prices were up 5.2 percent in a year, with Las Vegas leading the pack with a 12 percent gain.
-- According to a Zillow report, San Diego County experienced the third-highest year-over-year jump in housing inventory in the U.S. in January. Zillow said San Diego saw its year-over-year "for sale" inventory climb 31.9 percent in January to 9,810 units. Inventory has increased the most in five West Coast markets, giving home shoppers more options and ever-so-slowly tilting the market toward buyers, Zillow said. On an annual basis, inventory grew 42.9 percent in San Jose, 36.9 percent in Seattle, 29.1 percent in Los Angeles and 25 percent in San Francisco.
-- Also according to Zillow, a declining percentage of existing homes have been selling above the asking price nationally and San Diego County is no exception. Zillow found that just 17.4 percent of existing homes in San Diego County sold above their asking price in November 2018, and just 16.4 percent sold above their asking price in December 2018. An average of 29.9 percent of existing homes sold above their asking price in San Diego County in 2017, while that number dropped to 25.7 percent in 2018, Zillow said.
-- According to Redfin, San Diego County was the third least affordable housing market in the U.S. for millennials in 2018. While the median household income for a San Diego millennial was $78,433, the median priced home was only affordable to 24.3 percent of those households, Redfin found.
-- Also according to Redfin, home affordability is declining in San Diego despite more inventory. Redfin reported there were 10 percent more homes for sale in San Diego County in 2018 compared to 2017, but the number of affordable homes for sale fell 16 percent. The number of homes affordable to a San Diego household earning the median income in 2018 dropped to 22 percent. Redfin also said more users conducted online searches for San Diego homes than searches by local residents for homes outside the county in 2018.
-- Quinnipiac University's recent California-specific poll, conducted Jan. 30 to Feb. 4, recently found that 43 percent of the 912 Californians surveyed said they don't make enough money to live in the state. Also, Quinnipiac found that well over half of younger California voters, 61 percent of the respondents 18 to 34 years old, say they can't afford to live in the Golden State.
-- The U.S. unemployment rate has dropped to 3.7 percent, the lowest in nearly 50 years, according to the Bureau of Labor Statistics. Also, average earnings rose 8 cents, to $27.24 per hour in September 2018.