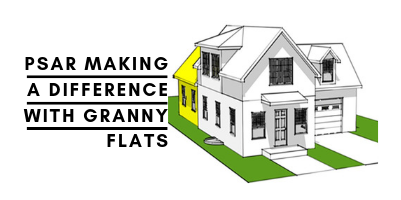 Congratulations to members of the PSAR Governmental Affairs Committee. Their recent efforts were rewarded this past week with two major victories before the La Mesa City Council on Feb. 26 and the San Diego County Board of Supervisors on Feb. 27.
On the dockets of both governmental bodies was the hot topic of Accessory Dwelling Units (ADUs) and Junior Accessory Dwelling Units (JADUs), commonly referred to as "granny flats."
PSAR is in favor of property owners who want to expand the use of their property by building granny flats on lots with existing homes as a way to address the region's housing supply and affordability crisis.
Granny flat units, typically smaller than standard homes, are second homes built on the same lot as an existing single-family house. Often, these secondary units are constructed by homeowners in backyards or above garages of single-family residences. They can be used for family members or rented out as a source of income for homeowners.
Granny flats also represent perhaps the easiest and quickest way to provide additional affordable housing options to local residents. When it comes to housing that will help all of San Diego, PSAR is in favor of making the ADU regulations more streamlined so homeowners can cut through the thick red tape of processing the construction of new, smaller rental units.
Current state regulations allow granny flats to be up to 1,200 square feet in size. They can be attached to, or built separate from, full-sized homes on the same parcel. They can include kitchens, bathrooms, living areas and private entrances. They cannot be sold as individual homes, but they can be rented out by homeowners or used to provide additional living space for family members, friends, students, the elderly, the disabled or in-home health care providers. Properties must meet all zoning requirements, such as setbacks that meet fire safety and building codes.
Speaking at the recent La Mesa City Council meeting on behalf of PSAR were Robert Calloway, 2019 PSAR President, Rebecca Pollack-Rude, co-chair of the PSAR Governmental Affairs Committee and Tracy Morgan Hollingworth, PSAR's Government Affairs Director. Before a packed Council chamber, the La Mesa Council members were considering changes to simplify their secondary unit ordinance.
With the approval of PSAR, the La Mesa City Council unanimously adopted on first reading the following ADU guidelines (all of these were recommended by PSAR):
-- Allow ADUs to be built on any property with an existing single-family home or where a single-family home is permitted to be built.
-- Allow ADUs on properties with existing duplexes.
-- Preserve historical resources by requiring ADUs to be behind any historic properties.
-- Allow ADUs to be up to 1,200 square feet, regardless of the size of the primary.
-- No requirements to record covenants on property associated with ADUs.
-- No expensive dedication of right of way improvements for properties investing in ADUs.
-- Streamlined ministerial approval, including in overlays areas that usually require discretionary review.
Robert, Rebecca and Tracy told La Mesa City Council members that ADU development will encourage property owners who want to better utilize their homes in order to provide living quarters to students, seniors and others on fixed incomes who want a decent place to live.
La Mesa's new set of regulations for granny flats will, in some cases, make the city's rules more lenient than state requirements. A second reading for La Mesa's ordinance will be heard March 5 before the new rules will take effect 30 days later.
A second victory this past week occurred at the February 27th Board of Supervisors meeting. The Supervisors were considering similar changes to conform to the state law in order to pave the way for more ADUs. The Board was considering a requirement for their ADU code to require owner occupancy for one of the buildings on a lot, which PSAR was recommending against.
Fortunately, the good news is that the Supervisors decided to remove the owner-occupancy requirement following testimony from PSAR's Tracy Morgan Hollingworth.
Tracy said both La Mesa and County officials were grateful for PSAR's assistance and guidance on their ADU policy decisions. In both instances, it was a victory to provide more housing at what could be an affordable price and provide seniors and families additional income to make ends meet from ADU unit rentals.
PSAR will work with both La Mesa and the County to help homeowners know how to process ADU units in local workshops so homeowners can bring their ideas to local government officials and see if their property can accommodate a new ADU.
"I'm very proud that both government bodies went with our recommendations," said Robert Calloway, PSAR President. "I don't know of any other local real estate organization that gave their support to these local jurisdictions."
"I am proud of be part of PSAR and the role we played with the ADU ordinances," said Ditas Yamane, co-chair, Governmental Affairs Committee. "ADUs are smart growth tools for providing access to more affordable housing. They're part of the solution in response to changing households. Removing ADU regulatory barriers is a benefit to our entire community. There is a housing crisis going on and we cannot look away."
"There is not much build-able land in La Mesa and ADUs are a good fit to help the housing crisis and keep San Diegans in San Diego and not moving out of the state," said Rebecca Pollack-Rude, co-chair, Governmental Affairs Committee.
PSAR members also have worked closely with the City of Chula Vista to reduce ADU fees and streamline their regulations. In January 2019, the County Board of Supervisors voted to waive fees for homeowners building accessory units on their property. Last May, the City of San Diego voted unanimously to slash ADU granny flat building fees by more than 60 percent.