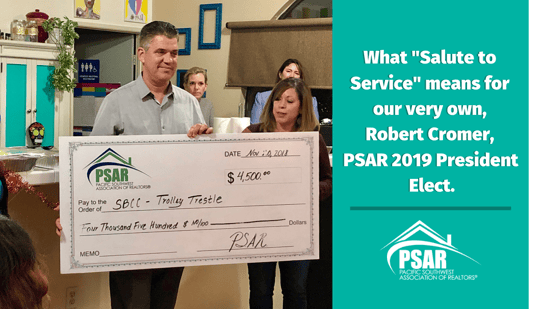 I have never been the kind of person who likes to sit back and watch. Instead, I get involved. That's why I have chosen to be involved in leadership at PSAR. And may I encourage you to also get involved.
Let me take this opportunity to share with you a few of the reasons why I'm involved at PSAR as president elect, and hopefully you will commit to join us since this year's 2019 theme for PSAR is "Salute to Service."
Being involved in PSAR means I am included in moving us forward as an organization and helping us make a positive impact on REALTORS® and homeowners. I don't just hope that things will happen. To me, hope is just a passive way of not getting things done.
My decision to volunteer at PSAR was based on more than just making a living. Rather, we are here on earth to enrich the world and help enable people to live better lives, with a greater vision towards progress. I've seen that people who are crazy enough to think they can change the world are usually the ones who do.
Also, I'm involved at PSAR because I can encourage and empower leadership. To me, leadership is an action, not a position. I strive to become the kind of leader with whom people want to march alongside. The greatest leaders are not necessarily the ones who have the answers but they're the ones who get other people to join together to create positive impacts on the world we live in. There are many committees to join. Find something that appeals to you, where you can experience this synergy, and go for it.
Being involved in PSAR also means I get to help shape public policy. Wishful thinking is not sound policy. Instead, shaping policy means being part of the conversation that ultimately helps people share in the American dream.
I'm also involved at PSAR because there are many opportunities to give back to the community Alone, we can do so little; but together, we can do so much more. Supporting our community means we can bring people together to advocate and support each other. As human beings, we need a sense of belonging, which connects us to our community. Without a sense of caring there can be no sense of community. Achievement depends on a community of people working together.
Don't wait until everything is just right before getting involved with PSAR because it will never be perfect. There will always be challenges, obstacles and less than perfect conditions. So what? Get started now. Trust yourself, you know more than you think you do. Your life changes the moment you make a committed decision to get involved. Choices are the open doors to your destiny. Life is a matter of choices and every choice makes you.
At PSAR, we are moving forward as an organization. We empower our member. We are improving as an organization. So, join us and get involved. Everybody can do great things because anybody can serve. In a sense, volunteering is the ultimate exercise in democracy. You might vote in elections once a year, but when you volunteer, you vote every day about the kind of community you want to live in and Association of REALTORS® that you want to belong to.