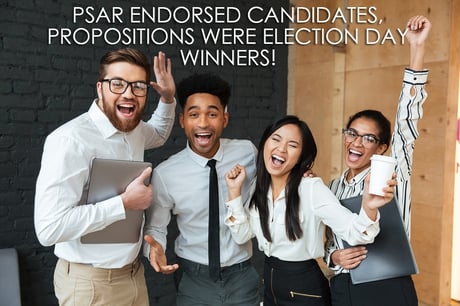 PSAR's Government Affairs Committee endorsed a number of local candidates who were winners in this week's November 6th general election. Also, PSAR was victorious in positions regarding a local proposition and statewide propositions.
PSAR endorsed Brian W. Jones who won the seat to represent the State Senate 38th District. With 100 percent of the precincts reporting, Jones drew 56 percent of the vote. Jones, a three-term Republican Assemblyman and current Santee city councilman, succeeded Joel Anderson (R-Alpine), who was termed-out. The massive 38th District, with nearly 1 million residents and covering about 30 percent of San Diego County, stretches from Lemon Grove to Fallbrook, from Borrego Springs to Alpine and includes most of eastern and northern San Diego County. It encompasses eight municipal cities, including Lemon Grove, Santee, La Mesa, El Cajon, Poway, Escondido, San Marcos and San Diego's Scripps Ranch community, as well as the communities of Lakeside, Ramona and Julian. As an assemblyman, Jones has always been a reliable vote for policies that protect homeownership and private property rights.
PSAR also supported the successful reelection of three city mayors, including Mary Casillas Salas in Chula Vista, Bill Wells in El Cajon and Mark Arapostathis in La Mesa.
Salas won with 70.1 percent of the vote. She has been an elected official since 1996, beginning with the Chula Vista City Council followed by the State Assembly. She became mayor in 2014.
Wells, also an incumbent, won handily with 66 percent of the vote. Elected to the City Council in 2008, Wells has been the city's mayor since 2013.
Arapostathis ran unopposed for his mayor's seat in La Mesa. He was elected as mayor in 2014.
Other PSAR candidates who were successful in their city council races included: John McCann, Chula Vista; Ron Morrison, National City; Gary Kendrick, El Cajon; Bill Baber, La Mesa; Ronn Hall, Laura Koval, Rob McNelis, Santee; Jerry Jones, Lemon Grove.
In a special district race that drew a PSAR endorsement, Dan McMillan was reelected to the Helix Water District board of directors.
PSAR organized a massive campaign to defeat of Measure "W," a rent control initiative in National City that drew 54 percent of "no" votes. In the city of more than 60,000 residents, about 70 percent of residents are renters.
National City voters said they did not favor the city government creating new costly bureaucracy which would limit how property owners manage their rental units . Most econommists agree that the measure would have eliminated incentives for property owners to fix up their units and discourage new housing construction.
PSAR believes rent control reduces the quality and quantity of housing. Typically, rent control leads to reducing available rentals and landlords skimping on repairs. Rent control eliminates incentives for landlords and property owners to fix up, or invest in, their units, as well as discourages new housing construction and decreases the number of available rental units.
In statewide propositions, PSAR agreed with the California Association of REALTORS® (C.A.R.) in its positions on Propositions 1, 5 and 10.
Prop. 1, the Housing Programs and Veterans' Loans Bond that was supported by C.A.R., passed by a 54.2 percent margin. As a result, the state will borrow up to $4 billion in general obligation bonds for housing-related programs benefiting veterans. The vast majority of the bonds, about $3 billion, will be set aside for various types of housing programs. The biggest share, or $1.5 billion, will go toward the construction and rehabilitation of permanent and transitional rental housing and apartments for California households who earn of up to 60 percent of the area median income. The second biggest portion of the $3 billion, about $150 million, will be earmarked for cities, counties, transit agencies, and developers to build higher density housing near transit stations.
Prop. 5, the Property Tax Transfer Fairness Initiative that was supported by C.A.R., was defeated (42 percent voted "yes," 58 percent voted "no"). Voters said no to expanding property tax savings for older homeowners. If approved, Prop. 5 would have allowed homeowners over ages 55 to transfer their lower property tax rates with them when moving to a newly bought home anywhere in the state. Prop. 5 was initiated by C.A.R. The measure qualified for the ballot after C.A.R. submitted nearly 1 million voter signatures to the Secretary of State's office.
Prop. 10, the Local Rent Control Initiative that was opposed by C.A.R., was defeated resoundingly (62 percent voted "no," 38 percent voted "yes"). C.A.R. opposed Prop. 10 because it would have allowed for the expansion of rent control across California. The initiative would have repealed a 1995 law, the Costa-Hawkins Rental Housing Act, that limits county and city governments' ability to slow rent hikes. It would have overturned an existing state law blocking cities from imposing rent control on rental units built after 1995 and on all single-family homes and condominiums. Repealing the longstanding Costa-Hawkins Rental Housing Act would have exacerbated the housing crisis, eventually allowing local governments to impose draconian rent control measures. If approved, unelected bureaucrats would have overseen rent control ordinances and determine how much landlords could charge tenants for renting apartments and houses. The election result means those prohibitions remain in place.
The PSAR Government Affairs Committee recommended the endorsements to the PSAR board of directors, which then ratified the recommendation. The Government Affairs Committee is involved in political advocacy and public policy and its impact on homeownership and private property rights.