CSA San Diego County, Written by Monica Lopez
CSA San Diego County investigates hundreds of fair housing complaints annually. Not all complaints have intentional actions at their source. A certain number are the result of agents or landlords lacking proper training, in-depth knowledge of fair housing laws, or the use of rental documents that are out of date.
Fair Housing Training
Fair housing training is a critical element in reducing complaints. Housing providers should ensure that they and their employees understand their responsibilities under federal and state fair housing laws, and act on those responsibilities in their daily interactions with both applicants and residents.
An example of the need to stay current on fair housing laws training:
Amy the apartment manager received training in fair housing laws in 2008 when she was first hired. Recently, she denied an applicant because their housing community, to her knowledge, does not accept Section 8 vouchers. Had Amy updated her training annually, she would have been made aware that the applicants receiving assistance from programs such as Section 8 are now protected under Source of Income laws.
Fair Housing Knowledge
In-depth knowledge of fair housing laws is essential as well. Limited fair housing education can result in wrongful actions and costly lawsuits.
An example of the need for in-depth knowledge of fair housing laws:
Sara the leasing agent was recently hired and was required to watch a 1-hour fair housing training video during orientation. The video covered very basic information regarding protected groups and prohibited actions, but do specifics on disability-related topics. Six months later, Sara encountered a complaint. She had informed an applicant with a disability that they could not rent a unit in her building because his assistance animal was on the "breed restricted" list. Sara was unaware of "reasonable accommodations" under California law.
Discriminatory Policies, Practices, and Procedures
CSA has experience in investigating errors that occur in rental applications, rental agreements, and house rules. A well-educated and currently trained individual should always review any of these documents before implementing them to ensure the contents comply with fair housing laws.
An example of the need for awareness of discriminatory practices:
A house rule that prohibits children from leaving their apartment unless accompanied by a parent. The Fair Housing Act prohibits rules that target any protected groups. Families with children may encounter issues with housing providers who maintain overly restrictive or targeted rules. Having a fair housing law-educated and trained individual review your rules prior to posting is always the best practice.
The solution to housing discrimination starts with you. If you or your staff are in need of training, contact CSA.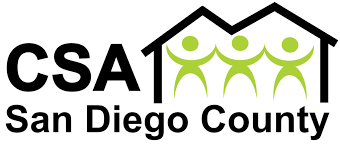 327 Van Houten Avenue, El Cajon, CA 92020
www.c4sa.org
Phone: 619-444-5700
TTY: 800-735-2929
CSA San Diego County is a 501(c)(3) non-profit organization whose primary mission is the promotion of social justice and public welfare through programs, services, and advocacy against all forms of discrimination, including advocacy for the eradication of housing discrimination to assure equal housing opportunity for all individuals.
_______________________________________
Any opinion, findings, conclusions, or recommendations expressed in this material are those of the author(s) and do not necessarily reflect the views of HUD. This material is based on work supported by the Department of Housing and Urban Development (HUD) under FHIP Grant FEOI210047.