The Coming Soon status launches in San Diego Paragon Tuesday, May 19th. From that day forward, when entering listings for sale in San Diego Paragon, you may choose between Active and Coming Soon.
To prepare for this launch, Paragon will undergo scheduled maintenance from 10:00 PM PT Monday, May 18th to 6:00 AM PT on Tuesday, May 19th – a total of eight hours. Paragon will be unavailable during this time.

CRMLS prepared a video to help you understand the details of this status. Click below to watch.
How does Coming Soon work?

Coming Soon allows listing agents to take up to 21 days to stage the property, take interior photos, prepare it for showings, and so on, without Days on Market accruing.

How is Coming Soon similar to Active?
Marketing is allowed in both statuses, so long as Coming Soon listings are clearly marked as Coming Soon.
Both Coming Soon and Active listings are fully displayed to other professional users of MLS systems.
The listing agent offers a commission on both Coming Soon and Active listings.
How is Coming Soon unique?
Coming Soon listings have

limited distribution: they will not go out from the MLS to portals like Zillow, Trulia, and Realtor.com, or to IDX broker and agent websites.
Showings are not permitted in Coming Soon.
Because of these limitations, Days on Market do not count in Coming Soon.
Listing input for Coming Soon in Paragon will look like this: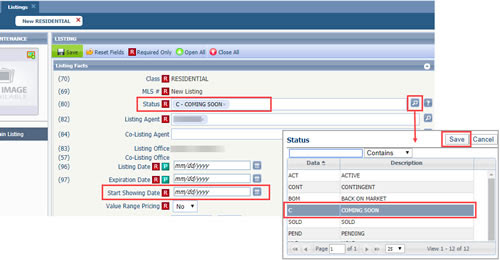 FAQ on Coming Soon Status
Will Registered and Coming Soon listings appear in portals like Zillow, Trulia, and Realtor.com? No.
Who can see listings in the "Coming Soon" status? All CRMLS users.
Why are there no showings while a listing is in Coming Soon status? There are no showings under Coming Soon status because marketing and showing a property means it is actively on the market, and it is not "coming soon" to the market. Showings are contrary to the stated purpose of Coming Soon, which is to prepare the property for "full marketing.
What is the reason for the change in statuses? Registered status has been developed as an alternative to the current exclusion form process. This change simplifies workflow while at the same time satisfying the requirements of the longstanding mandatory delivery rule. Coming Soon is being introduced in response to a demand for time to get a property ready for full marketing while not accruing Days on Market.

What does the CRMLS coming soon form look like?

Take a look here:
This new "Coming Soon" status is an important component needed in order to make compliance of NAR's Clear Cooperation Policy.