Take the hassle out of filing exclusion forms. Soon, when your sellers direct you to keep a listing out of the MLS, you will no longer need to submit exclusion or waiver forms (like the CAR SELM) to CRMLS.
Starting on 11/16, you will have a service in your Listing Toolbox that will enable you to enter and manage your excluded listings. From 11/16 onwards, these listings will fall into CRMLS's Registered status.
Join one of our upcoming webinars to see a live demo.
November 10th, 11:00am | November 16th, 10:00am
We'll cover:
• A general overview of the "Registered" status, how it works, and when to use it
• How to access the Registered listing service from your Listing Toolbox
• How to input a new Registered listing
• What information you need to Register a listing with the MLS
• How to maintain and update your Registered listings
• How to move your listings from Registered to your MLS (Matrix only; Paragon & Flex coming soon)

We will also provide you with opportunities to ask questions and provide feedback.
Here's where to find the Listing Toolbox tile:


From this tile, click on the Registered Listings option on the left.


Here, you can enter new Registered listings, manage information, and see all your listings in Registered status at a glance.
This is what entering a new Registered listing will look like: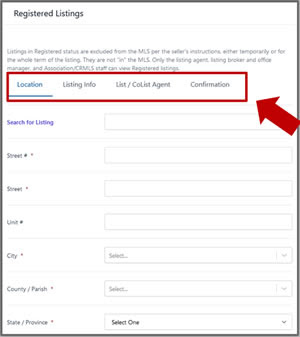 Agents will be able to see and edit their own listings, while brokers and office managers will see their entire office's listings in one streamlined, easily organized area.