Although 2020 will be remembered as a surreal year of setbacks and hardships when a brutal pandemic changed the world amid government-imposed lockdowns, it was a terrific final month on the calendar for California's housing market.
According to the most recent monthly home sales and price report from the California Association of REALTORS® (C.A.R.), released Friday, the state's housing market closed out 2020 on a high note with solid home sales in December, plus a record-high median home price for the fifth time in the year.
December 2020's statewide sales total exceeded the 500,000-units benchmark for the second month in a row. Closed escrow sales of existing, single-family detached homes in California totaled a seasonally adjusted annualized rate of 509,750 units in December 2020. It was an increase of 0.2 percent from 508,820 in November 2020, and 28 percent higher from December 2019, when 393,370 homes were sold on an annualized basis.
The year-over-year, double-digit sales gain marked the fifth consecutive month and the largest yearly gain since May 2009.
For the 2020 year, annual home sales rose to a preliminary 411,870 closed escrow sales in California, up 3.5 percent from 2019's pace of 397,960.
Meanwhile, California's median home price set another record in December 2020, after dipping below the $700,000 benchmark the previous month. The statewide median home price rose 2.7 percent on a month-to-month basis to $717,930 in December 2020, up from $698,890 in November 2020. Home prices continued to gain on a year-over-year basis with the statewide median price surging 16.8 percent from $614,880 recorded in December 2019.
The double-digit increase in a year-over-year comparison was the fifth in a row, and the month-to-month gain was higher than the long-run average of 0.8 percent observed between 1979 and 2019.
For the 2020 year, the statewide median home price was $659,380, an increase of 11.3 percent from a revised $592,230 in 2019.
In San Diego County, December 2020 home sales were 4.4 percent higher compared to November 2020 and 30.3 percent higher than in December 2019.
The median home price for a single-family detached home in San Diego County dropped slightly in December 2020 to $730,000, compared to $740,000 in November 2020, a 1.4 percent decrease, but a 11.5 percent increase from December 2019's figure of $655,000.
December 2020 County Sales and Price Activity
(Regional and condo sales data not seasonally adjusted)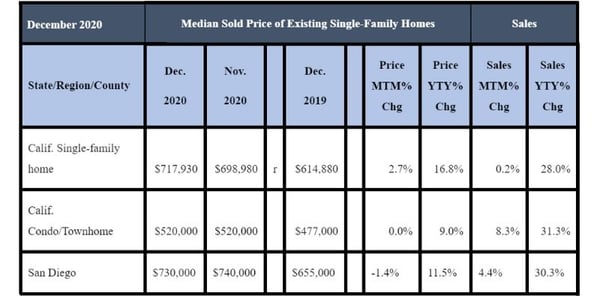 "It's a testament to the strength of the market that even after the pandemic effectively shut down the spring home-buying season in 2020, the market still was able to recover the substantial sales lost in the first half of the year and even top 2019's levels," said C.A.R. President Dave Walsh, vice president and manager of the Compass San Jose office. "With mortgage rates expected to stay near the lowest in history, demand for homeownership will continue to be strong, so home sales should remain elevated into the first half of 2021, as motivated buyers take advantage of the increased purchasing power."
"Home prices, which usually peak during the summer, were unseasonably strong in December," said C.A.R. Vice President and Chief Economist Jordan Levine. "The imbalance between supply and demand continues to fuel home price gains as would-be home sellers remain reluctant to list their homes during the pandemic, contributing to a more-than-40-percent year-over-year decline in active listings for the seventh straight month."
Perhaps due to increasing home prices, more consumers said it is a good time to sell, according to C.A.R.'s monthly Consumer Housing Sentiment Index. Conducted in early January, the poll found that 59 percent of consumers said it is a good time to sell, up from 55 percent a month ago, and up from 56 percent a year ago. Meanwhile, low interest rates continue to fuel the optimism for homebuying; one-fourth of the consumers who responded to the poll believed that now is a good time to buy a home, unchanged from last year.
Other key points from C.A.R.'s December 2020 resale housing report included:
-- Home sales from a regional perspective increased by double-digits in all major regions in December 2020, with a year-over-year gain of at least 20 percent in nearly every region. The San Francisco Bay Area remained on top with the highest gain of 40.2 percent over last year, followed by Southern California (31.4 percent), the Far North (30.8 percent) and the Central Valley (22.2 percent).
-- Median home prices from a regional perspective also posted increases in December 2020 by more than 10 percent in year-over-year comparisons. The Central Coast region had the largest year-over-year price increase, gaining 17.9 percent from a year ago. The San Francisco Bay Area had the second largest increase of 16.4 percent, followed by the Central Valley (15.5 percent), the Far North (15.2 percent) and Southern California (13.0 percent).
-- Active listings declined in December 2020 as expected during the holiday season. Active listings fell 47.1 percent in December 2020, compared to December 2019 from last year and continued to drop more than 40 percent on a year-over-year basis for the seventh straight month. On a month-to-month basis, for-sale properties dropped 18.6 percent in December 2020, higher than the five-year average of -14.0 percent, observed between 2015 and 2019.
-- The unsold inventory of available homes for sale dropped to 1.3 months in December 2020, matching the record-low set in 2004. Statewide inventory in November 2020 was 1.9 months. Inventory levels measured in months refers to the number it would take for the current supply of available homes on the market to sell-out given the current rate of sales. C.A.R. said the surge in the coronavirus cases played a role in the decrease in active listings as homeowners remain concerned about the worsening coronavirus pandemic situation.
December 2020 County Unsold Inventory and Days on Market
(Regional and condo sales data not seasonally adjusted)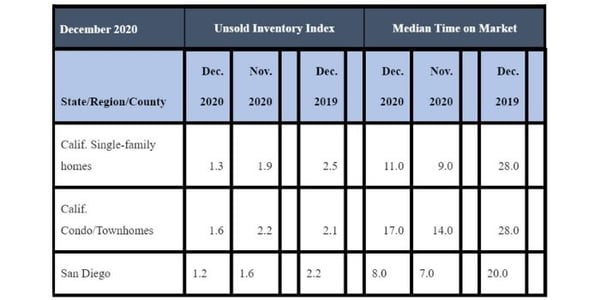 -- In San Diego County, the inventory of available homes for sale in December 2020 was 1.2 months, compared to 1.6 months in November 2020, 1.8 months in October 2020 and 2.2 months in December 2019.
-- The median number of days it took to sell a California single-family home was 11 days in December 2020, compared to nine days in November 2020, 10 days in October 2020, 11 days in September 2020 and 28 days in December 2019. The nine-day November 2020 figure was the lowest ever recorded.
-- In San Diego County, the median number of days an existing, single-family home remained unsold on the market was eight days in December 2020, compared to seven days in November, October and September 2020. The timeframe a year ago in December 2019 was 20 days. The December 2020 eight-day figure also compares to eight days in August 2020, 10 days in July 2020, 12 days in June 2020, 11 days in May 2020, eight days in April 2020, 10 days in March 2020, 12 days in February 2020 and 23 days in January 2020.
-- With homebuying interest remaining high, the housing market in Californian's mountain resort areas in December 2020 continued to exhibit strong gains compared to December 2019. Mammoth Lakes saw the biggest year-over-year sales increase in December 2020, surging 116.7 percent from the same month a year ago, followed by Lake Arrowhead (78.6 percent), Big Bear (54.1 percent) and South Lake Tahoe (31.7 percent).
-- Overall for the year 2020, home sales in mountain resort communities increased 92.7 percent in Big Bear, 51 percent in Lake Arrowhead, 49.5 percent in South Lake Tahoe and 37.5 percent in Mammoth Lake.
-- The 30-year, fixed-mortgage interest rate averaged 2.68 percent in December, down from 3.72 percent in December 2019, according to Freddie Mac. The five-year, adjustable mortgage interest rate was an average of 2.79 percent, compared to 3.39 percent in December 2019.
In other recent real estate and economic news, according to news reports:
-- If a COVID-19 vaccine distribution proves successful, Fannie Mae economists are expecting the U.S. economy is poised for a strong year in 2021. Consumer spending is expected to accelerate during the spring, ultimately driving a considerably faster pace of growth in the second half of 2021.
-- The number of active listings in San Diego declined 20.6 percent in December 2020 in a year-over-year comparison, according to Realtor.com. Nationwide, the percentage decline for housing inventory in December was 39.6 percent year-over-year. The number of new listings can vary greatly from market to market. In December, San Jose, Calif. saw its new listing count climb by 123.8 percent and San Francisco-Oakland's market increased by 98.9 percent.
-- The median monthly rent in San Diego was $2,355 in November 2020, which was a 3.8 percent year-over-year increase, according to Zillow. San Diego is the 8th most expensive city to rent an apartment, according to Zumper. Zumper's report said the rental rate for a one-bedroom unit in San Diego grew 0.6 percent to $1,800 a month in December, while a two-bedroom's monthly rate increased 2.6 percent to $2,400.
-- Home prices continue to rise faster than wages across the nation, according to Attom Data Solutions. In the 2020 fourth quarter, home-ownership expenses consumed 29.6 percent of the average wages, compared to 26.4 percent in 4Q 2019. For the 4Q 2020 timeframe, homeownership costs exceeded an industry standard of 28 percent in 55 percent of U.S. counties, up from 43 percent in 2019 and 33 percent three years ago.
-- San Diego home prices are expected to rise by 8.3 percent in 2021, according to CoreLogic. The increase is the most of any other U.S. major city. The main reason is the lack of homes for sale will continue to push up prices. A secondary reason is income inequality. The pandemic has benefited high-wage workers who have been able to work from home, while low-wage workers lost income because their jobs were among the first shuttered during government-imposed shutdowns. Other cities with expected home price increases in 2021 include Miami (3.2 percent), Los Angeles (3.2 percent) and Washington, D.C. (2.9 percent), while the national average is expected to be around 2.5 percent. In contrast, Houston, hit hard by declines in the oil industry and the recent hurricane season, will see prices decrease 1.4 percent.