What is it?
A "Submit offer using Glide" feature will appear on the listing results pages within Paragon and Flex. In Paragon, the feature will appear as a button; in Flex, as a link. Clicking it will seamlessly transition you into the Glide system, where you can create, manage, negotiate, and close offers all in one place.
Register for a live Zoom seminar


(multiple dates and times)
Two Training Videos
How to use Transaction Timeline
How to create an Offer package
Here is what it will look like in Paragon: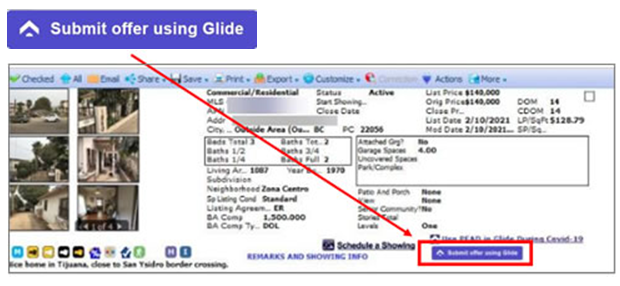 How does this feature help your business?
Simplicity. No more paper forms in various locations. With this new feature, you can manage your entire transaction from beginning to end from your desktop or mobile device
Benefits for all users
Extract key dates from a completed offer package in seconds

Create a calendar with key dates, automatically accounting for weekends, holidays, etc., or automatically add to your Google Calendar

Customer Offer summary emails including important details, dates, and contacts. Users can send emails from their own Google accounts (Outlook coming soon).
Benefits for Buyers' agents
Innovative offer-writing experience on desktop & mobile

Highlighted areas identify all important/required parts of an offer in one place (typically a Pro feature, but no cost for CRMLS users)

Ability to track offers via links

Get alerted when people view your offer

Receive SMS notifications

Additional security

Track & send transaction details to the listing agent, even for offers that did not originate in Glide

Access to semantic analysis (typically a Pro feature, but no cost for CRMLS users)
Benefits for Listing agents
Quickly compare, manage, counter, and accept offers

Solicit offers from buyers' agents via a link – available in the transaction, the CRMLS listing, or via email

Comparison tables for offers

Presentation-mode for Zoom calls (typically a Pro feature, but no cost for CRMLS users)

Negotiation tools for counter-offers



Some of these new features for offers include:
"Submit offer with Glide" button

Auto-generated counteroffer forms

Side-by-side offer comparison

Automated closing timelines
C.A.R. forms are also included in G
lide!
Introducing Glide Offers - 45 Minute introduction Video
Training Videos
How to use Transaction Timeline
How to create an Offer package
___________________________________________