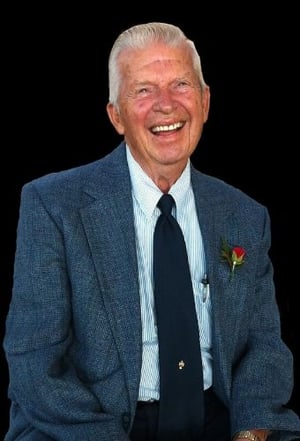 The PSAR family is sad over the recent passing of REALTOR® member and broker Herman "Hank" Miller. Hank passed away January 28 from lung cancer. He was 89.
A Celebration of Life service attended by family members was held Thursday, February 6, at the Little Chapel of the Roses in Bonita.
Hank was born June 16, 1930, in Barbourville, Kentucky In 1940, at age 10, Hank moved with his family to Chula Vista. As a teenager, Hank helped his father build homes in the South Bay community. He graduated from Chula Vista High School in 1948, when the school was located at Brown Field.
After high school, Hank worked at Rohr Industries. While at Rohr, Hank worked a second job as an owner and operator of one of San Diego's first 7/Eleven convenience stores, located on Broadway in Chula Vista.
In January 1955, he got his barber's license. In 1960, he opened his first barber shop with good friend Paul Burton. Hank and Paul's Barber shop, which operated for more than 50 years, was well known in Chula Vista. While working as a barber in his early days, he also practiced as a real estate sales agent.
In 1971, he became a member of PSAR. In 1975, he earned his broker's license and opened Hank Miller Realty. His company also provided property management services. Some properties continue to remain under Hank's property management company to this day.
The PSAR staff remembers Hank as someone who was full of love and laughter, always joking with a twinkle in his eye and a smile on his face, even when he wasn't feeling well. He also cheered-on people in their business endeavors and made everyone around him feel as if he or she were the most important person in the world. Once you met him, you became his friend.
With his southern drawl, he would greet PSAR members by saying, "Well, hello PSAR. How are you doing today?" PSAR staff members also said he was a very happy, positive, compassionate, generous, and giving person who brightened up a room when he entered.
Several years ago, a fire damaged a neighbor's home and Hank invited the neighbor to move into his home until he and his family could find another place to live. Hank even encouraged the family to continue their home Bible studies during their temporary stay.
Hank is survived by four of his five children; Kenny Miller, Dave Miller, Robert Miller and Debbie Miller. He also is survived by 10 grandchildren and 13 great-grandchildren and one great-great grandchild, a boy. He was preceded in death by wife Jean, who passed away in 2010, and a son, Fred Miller, who passed away of colon cancer on December 2, 2019.
Family members recall that Hank was deeply in love with Jean. They were married July 28, 1957. Hank visited Jean's grave daily, even on the same day he was discharged from the hospital following heart surgery in 2010. He made sure the nearby landscaping was in order and the stone monument was clean. After his passing, family members found a letter Hank had written to them, expressing what a wonderful mother Jean had been, how she held the family together and just how much he loved her.
Family members also recall Hank as a friendly, genuine gentleman who loved people and life. He first battled lung cancer in 2018. Up to his last days, Hank's words to family members were, "I'll be okay, please don't be sad."
Janet Miller, a daughter-in-law, plans to continue his real estate brokerage under the name Hank Miller Realty. Hank renewed the company's business license on January 15, 2020. Janet received her broker's license January 30, 2020. "I will be proud to carry on his name," said Janet. "He was a wonderful man."
Everyone at PSAR extends their heart felt thoughts and condolences to Hank's family and friends.
# # #