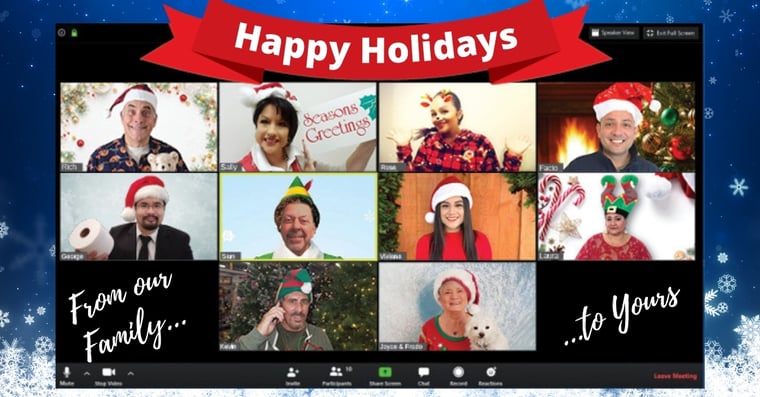 'Twas the night before Christmas, and all through the house,
not this REALTOR® was working, not even my spouse.
The escrows had closed, the documents signed with extreme care,
and commission checks had been deposited without a second to spare.
The "For Sales" signs and brochures were nestled in the back of my shed,
while visions of day spa visits danced in my head.
I was chill-laxin' in my PJs after finishing my favorite Starbucks frap,
preparing my brain for a long winter's nap.
The wintertime moon was bright in its glow,
illuminating only a couple of lockboxes below.
When all of a sudden, my wondering eyes saw a new text,
another local REALTOR®'s name appeared and you won't believe what happened next.
The text message was lively and brief,
it told of an all cash-offer that was way beyond belief.
More rapid than eagles my thoughts raced through my mind,
this amazing offer was one of a kind.
No contingencies, no home inspection, not even an appraiser,
How grateful I was, how the buyers did me a favor.
Before I knew it, my cell phone began to ring,
I sprung from my couch and my heart began to sing.
I leaped in my car and drove to the meeting,
but I first brushed my teeth since holiday treats I had been eating.
From the top of the porch to the retaining wall,
this property met all Covid-protocol, thanks to lots of Lysol.
The documents were many, measuring from my head to my foot,
there were certainly enough of them to cause a cardiac caput.
But I knew exactly what to do, how to anticipate any impasses,
because I had attended many PSAR educational classes.
Now Paragon, now LionDesk, giddy-up HomeSnap, Matrix and CRMLS,
just one more transaction to close, now won't it be bliss.
The transaction closed so easy and quick,
I knew in a moment it must be because of St. Nick.
The buyers sprung to the front door, now they were living the dream,
For REALTORS®, it's always a joy to see homebuyers' faces beam.
And I heard them exclaim, as they smiled with delight,
"Merry Christmas to all, and to all a good night."