The Homesnap app, which is a listing search product for both listing and buyer agents, will be changed to the Homes Pro app, a LISTING-Agent search and advertising platform. While Homesnap is still currently available, the Homesnap app will fully become the Homes Pro app on October 23.

This update comes from Homesnap: Most elements of Homesnap will forward to the Homes Pro app or redirect to Homes.com, regardless of whether or not you're a CRMLS user. In fact, many MLSs that had relied upon Homesnap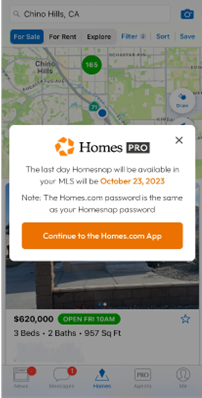 have already made the transition to Homes Pro, so we're hoping for an easy change to the different platforms.

When opening the Homesnap app or accessing the website, you'll see this splash screen informing you of the switch taking place on 10/23.

CoStar's business model is to steer all leads to the listing broker or agent and not to the buyer's agent working with a client. The business plan is to see advertising to the listing agents.

Finding a suitable replacement for a familiar tool can be a daunting task, and the process of replacing it is no easy feat. However, below is a comprehensive list of comparable product solutions tailored to your particular MLS system. Carefully review each offer and determine whether the Homes Pro app or another CRMLS core product is a better fit for you. Advantages of these tools include the client portal, the ability to Add/Edit,

Paragon App Comparison
Matrix App Comparison

Learn more about the Paragon Connect Moblie Web Site

Learn more about MLS Touch
Learn more about the CRMLS App

CoStar's move to discontinue Homesnap came nearly three years after CoStar acquired Homesnap for $250 million in 2020, initially intending to enter the residential real estate market. In 2021, CoStar acquired Homes.com for $156 million and decided to make it their primary consumer brand.

By the end of the year, Homesnap's website will redirect home searchers to Homes.com, and eventually, Homesnap will be completely phased out.

For now, Homes Pro will remain free for agents and multiple listing services (MLSs).