California's housing market kicked off the New Year on a positive note in January 2021 with double-digit price and sales growth in year-over-year comparisons.
According to its monthly home sales and price report released Friday, February 19th, by the California Association of REALTORS® (C.A.R.), the momentum from 2020 is continuing into 2021.
Closed escrow sales of existing, single-family detached homes in California totaled a seasonally adjusted annualized rate of 484,730 units in January 2021, which was down 4.9 percent from 509,750 units in December 2020 but up 22.5 percent from 395,700 units in January 2020.
The year-over-year, statewide double-digit sales gain posted in January 2021 was the sixth consecutive month in a row and the third straight month for an increase in sales of more than 20 percent from a year ago.
Meanwhile, California's median home price in January 2021 dipped below the $700,000 benchmark after hitting a record high in December 2020. The statewide median home price declined 2.5 percent on a month-to-month basis to $699,890 in January 2021, down from $717,930 in December 2020. In contrast, the median home price in January 2021 was 21.7 percent higher compared to the $575,160 priced recorded in January 2020.
The double-digit median price increase from last year was the sixth month in a row and the largest since February 2014. Low rates and tight supply are continuing to push up home prices, said C.A.R.
In San Diego County, January 2021 home sales were 31.7 percent lower, compared to December 2020, but 9.9 percent higher compared to January 2020.
San Diego's median price for a single-family detached home was the same amount, $730,000, for both January 2021 and December 2020. Mirroring the statewide double-digit trend, the January 2021 price in San Diego County was 10.06 percent higher than the January 2020 price of $660,000.
January 2021 County Sales and Price Activity
(Regional and condo sales data not seasonally adjusted)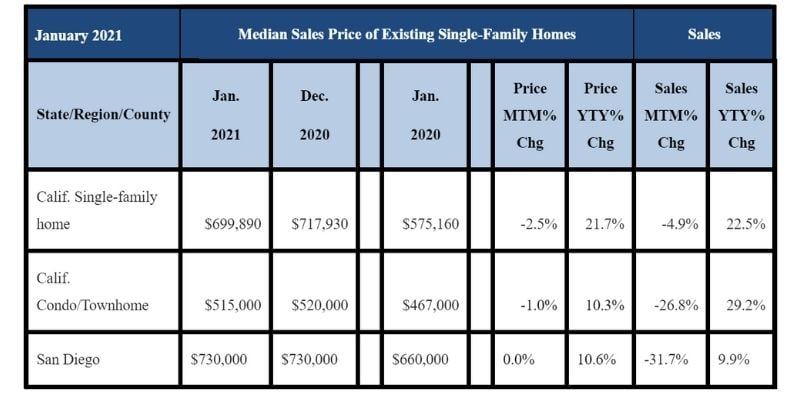 "Despite an economy that's slow to recover, the momentum from late last year continued into January, driven by strong growth in California's core housing markets, especially in the San Francisco Bay Area, where the higher cost areas experienced the most sales growth," said C.A.R. President Dave Walsh, vice president and manager of the Compass San Jose office. "Home prices continued to power through the traditional slow season in January with the largest annual price gain in nearly seven years."
"With the COVID-19 vaccine continuing to roll out, another fiscal stimulus relief package likely on the way and historically low interest rates, the housing market will continue to thrive," said C.A.R. Vice President and Chief Economist Jordan Levine. "The market outlook is stronger than previously projected as buyer demand continues to outstrip supply, but we do expect the current robust market growth to decelerate later this year as the housing shortage intensifies."
Other key points from C.A.R.'s January 2021 resale housing report included:
-- Home sales from a regional perspective continued to record healthy year-over-year gains in nearly all major regions. The San Francisco Bay Area had the highest year-over-year growth rate at a gain of 31.8 percent over last January. The Central Coast (19.9 percent) and Southern California (13.5 percent) regions also remained strong and experienced double-digit, year-over-year sales increases.
-- More than 80 percent of all counties, 42 of 51 that are tracked by C.A.R., recorded a year-over-year increase in closed sales, with both Calaveras and Mariposa gaining the most from last year at 69.2 percent, followed by Alameda (53.6 percent), and San Benito (50 percent). Counties with an increase from last year averaged a gain of 22.7 percent in January, compared to 36.1 percent in December.
-- Median home prices from a regional perspective also posted double-digit increases in January 2021, with the San Francisco Bay Area growing the fastest at 20.2 percent. The Central Coast region had another strong month, increasing18.6 percent from January 2020, followed by Southern California (15.0 percent), the Central Valley (14.5 percent), and the Far North (10.5 percent).
-- Forty-seven of the 51 counties tracked by C.A.R. reported a gain in price on a year-over-year basis, with 40 of them increasing more than 10 percent.
-- Active listings fell 53.4 percent in January 2021, compared to January 2020. It was the eighth straight month for a decline and more than 40 percent decrease on a year-to-year basis. On a month-to-month basis, for-sale properties dropped 10.7 percent in January 2021.
-- Homeowners reluctant to list their homes for sale during the pandemic contributed to a shortage of active listings. The unsold inventory of available homes for sale remained extremely low at 1.5 months in January 2021, compared to 1.3 months in December 2020 and 3.4 months in January 2020. Inventory levels measured in months refers to the number it would take for the current supply of available homes on the market to sell-out given the current rate of sales.
-- In San Diego County, the inventory of available homes for sale in January 2021 was 1.8 months, compared to 1.2 months in December 2020, 1.6 months in November 2020, 1.8 months in October 2020 and 3.0 months in January 2020.
-- The median number of days it took to sell a California single-family home was 12 days in January 2021, compared to 11 days in December 2020, nine days in November 2020, 10 days in October 2020, 11 days in September 2020 and 31 days in January 2020. The nine-day November 2020 figure was the lowest ever recorded.
January 2021 County Unsold Inventory and Days on Market
(Regional and condo sales data not seasonally adjusted)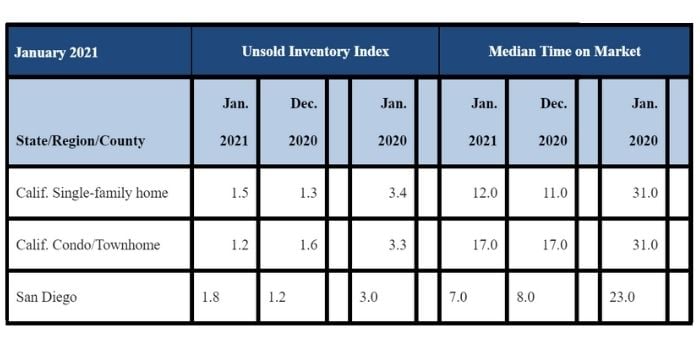 -- In San Diego County, the median number of days an existing, single-family home remained unsold on the market was seven days in January 2021, compared to eight days in December 2020, seven days in November, October and September 2020. The timeframe a year ago in January 2020 was 23 days. The January 2021 seven-day figure also compares to eight days in August 2020, 10 days in July 2020, 12 days in June 2020, 11 days in May 2020, eight days in April 2020, 10 days in March 2020 and 12 days in February 2020.
-- Resort communities sustained their momentum going into 2021, as sales continue to outpace the rest of state. Big Bear and Mammoth Lakes experienced year-over-year, triple-digit gains of 176.2 percent and 150 percent, respectively, while South Lake Tahoe and Mammoth Lake both had sales growth rates of more than 30 percent.
-- The 30-year, fixed-mortgage interest rate averaged 2.74 percent in January 2021, down from 3.62 percent in January 2020, according to Freddie Mac. The five-year, adjustable mortgage interest rate was an average of 2.87 percent, compared to 3.33 percent in January 2020.
In other recent real estate and economic news, according to news reports:
-- CoreLogic is forecasting home prices in San Diego will increase by 8.3 percent in 2021, which will be among the highest in the nation. Among the reasons: Record low mortgage rates and demand from stay-at-home workers who have been priced out in other areas, including San Francisco and Los Angeles, who are moving to San Diego for a better deal.
-- Realtor.com reports the number of homes for sale in San Diego in January 2021 was down by 21.1 percent compared to January 2020. Nationwide, inventory plunged 42.6 percent from a year ago. Realtor.com also said San Diego's median home price was $850,000 in January 2021, representing a 15.7 percent over-over-year increase. If January is any indication, home shoppers are in for another fiercely competitive season this spring with record low inventory pushing prices higher and homes selling more quickly.
-- Sales of previously occupied U.S. homes rose again last month, a sign that the housing market's strong momentum from 2020 may be carrying over into this year. Existing U.S. home sales rose 0.6 percent in January from the previous month to a seasonally-adjusted rate of 6.69 million annualized units, the National Association of Realtors (NAR) said Friday. Sales jumped 23.7 percent from a year earlier. It was the strongest sales pace since October and the second highest since 2006, the NAR said.
-- The value of a typical single-family home in San Diego has jumped 12.5 percent in a year, according to a recent Zillow report. Zillow's median price in December 2020 of $678,665 for a San Diego home was 12.5 percent higher in a year-over-year comparison, as well as 1.7 percent higher than November 2020 and 5.1 percent higher than the 2020 third quarter. Nationwide, home value growth was 3.2 percent in the 2020 fourth quarter, which was the highest since Zillow began its Home Value Index in 1996.
-- According to the S&P CoreLogic Case-Shiller Indices for November 2020, the most recent statistics available, home prices in the San Diego metropolitan area were up 12.3 percent in a year, which was the third highest percentage in the nation behind Phoenix at 13.8 percent and Seattle at 12.7 percent. All 19 cities in the index were up significantly year-over-year, with analysts pointing to demand outstripping supply and record low interest rates as key drivers pushing up prices.
-- Redfin reports that San Diego had the second highest number of multiple offers on homes for sale in the U.S. in January 2021, with 77.1 of Redfin homes in a bidding war, second only to Salt Lake City's 90 percent. Behind San Diego in Redfin transactions with multiple bidders included the Bay Area (77.1 percent with multiple bidders), Denver (73.9 percent) and Seattle (73.8 percent). Nationwide, 55.9 percent of Redfin offers for homes faced competition from at least two prospective buyers, up from a revised rate of 52.5 percent in December. January marked the ninth consecutive month in which more than half of home offers written by Redfin agents faced competition.
-- One quarter (26 percent) of San Diegans who visited Redfin.com in the 2020 fourth quarter to shop for new homes were looking for properties in another city, Redfin reports. That's the ninth highest percentage in the U.S., with New York City as the top outflow market. For those local residents wishing to leave San Diego, Los Angeles was the most popular destination while the top out-of-state destination was Phoenix. Redfin said the largest net inflow of new residents in the fourth quarter among U.S. cities included Austin, Texas, Las Vegas, Phoenix, Sacramento and Dallas.
-- The Mortgage Bankers Association reports that 5 million households nationwide failed to make their rent or mortgage payments in December 2020, indicating the economic recovery is sluggish. Rental property owners lost as much as $7.2 billion in revenue from missed payments in the 2020 fourth quarter, which was less than the $9.1 billion lost during the previous quarter.
-- The San Diego County Board of Supervisors recently approved the use of $52.2 million in state funding for emergency rental assistance in the wake of COVID-19. The latest round of funds is in addition to the $48.8 million in federal funds the board approved receipt of in January 2021. The county now will have more than $100 million in regional emergency rental assistance money available to help people struggling to pay their rent. The funds will be available only to county residents who don't live in the cities of San Diego and Chula Vista because those jurisdictions have their own allocations.