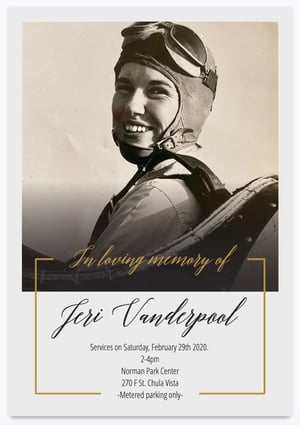 The PSAR family recently lost another former PSAR president. Jeri Norman Vanderpool, who served as PSAR president in 1994, passed away February 4, 2020, roughly one month before her 91st birthday. She died peacefully from natural causes at home, in her favorite chair, surrounded by family members. Jeri, a lifelong resident of Chula Vista, had been a PSAR member since 1975.
Jeri was born on March 18, 1929, in San Diego. Her parents were Chet and Idell Norman. She attended F Street Elementary School in Chula Vista and graduated as valedictorian of Sweetwater High School, class of 1946. As a young person, she enjoyed water skiing on the Colorado River.
She attended San Diego State College and worked at Southwestern College when it first opened in 1961. She worked as an office manager for Chula Vista surgeon Dr. George Cave and later joined Mascot Realty in Bonita. Following that, she earned her broker's license and founded Vanderpool Properties, which offered real estate sales and property management services. She operated Vanderpool Properties for more than 40 years.
Jeri was active in real estate sales until age 90, when she turned over the business to a granddaughter, Meggan Copeland.
Family members remember Jeri as a fiercely independent single parent and a hard worker who enjoyed helping people with their real estate needs. She was a leader in the community, involved in the Girl Scouts, Republican Party and school activities, overseeing the PTA, Halloween Carnival and other special events. Active in the Chula Vista Chamber of Commerce, she was also an active participant in Toastmasters International. Jeri held a private pilot's license as well.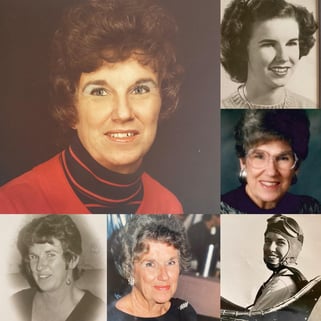 PSAR staff members remember Jeri for her humor, sultry voice and intelligence. She was fun, funny and very smart.
She is survived by a sister, Pat Greaser, a son, Richard Vanderpool, a daughter, Susan Giamanco and three grandchildren, David Vanderpool, Chelsea English and Meggan Copeland, as well as three great-grandchildren. She was preceded in passing by her son, Tom Vanderpool.
A Celebration of Life service for Jeri Vanderpool will be held at 2 p.m., Saturday, February, 29, at Norman Park Center, located at 270 "F" St., Chula Vista. RSVPs are not required. All are invited to attend.
The Norman Park Center, a community facility, is named after Jeri's father, Chet Norman, who was the City of Chula Vista's first Park Supervisor. The facility opened in 1963 as the Norman Park Center for Senior Citizens. Chet Norman passed away in the mid-1970s.
Everyone at PSAR extends their sympathies and condolences.