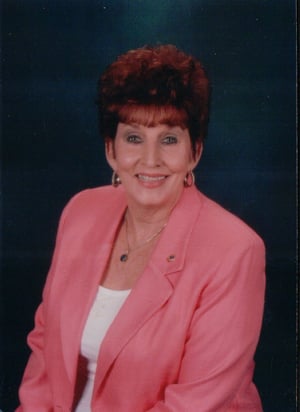 The PSAR family extends its condolences to the family of Juanita Mangels Williams, who was very active for several decades in the East San Diego County Association of REALTORS® (ESDCAR), prior to the 2012 merger with the Pacific Southwest Association of REALTORS®.
Juanita, a two-time ESDCAR president (1988 and 1995) and recipient of the 1983 Realtor of the Year award passed away from natural causes on Saturday, May 13, 2023. She was 90.
She joined ESDCAR on August 23, 1965. She worked in real estate for about 50 years, including about 45 years as a broker, according to her family.
According to PSAR records, she served on the ESDCAR board of directors from 1980 to 1994. She served as secretary-treasurer in 1985 and 1986.
She also served as a member and chair on numerous ESDCAR committees, including Special Events, Communications, Jurisdiction, Membership-New Member Orientation, Professional Standards, Arbitration, Leadership and Budget & Finance.
Other committees benefiting from Juanita's participation including Building, Equal Opportunity, Education, Government-Political Affairs, Board of Realtors Political Action Committee and Multiple Listing Service.
She served as chair of the Board Nominating Committee in 1991 and 1992, and chair of the Long Range Planning Committee in 1989.
On a statewide level, she was active with the California Association of REALTORS® (C.A.R.) as a C.A.R. Director from 1981 to 1995. She was named a C.A.R. Emeritus member in 1985.
Juanita Lovejoy was born on July 18, 1932, in New Philadelphia, Ohio. Early in her childhood, Juanita and her siblings (two brothers, one sister) and single mother moved to Seeley, Calif., in Imperial Valley. Later, the family settled in the local community of Spring Valley.
Juanita graduated 1951 from Grossmont High School in La Mesa. She married her first husband in 1952 and they raised four children. The family lived in the Casa de Oro neighborhood of Spring Valley.
She held several jobs before joining Vanice Realty Center to begin her real estate sales career, a profession which she loved, her family said.
She also become involved in the Casa de Oro community and became one of the first women members of several community organizations, including the Spring Valley Business Association, Spring Valley Chamber of Commerce and Spring Valley Lions Club. She also served as president of these community organizations.
In an email to PSAR, the family said, "These were all male-dominated clubs at the time. But, our mother was determined to show these men that she was just as worthy to be a productive member of their clubs. She proved that she could sell real estate and help the community with their events and fundraisers."
Juanita was widely known in the Casa de Oro area and some referred to her as the "Honorary Mayor of Casa de Oro." She organized the first Casa de Oro Flag Day Parade on June 14, 1970.
Soon thereafter, she recruited the local Santa Sophia Catholic Church to host the two-day Casa de Oro Fall Festival, which continued for many years. She was included in the list of Who's Who in American Women during the 1970s.
In the 1990s, Juanita continued her involvement with the Spring Valley Lions. In 1992, she was honored with the "Lion of the Year" award. She served as club president in 1995 and 1996. She also served as a district governor. In 1997, Juanita was selected as a Spring Valley Lions Club Fellow, the highest honor a Lions Club can bestow on a member.
In the early 2000s, she began volunteering with the USS Midway Museum on Harbor Drive and eventually became a docent and volunteer at many fundraising celebration events held there. She loved making people smile and be happy with an amazing experience at the nighttime galas, her family said.
The USS Midway Museum honored Juanita as its Retired and Senior Volunteer of the Month in December 2017. Midway officials said Juanita served as a docent and on the outreach and exhibit teams. She oversaw the maintenance of the museum displays and created centerpieces for events held aboard the Midway.
The Volunteer of the Month announcement said: "Juanita stands out as an exemplary volunteer due to her spirit of giving and connection. She is described as compassionate and has a great sense of humor. Perhaps most importantly Juanita brings a general feeling of family and friendliness to the USS Midway."
Juanita was preceded in death by her first husband, who passed away in 2011. In 1989, she married Mr. Williams, who passed away in 2016. Juanita also was preceded in death by her oldest son, along with two brothers and one sister.
Survivors include her son's widow and her three other children and their spouses, along with many great-grandchildren and grandchildren.
For the past two years, Juanita lived with a son, who lives in Chandler, Ariz. She had dementia in her later years.
The family said in a statement, "Juanita never knew a stranger. She was a real go-getter, an extraordinary woman. She was also very patriotic and proud to be an American. She always made sure that our school clothes included red, white, and blue clothing growing up. She will be sorely missed by her family and friends and many who were lucky to have known her. Our family has all agreed on that that she was truly a very special lady."
A Celebration of Life service has not been scheduled yet, the family said.
PSAR expresses our sincere condolences to the family at this time.
# # #