A group of PSAR members gathered on Friday, October 23rd, in Downtown La Mesa to plant trees and shrubs in a parkway parcel near the site where an historic building once stood. This landmark was destroyed by rioters taking advantage of an initially peaceful demonstration supporting racial equality May of this year.
The participating PSAR members all agreed that the landscaping project experience was meaningful in many ways. They felt proud to be part of an organization that cares about helping the communities in which it does business. And they each were grateful for the opportunity to help a part of their hometown rebuild and revitalize.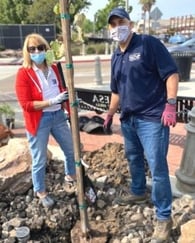 Organized by Tracy Hollingworth, PSAR Government Affairs Director, the event also symbolized PSAR's ongoing commitment to championing policies and causes that focus on safe and inclusive communities.
Notable participants in the work day effort were La Mesa City Council member Kristine Alessio and PSAR CEO Rich D'Ascoli.
The landscaped parcel is located near Palm Avenue at Allison Avenue, adjacent to an historic building that once housed Randall Lamb Associates, an engineering services firm that operated in that location for 42 years. The building, gutted and burned to the ground by fire ignited by vandalizing and looting arsonists, is now gone. A vacant lot remains in its place.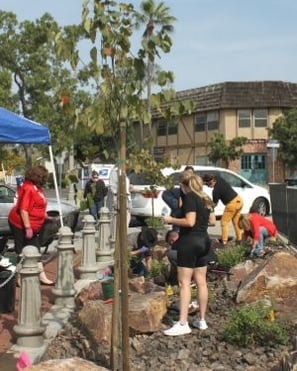 The flora planted by the landscaping team includes bunches of evergreen perennial flowers (Calylophus Drummondii) that bloom bright yellow flowers in spring and summer, plus several magenta red autumn sage shrubs (Salvia Greggi Furmans Red), an attractive and tough drought-tolerant plant that attracts hummingbirds and butterflies.
Also planted were two Forest Pansy trees (Cercis Canadensis) known for their striking foliage of pea-like, rosy-pink flowers and the abundant shade they create.
Hard costs, including the purchase of vegetation, shovels and work gloves, were covered by a Community Rebuilding Grant from the National Association of REALTORS® (NAR) as part of NAR's Urban Initiative, which provides funding to assist urban areas in addressing challenges in their communities.
For PSAR members, the experience went beyond the mere planting of flowers and trees. In their own words, they expressed what volunteering for this activity personally meant:
-- "We were all heartbroken by what happened in La Mesa, so to participate in this landscaping project was very important to show everyone how PSAR cares about the communities our members serve," said Robert Cromer, 2020 PSAR President. "I am so proud of our PSAR members and especially how our Association is supportive of transformational policies that promote fairness, justice and inclusiveness in our communities." -- Robert Cromer, 2012 PSAR President.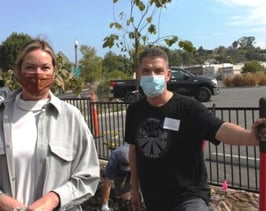 "I am very proud to be a part of PSAR, an organization that not only cares about the communities its Realtors serve, but whose members go above and beyond by putting a shovel to the ground to help revitalize a community that suffered damage during recent protests." -- Jan Farley.
-- "I am proud to be a member of PSAR. I recognize the importance for our members to assist in revitalization of urban areas and, in this case, on my city's local main street.
My hometown had recently suffered damage during the protests earlier this year. My local bank was burned to the ground and numerous other businesses suffered damage. It was clear our peaceful village was hurting. Our gift was re-beautifying a little corner with trees and drought-tolerant plants.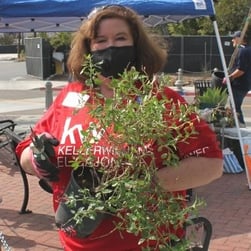 Hopefully, this will be the first of many rays of light to return to our city. This project was near and dear to my heart as I drive by weekly and see our beautiful little corner come to life. It is important for my real estate community and PSAR to support efforts to heal the damage in La Mesa." -- Deirdre Bramberg.
-- "I was proud to join my fellow PSAR directors as we restored this little park. I was so glad to see PSAR members helping to beautify this little corner of La Mesa. I've lived near La Mesa Village for 20 years, and love our little town. I helped clean up after the rioting last May. I love it when Realtors pitch in to make their communities better." -- Sean Hillier
-- "It was a great experience to be a part of this project as I grew up in La Mesa and I'm now a homeowner and Realtor in the area. It was very sad to see my hometown being destroyed during the riots, I wanted to help take action and assist in creating the change that so many of us want to see in our communities. I'm very proud to be a part of PSAR and its efforts to not only help revitalize La Mesa and other Urban Areas but to be involved as PSAR leads the way in building safe and inclusive communities." -- Dylan Graham.
-- "I am very proud to be a part of PSAR. I was honored to help with the La Mesa landscape project. I want to be more involved in serving and supporting my community as well as others. I want to make a difference together with PSAR as a team to keep our communities looking beautiful and to encourage our neighbors that we care. We can get through these uncertain times together by keeping the Faith!" -- Katherine Mannin