Home sales in March reflected the early impacts of the coronavirus on the housing market, according to the California Association of REALTORS® (C.A.R.). During the last two weeks of the month, Californians were under a stay-at-home order.
Statewide, home sales in March 2020 were down 11.5 percent, compared to February, and down 6.1 percent compared to March of last year. In March, closed escrow sales of existing, single-family detached homes in the state totaled 373,070 units, compared to 421,670 in February. The statewide month-to-month drop was the first double-digit loss in more than nine years and the largest since August 2007. Additionally, the year-over-year decline was the first in nine months and the largest decrease since March 2019.
However, in San Diego, home sales in March 2020 were a whopping 23.4 percent higher than in February, and down only 1.3 percent compared to March of last year.
Meanwhile, despite a dip in housing demand, March home prices were up from those in February. March's statewide median home price was $612,440, up 5.6 percent from February ($579,770) and up 8.3 percent from March 2019 ($565,740). It was the first time in three months the median price surged past the $600,000 benchmark.
The median home price of $675,000 for San Diego in March was slightly higher than the $670,000 figure in February. The March 2020 figure was 8.2 percent higher than the$623,800 figure of March 2019.
March 2020 County Sales and Price Activity
(Regional and condo sales data not seasonally adjusted)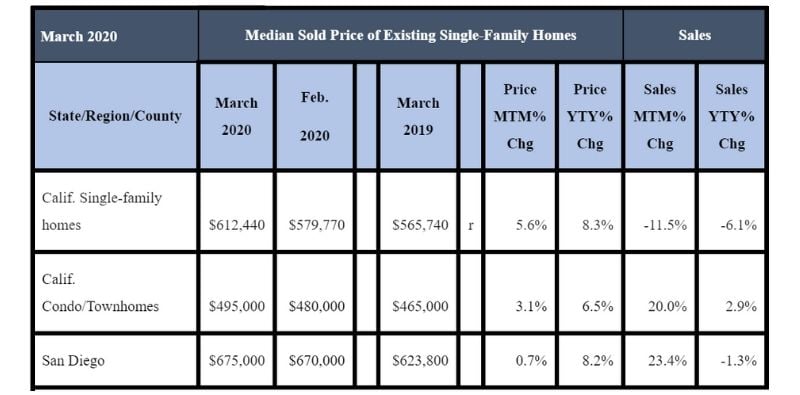 "The relatively moderate sales decrease that occurred in March is only a prelude to what we'll see in April and May because sales were still modestly strong during the first two weeks of March before stay-in-place orders were implemented throughout the state," said 2020 C.A.R. President Jeanne Radsick.,. "However, pending sales, which is a better reflection of the current market conditions and consumer concerns about the coronavirus, dropped nearly 25 percent and suggest the decline could extend beyond the next couple of months, depending on the duration of the pandemic and the lockdown."
"While the median home price continued to record a strong gain in March, most, if not all, of the closed sales were negotiated in mid- to late-February prior to the COVID-19 outbreak," said C.A.R. Senior Vice President and Chief Economist Leslie Appleton-Young. "Still, the fast deterioration of the economy, the steep decline of the financial market and record-setting job losses have not been factored into March's closed sales but will become obvious in coming months."
Reflecting the dramatic change in market conditions, a monthly Google poll conducted by C.A.R. in early April found just one in four (26 percent) consumers said it is a good time to sell, down from 59 percent a month ago, and down from 48 percent a year ago. The market uncertainty has not curbed the optimism for homebuying as much. 28 percent of the consumers who responded to the poll believe that now is a good time to buy a home, up from last year's 22 percent, when interest rates were 82 basis points higher.
C.A.R. reports that potential home sellers are holding off listing their properties as uncertainty remains over the future of the economy and market conditions. As the fast-moving coronavirus continues to dominate daily lives, many potential home sellers may delay selling their homes, which would lead to fewer new listings.
California's supply of available housing decreased in March from the prior month. If delay their buying plans due to concern about the pandemic impact on their finances, sales willdecline and trigger a jump in the Unsold Inventory Index in the short term. The Unsold Inventory Index dropped to 2.7 months in March, down from 3.6 months both in February and March 2019. It was the lowest inventory level in three months. (The index indicates the number of months it would take to sell the supply of homes on the market at the current rate of sales.)
Other key points from the March 2020 resale housing report include:
At the regional level, all major regions experienced a sales decrease from last year, with the Bay Area dropping the most at 12.1 percent, followed by the Central Coast (-7.3 percent), the Central Valley (-6.4 percent), and Southern California (-0.3 percent). Twenty-nine of the 51 counties tracked by C.A.R. experienced a year-over-year sales loss.





Median prices in all regions increased in March over last year, with the Central Valley leading at 7.7 percent, followed by the Bay Area (7.4 percent), Southern California (7.3 percent), and the Central Coast (7.0 percent).





Forty-two of the 51 counties tracked by C.A.R. reported a year-over-year price gain in March.





The median number of days it took to sell a California single-family home fell significantly from a year ago, declining from 23 days in February 2020 and 25 days in March 2019 to only 15 days in March 2020.





In San Diego County, the median number of days an existing, single-family home remained unsold on the market was 10 days in March 2020, which compares to 12 days in February 2020, 23 days in January 2020 and 19 days in March 2019.
March 2020 County Unsold Inventory and Days on Market
(Regional and condo sales data not seasonally adjusted)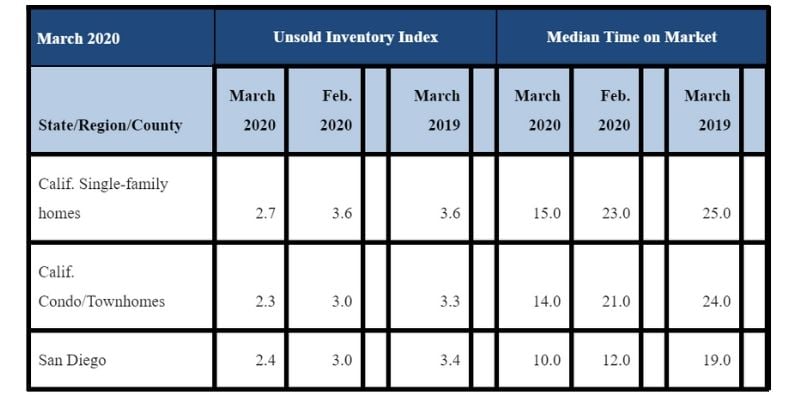 The 30-year, fixed-mortgage interest rate averaged 3.45 percent in March, down from 4.27 percent in March 2019, according to Freddie Mac. The five-year, adjustable mortgage interest rate averaged 3.16 percent, versus 3.83 percent in March 2019.
In other recent real estate and economic news, according to news reports:
Online home searches declined in March with the arrival of the coronavirus, according to LendingTree. In January, people searching for "homes for sale" in San Diego County were up 25 percent year-over-year right before the coronavirus hit. By the end of March, the searches had dropped by 43 percent from the January peak.


Demand for San Diego County homes declined by 27 percent in late March and early April, according to data from Steven Thomas of Reports on Housing. He said San Diego is still a seller's market, especially on the low end of prices, and homes under $750,000 still make up more than half the sales in San Diego County.


According to CoreLogic, the median home price in March in San Diego County was $590,000, about $5,000 shy of an all-time high reached last year. The data reflects transactions that began in late January and February, since 30-day escrows are typical. It wasn't until March that coronavirus stay-at-home orders swept across the nation.


The National Association of REALTORS® said the coronavirus has led a quarter of U.S. REALTORS® (NAR) to have at least one client put a contract on a home in April without physically seeing the property. The NAR also reported the median number of homes a family visited either in person or via computer declined from nine in 2019 to just three in 2020.


Redfin said the government's coronavirus stimulus checks of $1,200 per person will cover only 42 percent of rent in San Diego, where monthly rent payments average $1,668, and only 14 percent of a mortgage payment, which averages $2,573, including utilities. Nationwide, the stimulus checks will cover one month's worth of housing expenses for three-quarters of U.S. renters and nearly 50 percent of homeowners.